Taking students out into nature's classroom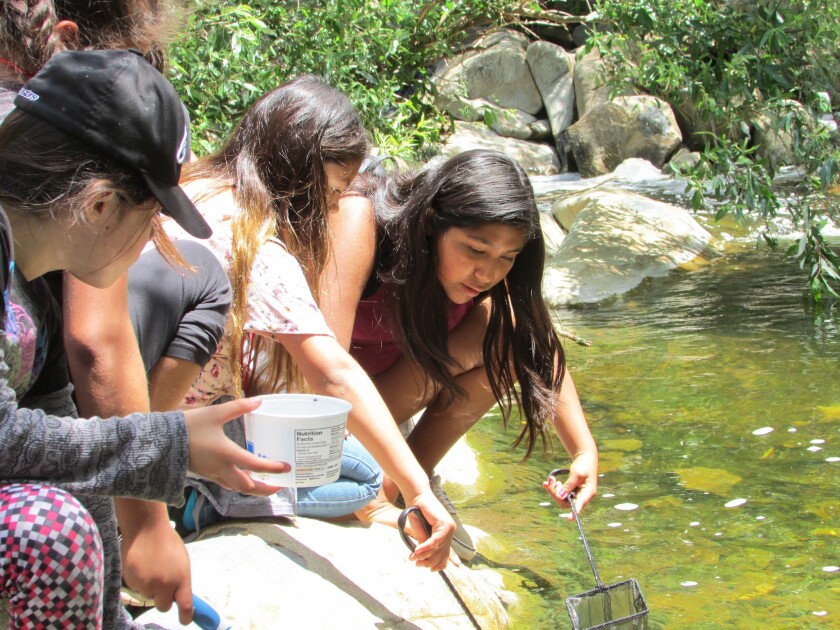 The view from the heights of Elfin Forest offers a sweeping vista: to the north lay the paved-over gray of San Marcos and Escondido; to the east and south, clusters of unsullied green — Blue Sky Preserve and Black Mountain — dot the spaces in between suburban sprawl of Rancho Bernardo and Rancho Santa Fe.
And when the expedition of students and their families who stood on that perch on May 13 turned to the southwest, the entire Escondido Creek watershed unfurled before them, winding its way down into San Elijo Lagoon and emptying out into an endless Pacific blue.
Then the 3rd and 4th graders from Escondido's Pioneer Elementary School looked down, close down, crouching creekside to collect insects in their larval stages. By measuring the diversity of the species at hand, they knew how healthy the water is — a lesson on how the tiniest things below the surface connect to the world at large on the grandest of scales.
For the students in the program, many whom have never been to the ocean, the excursion was the ultimate eye-opener.
"The idea is to show them how the mountains are connected to the ocean, to show these kids that we're not living in isolation, that we're all impacting our watershed and have to take care of it," said Tara Fuad, education director for the San Elijo Lagoon Conservancy.
The 14 students — plus their parents and siblings — spent five hours at Elfin, one of several excursions that the San Elijo Lagoon Conservancy leads as part of its Getting Out in Nature (GOIN') program. Now in its second year, GOIN' is a partnership among the San Elijo Conservancy, the Escondido Creek Conservancy, I Love A Clean San Diego and Outdoor Outreach. Its mission: to bring students out of the classroom and into nature. More than 1,000 children participate at five elementary schools in the Escondido Union School District: Pioneer, Central, Farr Avenue, Lincoln and Felicita.
GOIN' is made possible thanks to a $41,000 grant from the San Diego Foundation, part of a larger $442,000 that the foundation awarded last month for 11 programs that aim to increase access to nature for under-served children and families. Taken together, the 11 projects will reach more than 11,000 children across San Diego County, conserve and restore 5,500 acres and improve nearly two dozen parks.
Thanks to the grant, GOIN' will be able to deliver its message of environmental empowerment to one or two more schools next year.
"Sometimes it can be a little doom and gloom with the way things are portrayed," Fuad said. "To help kids feel like they can do something about it is really empowering, to take away that helpless feeling and show them that they really can make a difference. Programs like these help us find the passion in these kids and teach them to not allow it to fade."
For more information, visit www.sanelijo.org.
---
Get the Del Mar Times in your inbox
Top stories from Carmel Valley, Del Mar and Solana Beach every Friday for free.
You may occasionally receive promotional content from the Del Mar Times.