Del Sol Lions club hits $100,000 milestone
The Del Sol Lions club is thriving thanks to the work of its 30-plus members. And rather than the global perspective that has made the 100-year-old Lions International one of the largest service groups in the world, the Del Sol club keeps its focus on a strictly local level.
A small sampling of the club's growing roster of efforts: backpacks stuffed with school supplies for more than 200 kids in Casa de Amistad's tutoring program; a $1,000 donation this year to help Freedom Dogs provide service animals for veterans with PTSD; support for the St. James and St. Leo Dental Program, a free weekly clinic; eye exams and glasses for disadvantaged children; helping the Community Resource Center of Encinitas feed more of the area's homeless.
Over its seven years of helping other initiatives across the coastal North County, the Del Sol Lions club's efforts have added up to nearly 200 service projects, 8,000 volunteer hours and, during this year's Fiesta del Sol, donations that crossed the $100,000 milestone.
That landmark came in large part thanks to the leadership of club president David Cain, who, over his three years as president, has shown a special knack for getting the most out of their fundraising buck and handling the many thankless tasks that kept the club churning forward. Cain was one of the founding members back in 2010, and he steered them through a tumultuous few years that at times left some wondering whether there would be a club at all.
But when Cain hands over the reins on Aug. 19, it'll be a far stronger and more organized club than when they started.
"He deserves a lot of the credit," said club treasurer John Page. "He's been instrumental with connections to the city, connections with the community, finding grants we wouldn't have found. He's done the outreach. Year One he took over, he gave us a real source of stability that was sorely needed."
The club's $100,000 is all the more impressive when considering that it came in such small increments and through such a wide array of projects. Take just one of those examples: the Boys & Girls Clubs of San Dieguito.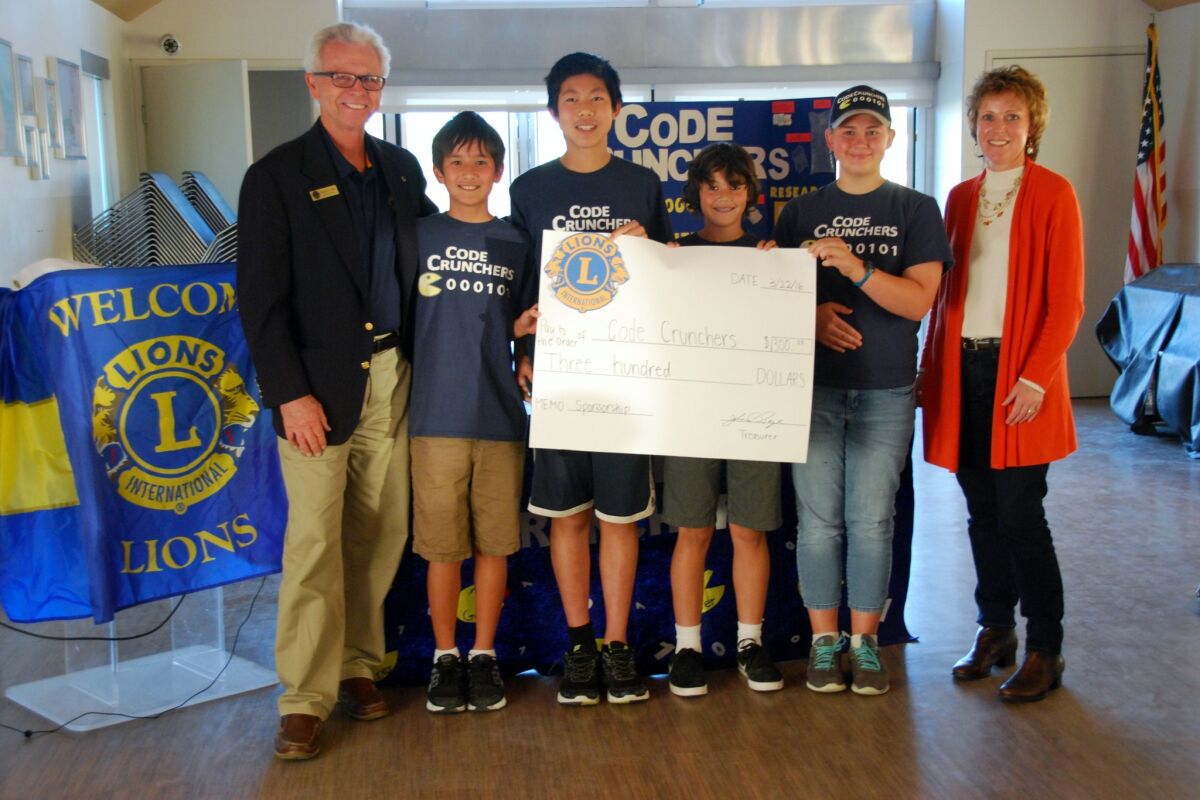 Stephanie Kowack was helping the Santa Fe Christian's girls' basketball team do their usual holiday fundraising outside the Vons grocery store in Solana Beach, a food and donation drive that benefits families through the Boys & Girls Clubs. Kowack was growing distraught to see that they weren't raising as much as they had the year before. Cain happened to walk by, asked what they were up to, and immediately decided to pitch in. Within a matter of days, he had hooked them up with the San Diego Food Bank. Each of those 72 families got enough food for a proper holiday meal.
"Because of that connection, we were able to buy 10 times as much food," Kowack said. "I was shocked almost. I had never met him before and right away he said 'Let me see how my organization can help,' and they stepped up immediately. It was incredible what we were able to turn that money into."
And the Del Sol Lions weren't done yet. They led another fundraising drive a few months later that raised $300 more, and added the Boys & Girls Clubs to their list of recurring endeavors.
That growing list is built by their members and by surveying school principals and city officials. Funds come by selling tickets to events and then sometimes concessions at those events, including Fiesta del Sol, the Farmers Insurance Open at Torrey Pines, Gator by the Bay and this year, for the first time, KAABOO. There are also direct donations from members. And perhaps most importantly, volunteer programs that tap into the members' expertise.
"The really unique thing about Del Sol Lions is that we focus on what's in the community," said Brian Hall, who's taking over as president. "That's really our driving force. Many other Lions clubs are focused on international causes. We want to focus on what's in front of us. The thing about us is that we're not political at all. Our only agenda is to do the right thing for the community. We get stuff done and we keep it local."
Joining Hall on the leadership team will be Nichole Peterson, executive director of the Solana Beach Chamber of Commerce, as VP of membership. Linette Page, a founding member, will be the VP of programs. And Kristin Salgado, owner of Solana Beach Family Optometry, will be the VP of services.
They want their next milestone to be to eclipse 100 members, provide more services, land bigger grants and come to be relied on as a community fixture.
"We aren't a political club and we aren't a business club," Hall said. "This is a club about people. It's a club about the community and it's a club about making a difference. We want to expand, we want to do bigger and better things, and we want to align ourselves with other organizations. We'd like to not only do the right thing but also build a strong comradery with the community."
The Del Sol Lions club meets the fourth Tuesday of the month at Fletcher Cove Community Center. Learn more at www.DelSolLions.org.
---
Get the Del Mar Times in your inbox
Top stories from Carmel Valley, Del Mar and Solana Beach every Friday for free.
You may occasionally receive promotional content from the Del Mar Times.