Del Mar-Solana Beach Rotary contributes $8,777 and more to Just in Time for Foster Youth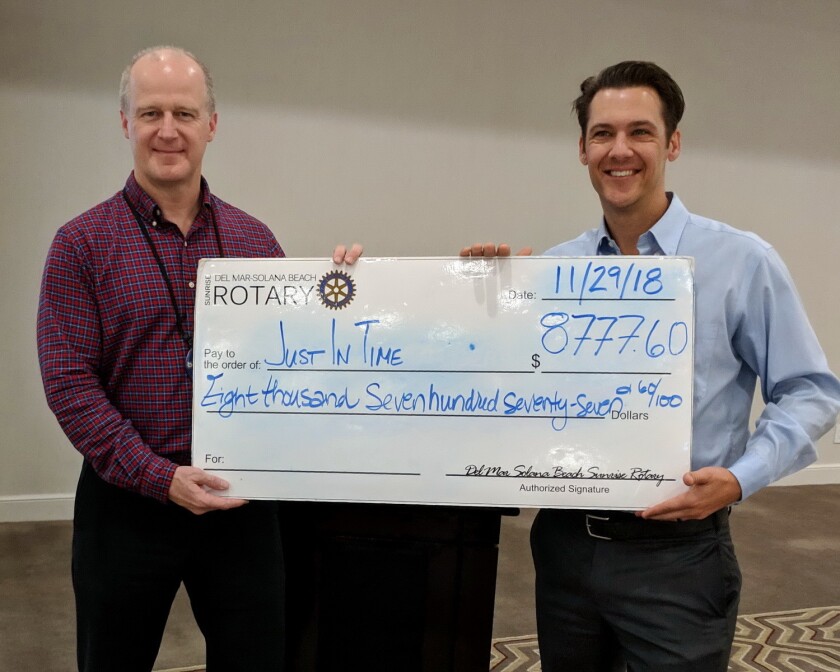 Nathan Brunetta, a former participant of Just in Time for Foster Youth, recently thanked the Del Mar-Solana Beach Rotary Club for its $8,777 investment in JIT. While doing so, he emphasized the value of DMSB Rotary's relationship with JIT, well beyond its financial support. He spoke of the multiple positive ripple effects of DMSB members engaging with JIT participants and of JIT participants and staff working together in support of DMSB's annual BocceFest fundraiser. Through this, JIT's transition-age foster youth get to engage with a caring community of successful adults with widely different backgrounds and expertise.
Just in Time for Foster Youth coaches, educates and provides access to resources and a caring community for almost 800 18 - 26-year-old foster youth each year who are no longer in the foster care system. JIT's first interaction with a young person often starts with meeting an emergency need, such as rent assistance, a bus pass, or setting up a first apartment. This is followed by money management training, education support, development of job skills, and access to meaningful employment, reliable transportation, and health and wellbeing, all supported by lasting relationships created with volunteers. (Visit www.jitfosteryouth.org.)
The Del Mar-Solana Beach Rotary Club works to make San Diego and the world a better place for all while developing new friendships and business relationships. Interested individuals can learn more about DMSB Rotary by contacting Phil Campanelli at 949-230-8524 or Phil.Campanelli@delmarhilton.com. Or, attend a Friday breakfast meeting at the Del Mar Hilton. (See www.DMSBRotary.com.) --News release
---
Get the Del Mar Times in your inbox
Top stories from Carmel Valley, Del Mar and Solana Beach every Friday.
You may occasionally receive promotional content from the Del Mar Times.