Scholarship named after Del Mar resident awarded to local teen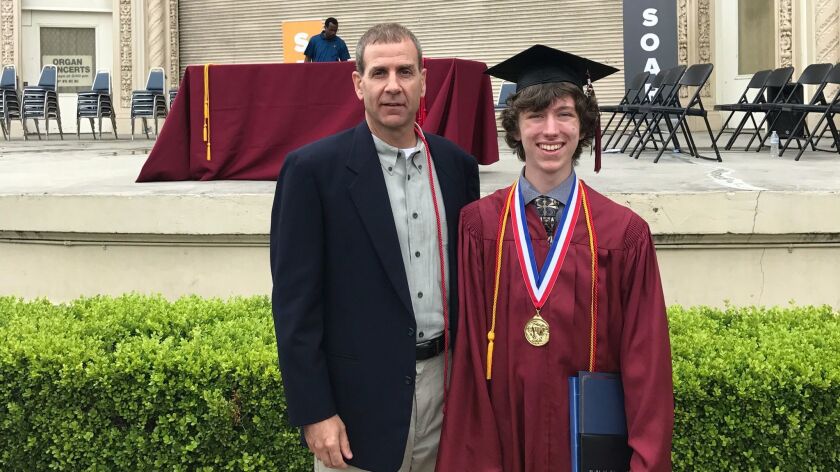 Lucas Weed, a recent graduate of The School for Entrepreneurship & Technology (SET), received The Robert Baizer Scholarship at the school's graduation ceremony on Saturday, June 10, in Balboa Park. The scholarship is named after Del Mar resident Robert Baizer, SET's first board chair.
Weed, who was co-valedictorian of his class this year, will attend the University of Alabama in Huntsville (UAH) in the fall and plans to pursue a bachelor's degree in mechanical engineering to further his passion for the field of robotics. Weed participated in SET's First Tech Challenge robotics program for all four years as a student and increased his involvement each year becoming a team captain of one of the student teams as a senior and also participating in post-season outreach events helping to promote the school and the First Tech Challenge program to the public. Weed is also active in his church, serving as a youth chaplain and camp counselor, as well as serving as a member of the church's board of directors — the youngest member to have served in that position. Eventually, Weed would like to work at SpaceX as a mechanical engineer. He plans to build his resume during college through undergraduate research and co-ops at local businesses to prepare for a transition from college to SpaceX.
"During my four years attending SET, I have grown and learned more than I imagined I would have when I was a freshman," says Weed, who is a Clairemont resident. "I've been privileged with all sorts of learning opportunities, not only in the classroom, but outside the classroom through afterschool activities and programs outside the school through summer camp. Through these opportunities, I have obtained the tools and skills to help me in school and have been set up for college and beyond."
The Robert Baizer Scholarship Fund was established in 2017 by the SET Board of Directors to honor the board chair emeritus of SET for the purpose of providing a merit-based financial scholarship to the graduating student who best exemplifies the academic, ethical, community service, and leadership principles of SET. The Baizer Scholar, the name given to the recipient of the scholarship, must enroll in and attend an undergraduate program at a community college or university. The Baizer Scholar is granted a one-time award of $2,000 to be used to cover the tuition and/or room and board fees at the recipient's college or university. Weed was the first recipient of the award and is the inaugural Baizer Scholar.
---
Get the Del Mar Times in your inbox
Top stories from Carmel Valley, Del Mar and Solana Beach every Friday.
You may occasionally receive promotional content from the Del Mar Times.