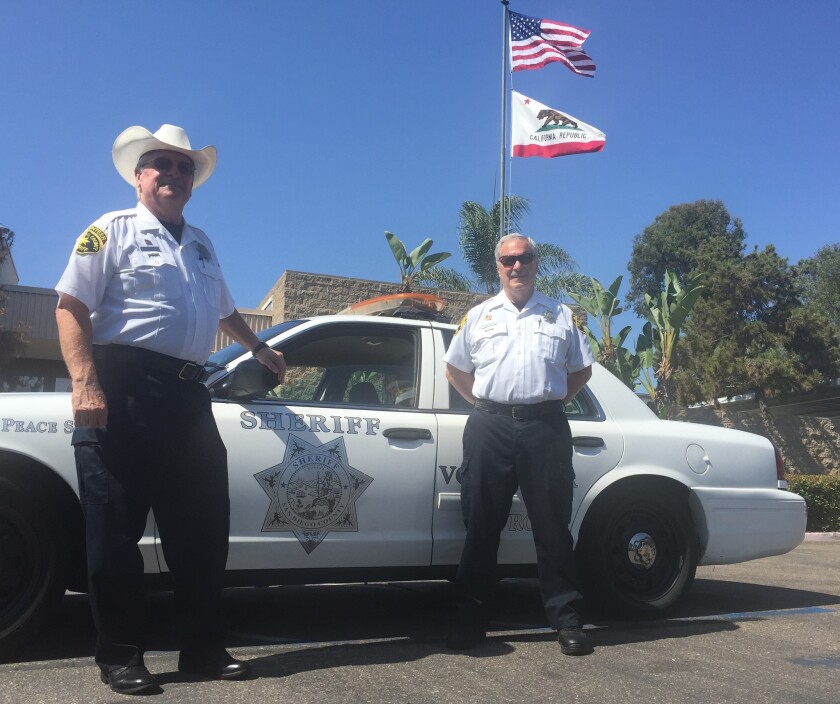 They don't get paid but they love what they do. The Sheriff Department's Senior Volunteer Patrol needs volunteers and the City of Del Mar is encouraging residents 50 and over to join the ranks. Volunteers report to the North Coastal Station in Encinitas. The station serves Del Mar, Solana Beach, Encinitas and Rancho Santa Fe.
The Senior Volunteer Patrol covers that territory with visits to homebound, elderly people and to the homes of people who are away on vacation. The unarmed volunteers drive white patrol cars and wear white shirts. They also wear a smile.
"We're out there to be nice to folks," said Patrolman Bill Simon.
The Senior Volunteer Patrol assists deputies by directing traffic at an accident or crime scene. With their uniformed presence, they "show the star" at street fairs and other public events. They might drive a deputy's patrol car to the county garage for repairs so the deputy can return to his beat in a different vehicle. An especially important duty is to observe and report. Senior Volunteer Patrol members wear radios and are trained in radio communications.
Simon, a former attorney, also administers the program at North Coastal Station and oversees about 38 volunteers. One of them recently retired at age 90. A new recruit, who is attending the two-week academy, is 85, he said. The men and women of the Senior Volunteer Patrol have worked as plumbers, librarians, teachers, pharmacists – and almost any other profession. Their diverse backgrounds, however, are bound by a common goal: to help people and make a difference.
"You're here because you want to be," Simon said. "You want to serve the community."
Volunteers might do that by reminding a homeowner to shut the garage door at night to prevent a burglary. Some of the most meaningful contacts, Patrolman Gerald Larsen said, happen during the routine visits of the You Are Not Alone program. Disabled or shut-in residents cherish the visits they receive from the volunteers, he said.
Those visits also can be lifesaving.I n one case, Larsen visited an elderly woman's home on a Monday because she did not pick up her phone when he called that morning. It turned out she had suffered a stroke on Saturday afternoon.
"She was conscious but could not move," said Larsen, a decorated former Marine. "We were heroes to her. Actual heroes."
Capt. John Maryon of the North Coastal Station feels the same way. Day and night, the Senior Volunteer Patrol will respond at a moment's notice, he said.
"They're invaluable," Maryon said, "and we definitely need more of them."
---