New Del Mar-Solana Beach Optimist Club President excited about future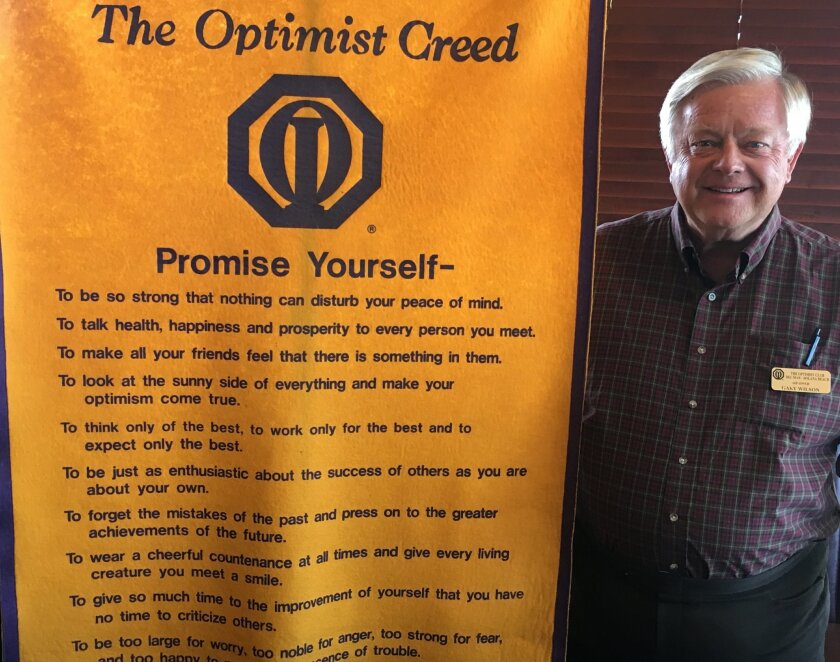 Gary Wilson served students in Del Mar, Solana Beach and throughout San Diego County as an educator for nearly 40 years.
Although now retired, the Oceanside resident continues to support local children as the newly elected president of the Optimist Club of Del Mar-Solana Beach.
"I have a lot of leadership ability, and this gives me the opportunity to just help move the organization forward," said Wilson, who was elected to a two-year term as president in September. "But we're all working together. I'm just one of the workers."
Wilson has been a member of the Optimist Club of Del Mar-Solana Beach for about 25 years. He was first introduced to the club while serving as a principal in the Del Mar Union School District, where he worked for 18 years.
Earlier in his career, Wilson worked as a teacher in Encinitas and a principal in Valley Center. Following his time in Del Mar, he served as superintendent of the San Pasqual Union School District for four years until he retired two years ago.
As a local principal, Wilson learned about the Optimist Club of Del Mar-Solana Beach when the club honored outstanding local elementary school students with the Vic Kops Children's Challenge Awards.
"The Children's Challenge was the one that really got me into the club because I saw what they were doing to support the kids in the elementary schools in Del Mar and Solana Beach," recalled Wilson, who continues to serve as a substitute teacher and principal.
Optimist Vic Kops started the program more than 30 years ago to recognize children in arts, community service, courage, fellowship, humanities and science. The awards have carried on in the Del Mar resident's name since he died in 2007.
"I was very impressed with the club," added 64-year-old Wilson. "They have a lot of children's support systems and programs."
Optimist International is a worldwide volunteer organization made up of more than 2,500 local clubs. Chartered in May 1981, the Optimist Club of Del Mar-Solana Beach aims to "promote an active interest in good government and civic affairs, inspire respect for law, and friendship among all people." Club members also strive to encourage youth development and community service.
"It covers so many areas," said Wilson, who also serves as choir director at the Redeemer by the Sea Lutheran Church in Carlsbad.
Last year, the club raised $17,500 at its 20th annual Youth Fund Golf Tournament. Proceeds benefit the club's youth programs for the year, including its sponsorship of the Miracles League of San Diego.
The Solana Beach-based nonprofit organization provides children with special needs the opportunity to play baseball in an organized league in San Diego County. Optimist Club members will run the snack shack during a game April 30 at San Dieguito County Park in Del Mar.
"It gives the parents a chance to come watch their kids," Wilson said. "We run the snack shack to help the organization. It's stuff like that that gets the members out into the community."
The Optimist Club of Del Mar-Solana has a number of other community service projects and supports a variety of other organizations in the community, including the Childhood Cancer Campaign, Becky's House, Rady Children's Hospital, Ronald McDonald House, Boy Scouts and Girl Scouts, Solana Beach Library, San Dieguito Heritage Museum, Optimist Dollars for Scholars, and Junior Optimist Octagon International Clubs, among others.
"Wherever we see there's a need, we help, either with our labor or with our money," Wilson said. "It's a variety of stuff that our members get involved with. They have their one or two pet projects and then we all go and help."
As president, Wilson hopes to identify more ways to help the community. He also wants to grow the club.
The Optimist Club of Del Mar-Solana Beach currently has 52 members, with most living in the North County Coastal region. The club is always looking for new members, however.
Annual membership fees cost $100.
"It's very important to continue to build membership," Wilson said. "We have a lot to offer."
The club has a weekly breakfast meeting and a monthly dinner meeting. The club meets at 7 a.m. every Wednesday at Denny's in Del Mar, except for the third Wednesday of the month, when the club meets at 6:15 p.m. at Lomas Santa Fe Country Club in Solana Beach.
Wilson invited prospective members to attend a breakfast meeting anytime. To attend a dinner meeting, make a reservation by contacting Membership Chairman David Eller at 858-755-2222 or dbeins@sbcglobal.net.
"As our younger people get older, they need to understand that in order to sustain a community, you have to have new leadership," Wilson said. "You have to have new blood in an organization. My goal is to help bring in some new members."
For more information about the club, visit www.optimistdelmarsolanabeach.com.
---
Get the Del Mar Times in your inbox
Top stories from Carmel Valley, Del Mar and Solana Beach every Friday for free.
You may occasionally receive promotional content from the Del Mar Times.