Del Mar veteran turns birthday into benefit for ERASE Child Trafficking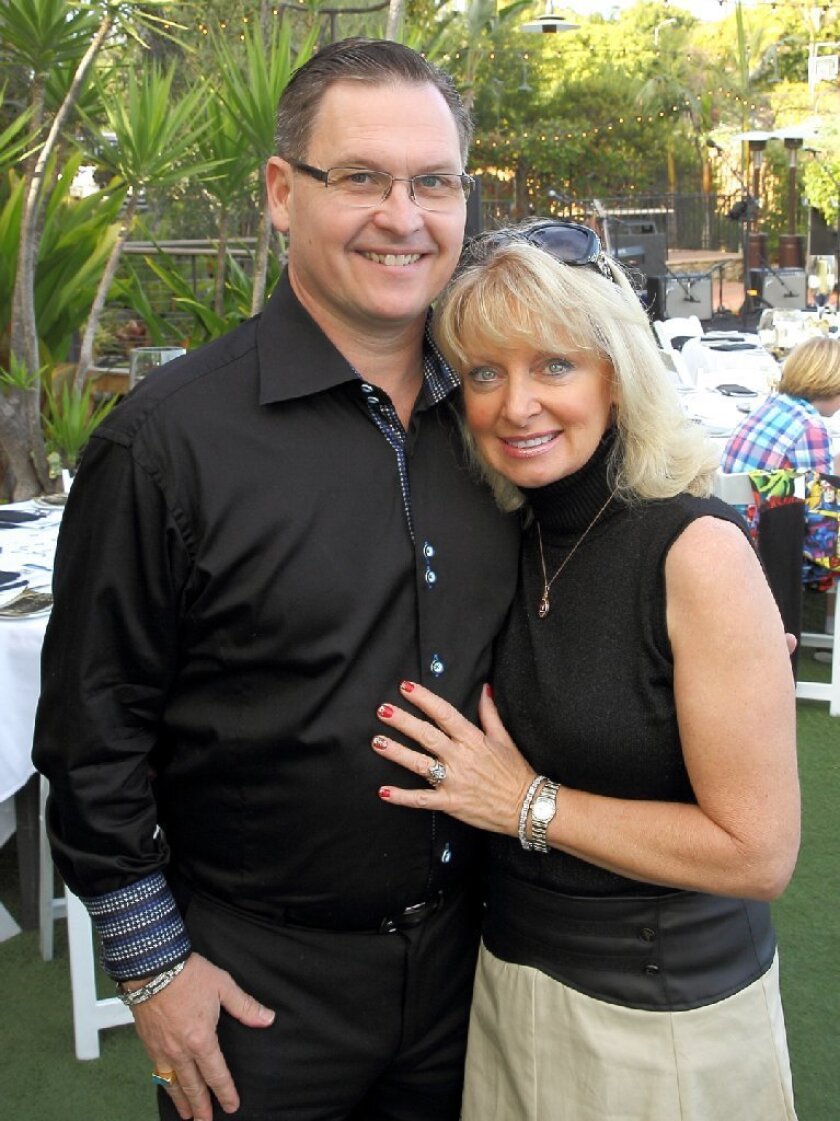 Instead of blowing out candles, Del Mar resident Brian Raduenz recently celebrated his 50th birthday by raising awareness about child trafficking.
"I wanted to get more involved," Raduenz said. "This was an opportunity to kick start that in a positive way."
The March 19 birthday bash held at the Brigantine in Del Mar benefited ERASE Child Trafficking, a nonprofit organization that aims to eliminate child trafficking.
Don Felder, a former member of the Eagles, as well as a magician and illusionist, performed at the event. Although sales from donated art are still being calculated, at least $5,000 was raised through donations and a silent auction.
"To have someone like Brian, in his community and with his reputation, opens up our network. It also brings us credibility," said Steven Resnick, co-founder and board chairman of ERASE. "Who better to pass the word about a cause? He's a special kind of person."
Raduenz is the chief executive officer of Solana Beach-based Merlin Global Services, a company that specializes in providing tailored intelligence, surveillance and reconnaissance services through flight operations, sensor maintenance, training and engineering services. He has been with the company since 2008.
Prior to joining Merlin Global Services, Raduenz served in the United States Air Force for 20 years.
As a flight test engineer and program manager, he supported a variety of manned and unmanned aircraft acquisition programs. During two tours in Washington D.C., Raduenz served in the Pentagon with oversight of remotely piloted aircraft budgets, and as director of the White House Military Office for presidential contingency programs under President George W. Bush.
In January, Raduenz learned about ERASE from a friend and former colleague in the military.
"I was looking for a good organization to support in association with having a birthday party, so I got connected with them through a guy that I served with in the military," recalled Raduenz, who received a bachelor's degree in electrical engineering from the U.S. Air Force Academy. He also earned a master's degree in electrical engineering from the Air Force Institute of Technology and a master's degree in military studies from Air University.
Resnick co-founded ERASE with Tony Sparks in late 2013.
Resnick has worked in the defense services industry for 17 years. Sparks, who also serves as vice chairman of the board, is an expert in leading child trafficking recovery missions. He spent 25 years in the U.S. Army, with most of his career assigned to special operations.
Resnick, Sparks and other representatives from ERASE attended Raduenz's party, where they shared their story.
"It's such a perverse problem. We've got to do more," Resnick said. "We do education, we do recovery and we do reclamation to try to give back."
About 17,000 children are trafficked out of the U.S. annually, Resnick said.
Of the more than 11,800 endangered runaways reported to the National Center for Missing & Exploited Children in 2015, one in five were likely victims of child sex trafficking. Of those, 74 percent were in the care of social services when they went missing.
"I just want people to be aware it's a real problem," Resnick said. "I just want moms and dads and kids to pay attention. This is a real threat. It can happen in seconds."
With many retired military working with the organization, Raduenz felt right at home and was ready to get involved with ERASE after he learned more about the organization's mission.
"I felt like it was kind of a combination between a good military-related thing but also a non-military problem — a problem that's just rampant everywhere," said Raduenz, who has been a Del Mar resident since 2011. He previously resided in Rancho Bernardo. "It's a significant issue that I feel really strongly about."
In addition to the fundraiser, Raduenz has already talked with Resnick about other ways he can help the organization.
ERASE plans to establish a state board of governors in California, and Resnick has already asked Raduenz to serve on the board. Raduenz has also brainstormed ways his company could collaborate with ERASE, including discounted or donated services.
"We have some technologies and capabilities within the company that may help them do what they do," he said.
For example, Merlin Global Services works with wide area surveillance sensors, an array of cameras that can monitor an area over a long period of time.
"If something happens, even if it was an hour ago, you can go back and you can see what happened during that time and fast-forward or rewind," he explained. "So if a child was taken from an area where you had that system set up, you could potentially identify them or at least figure out where they came from or where they went."
Although based in Nashville, ERASE has an office in Florida and will soon have an office in Virginia. The growing organization is also hiring an executive director in the summer. And over the next 12-18 months, Resnick said ERASE is concentrating its efforts in California, Texas and Florida.
"Those three states are known for their trafficking throughput," said Resnick, who also recently hired someone in San Diego who will help lead the organization in the state.
"They're going to try and set up some things in California. They're just getting started on that," said Raduenz, who encourages people to get involved with ERASE. "They need all the help they can get."
For more about ERASE or to donate, visit www.erasechildtrafficking.org.
---
Get the Del Mar Times in your inbox
Top stories from Carmel Valley, Del Mar and Solana Beach every Friday for free.
You may occasionally receive promotional content from the Del Mar Times.