Solana Beach teen honored with Rotary Club of Del Mar's Eric Scott Sorensen Service-Above-Self Award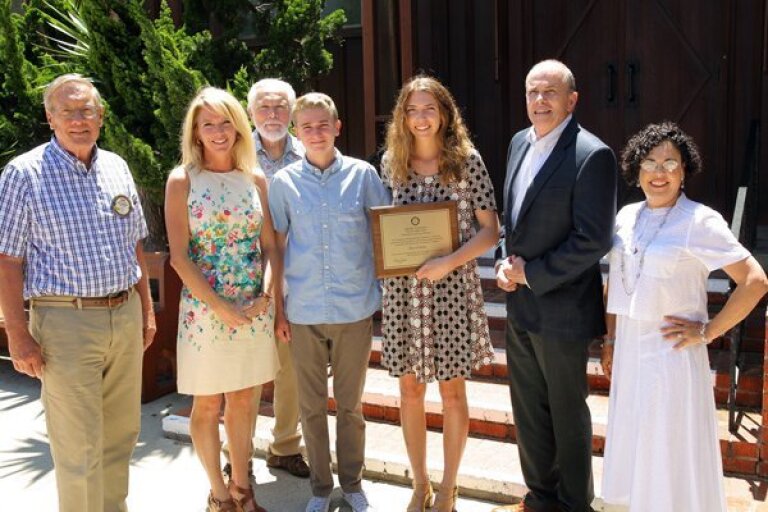 John Sorensen, Carey Cimino, Erik Nelte, James Cimino, Tess Cimino, Jim Cimino, Marlene Gotz
(Jon Clark)
Award recipient Tess Cimino
(Jon Clark)
Mark Matthess, John Burnett
(Jon Clark)
Bill Dougherty, Erik Nelte, Tom Ryan
(Jon Clark)
Bill Rawlings, Pat Dougherty
(Jon Clark)
Karin Davies, Peggy Martin
(Jon Clark)
Tom Woolsey, Michael Wexler
(Jon Clark)
Suzy Wagner, Karl Wagner
(Jon Clark)
By Kristina Houck
Although born with a chest deformity, Tess Cimino has never let her condition become a burden. In fact, it has only served as inspiration.
"I've decided to be confident with myself and not take what others say about it personally," said 18-year-old Cimino, who lives in Solana Beach. "That's helped me become stronger and persevere through a lot."
Cimino has pectus excavatum, a congenital condition where the breastbone is sunken into the chest, pressing on her heart and lungs.
Although she could have shied away from the topic, she has chosen to share her story publicly, often blogging about her condition online. In an effort to help other girls who might deal with body issues, she also spoke out against plastic surgery for cosmetic reasons in a Teen Vogue article.
For years, Cimino chose not to have surgery to correct her protruding chest. Because it was becoming difficult to breathe, however, she had surgery in March to relieve pressure on her heart and lungs.
"I know a lot of girls struggle with accepting themselves and their bodies, so it's important to me to be a role model for them," she said. "I want girls to feel comfortable with themselves. Even though I have this and it's been really hard, I don't want other people to bother me and I don't want other girls to be bothered by others either."
A recent Torrey Pines High School graduate, Cimino recently received the Rotary Club of Del Mar's Eric Scott Sorensen Service-Above-Self Award. The award is presented to a Torrey Pines student who, though physically challenged, is an inspiration to fellow students because of a positive approach to life and readiness to volunteer, capturing the spirit and principles of Rotary.
"It was really special," Cimino said. "Receiving this award for overcoming a challenge with my body and my surgery was exciting."
Cimino missed a month of school after her surgery. Still, she stayed up to date with her classwork and graduated in June.
"I have to keep up with everyone else, but I've worked hard to do that," she said.
While in school, Cimino played volleyball at Torrey Pines and with WAVE Volleyball Club. She co-founded Fashion for a Cause, a fashion focused-club that raised funds for local charities. She was also a member of the Fellowship of Christian Athletes and National Charity League, a mother-daughter philanthropic organization, and a volunteer with Helen Woodward Animal Center, the Helen Bernardy Center for Medically Fragile Children and Miracle League.
"I've always been really compassionate and caring toward others," Cimino said. "I can make a difference and help other people that need it."
After graduation, Cimino went on a 11-day volunteer service trip with Rustic Pathways to Laos, where she worked at an elephant conservation center. She also recently traveled to London and Switzerland with her family.
In the fall, Cimino will start at Marist College, a private, liberal arts college in Poughkeepsie, N.Y., where she plans to study fashion design. She hopes to one day have a career that combines fashion with charity.
"Be confident with yourself," Cimino said. "No matter what you look like, you're beautiful. No matter what anyone says, you're the most important person in your life. Whatever you think about yourself is true. Don't let anyone try to change you."
---
Get the Del Mar Times in your inbox
Top stories from Carmel Valley, Del Mar and Solana Beach every Friday for free.
You may occasionally receive promotional content from the Del Mar Times.