Patriot Profiles: 'Nobody gets into my security zone'
On Oct. 12, 2000, two suicide bombers navigated a small motorboat up alongside the USS Cole, which had stopped to refuel in Aden, Yemen, on its way to the Persian Gulf.
The bombers exchanged greetings with sailors just before explosives in the motorboat detonated, blowing a 40-foot hole in the side of the Navy destroyer. The blast killed 17 crew members and wounded 39 others. Master at Arms Second Class (MA2) Linda Phonesaithip was 8 years old at the time, safe in Sheboygan, Wis. Years later, she would find herself watching over American ships in the Persian Gulf, searching out threats.
Phonesaithip joined the Navy right after high school in 2010, with a penchant for law enforcement. "I wanted to defend my country … to be there with my brothers and sisters when things hit the fan," she said.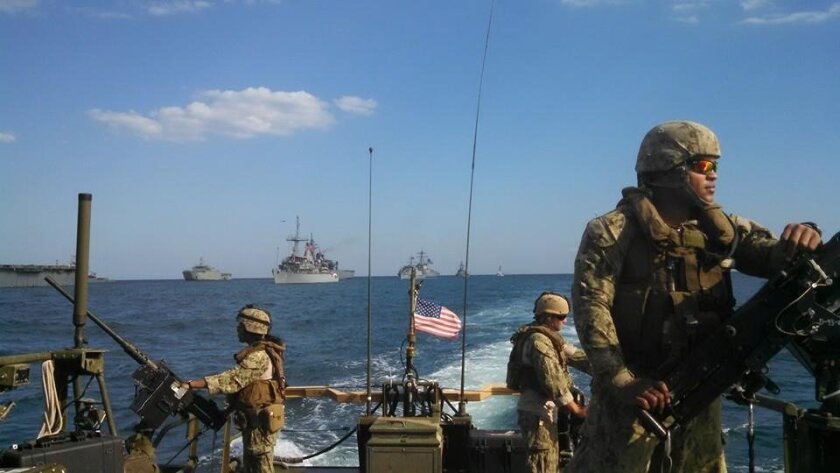 Her rank, MA2, is the Navy's version of military police. She started as a patrolman at Naval Air Station Key West and became proficient in her area of expertise. "I learned about investigations, physical security, traffic stops … things like that."
When the Pentagon lifted its ban on women serving in combat roles in 2013, Phonesaithip, part of the Navy's Coastal Riverine Force, volunteered to attend the force's formerly all-male Riverine training schools. Coastal Riverine Force, an element of the Navy Expeditionary Combat Command), is trained to operate in ambiguous anti-terrorism and maritime force protection environments, including port and harbor security.
Phonesaithip was excited to learn about the various Riverine communities. She was the first female to graduate from the Riverine Security Team Member course and was one of the first three females to graduate from Riverine Combatant Crewman School. The schools were "physically and mentally challenging," said Phonesaithip. "The instructors weren't used to working with females, but once they saw I proved myself, it was all right."
She said of her Riverine male counterparts, "They were reserved at first, but over time we got along and we bonded. The hardest thing was driving the boat, because I had to multi-task and it was the first time I'd ever driven a boat."
At Coastal Riverine Squadron 2, Phonesaithip was assigned as a gunner with the Riverine Combat Boat platoon, Delta Company. She completed a full training cycle, in preparation for her command's deployment in the Fifth Fleet Area of Operations.
According to Lt. Cliff Harrell, the platoon's officer-in-charge, the training cycle incorporated hot/cold inserts and extracts, fire support missions and combat rubber raiding craft operations. "MA2 was the only female to qualify as a (combat rubber raiding craft) coxswain from the squadron."
When it came time to deploy to Bahrain, Phonesaithip's wish to do something more dynamic unfolded. She described being part of the boat crew for a 4.3 million-dollar Riverine combat boat as "extremely different" than her previous experience as a patrolman. "I'm the gunner … I set up the RCB with weapons stations and make sure everything is good to go. I'm a lookout and I report to my coxswain and boat captain if I see anything."
In her current job, Phonesaithip likes being able "to shoot a bunch of weapons that I would have never been able to touch on my last command." She is proficient with the M9 pistol and M4 rifle, and "crew-served weapons" — the M-240 and 50-cal machine guns. "As long as you get the momentum right, anyone can rack a 50-Cal." She's also had to learn about navigation and radio communications.
Protecting "high-value units" is her platoon's charge — ports, waterways, oil rigs, personal assets like a ship, oil tanker or aircraft carrier, Navy bases and infrastructure — anything critical to naval operations. The area in Bahrain she was responsible for is green water — providing a security bridge between stations on land or coastal environments to Navy blue-water operations in the deep ocean.
Phonesaithip is vigilant while conducting defensive force protection to ensure assets remain safe. "Nobody gets into my security zone," she said, adding that "destructive fire" is her biggest concern while at sea. A surprise attack like the USS Cole helps her keep her "head on a swivel." Her team's efforts have paid off, conducting more than 100 high-value assets escorts while deployed.
Adding to the Navy's many defense elements are — sea lions. Phonesaithip had the opportunity to conduct testing with the Navy's Marine Mammal Systems while in Bahrain. Under careful monitoring, both sea lions and dolphins are trained to find and locate objects underwater. Sea lions have very sensitive underwater directional hearing, exceptional low- light vision and are capable of repetitive deep diving. "It was really cool to work with them," said Phonesaithip.
The Riverine community has its rewards. "It's a smaller, tight-knit group … and I love being on the water," said Phonesaithip.
"I try to be better every day," she stated. Phonesaithip's efforts during deployment were noted by Lt. Harrell: "During all this time…MA2 (Phonesaithip) was one of my top performing sailors. She never complained about being on the water for extended periods of time. Knew her job cold, and was always striving to learn the next job up. She is just a check ride short of being qualified as an RCB coxswain, making her the second only female at the command."
Said Phonesaithip, "I've learned a lot about myself. I worked hard every day. Hopefully, the girls that come after me — they'll continue to work hard and not be treated any differently. She will remain at CRS-2, training with the company that will acquire the Navy's next-generation MKVI Patrol Boat.
The day of the USS Cole bombing, President Bill Clinton said, "If, as it now appears, this was an act of terrorism, it was despicable and a cowardly act."
Terrorism is undeniably real. Master at Arms 2nd Class Linda Phonesaithip is pulling her own weight to prevent it, serving in this former all-male Riverine combat role. For those who have lost their lives, at the hands of despots and cowards, stand those who honor their sacrifices with unceasing vigilance.
---
Get the Del Mar Times in your inbox
Top stories from Carmel Valley, Del Mar and Solana Beach every Friday for free.
You may occasionally receive promotional content from the Del Mar Times.