Del Mar resident retraces Roosevelt's legendary footsteps in the Amazon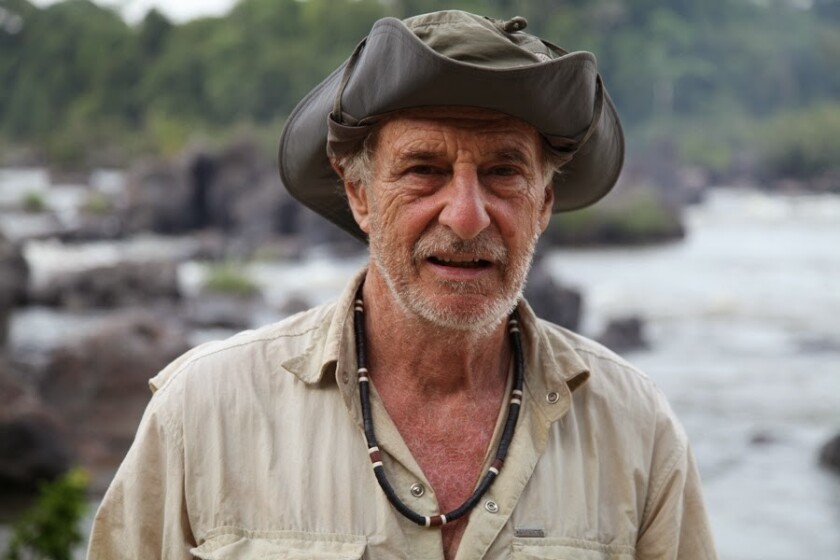 There were times when Del Mar resident Marc André Meyers — drenched in sweat, swarmed by mosquitoes and bees, malaria and cannibals an ever-present danger — knew the desperate straits in which Teddy Roosevelt had found himself a century earlier.
The former U.S. president, still smarting from his humiliating defeat in the 1912 election two years prior, had ventured into an uncharted corner of the Amazon, down a tributary known ominously as the River of Doubt. Malaria-stricken and hobbled by an infected gash in one leg, Roosevelt, in his delirium, commanded his fellow expeditioners to forge ahead rather than to doom them to the fate to which he was certain he had fallen.
When Meyers retraced that harrowing journey 100 years later, his crew did so as faithfully as possible — navigating the river in flimsy pack canoes, portaging around boulder-choked rapids, slogging days on end through the jungle with mules and machetes.
"We didn't want to use any modern equipment. We didn't have a doctor. We didn't have anything," he recalled one recent morning in his office at UC San Diego, where he is a professor in material science. "We almost couldn't get through. If we had been one more day without water, we would have died."
For the past 30 years, Meyers' work has focused on the effects of dynamic events like explosions in order to lay the foundation for new types of armor. Besides his many scientific papers, he has penned several novels, many of them set in South America.
That passion dates back to his childhood in Brazil, where his engineer father from Luxembourg had taken the family in order to build a steel plant in the jungle. It was there that he developed a fascination for the Amazon and the tribes living in it. But it wasn't until decades later, when he read Candace Millard's 2006 book on Roosevelt's expedition that he plotted his return.
"I turned the last page and said, 'I have to do this,'" Meyers said.
The 1914 expedition was co-led by Candido Rondon, an army colonel and legendary Brazilian explorer. He had built his renown in part by being among the first to lay telegraph lines across huge swaths of once-impenetrable jungle. Rondon had been at it for 10 years when Theodore Roosevelt arrived in South America to give a series of lectures.
"Roosevelt was not in a very good financial position. He was more of a dreamer and doer and politician than he was a businessman," Meyers said. "When he arrived in Rio de Janeiro, one of the ministers told him about a river that no one had ever gone down. Roosevelt being like he was — hotheaded —immediately said yes. He didn't give it much thought."
What ensued is now known as the Rondon-Roosevelt Scientific Expedition, a plan to collect specimens and chart the river for about five months that turned into Roosevelt's brush with death.
Whereas Millard detailed the expedition with a historian's precision, Meyers' account takes a scientist's and explorer's tack of recreating every step — something that had never before been tried. His journey had two goals beyond retracing the original: to collect plant and animal specimens for research into their material structure and to measure the many environmental changes mankind has wrought over the intervening century.
Meyers split his effort into two parts: the river portion in 2014 and the land portions in 2015. In some parts, his crew included Jeffrey Lehmann, cinematographer and a fourth-generation Del Mar resident. The challenges they faced went far beyond topography and environment.
"There is a lot of anti-American sentiment because they have this idea that Americans want to take over the Amazon," Meyers said. "We almost got into it with the same tribe that gave Rondon and Roosevelt problems. Their chief is not a very nice guy. He didn't let us go through their land. He threatened to arrest us. He sent his thugs after us. They were cannibals, and the chief even hinted at this to us."
When word of his journey got out, it earned him an invitation to speak to the San Diego chapter of The Explorers Club. His tale went over so well that he was called up to the club's hallowed chambers in New York City. His manuscript — part diary, part travelogue, part scientific compendium — was written for that presentation.
Meyers has also published several papers on the feathers, fish scales and seeds collected during his journey. He even built a special gauge to measure the force of the piranha's bite.
But after all that, one portion of the Rondon-Roosevelt expedition remains to be retraced. Meyers plans to finish that off this summer, and hopefully rally support for a monument to the Rondon-Roosevelt expedition.
River of Doubt: Reliving the Epic Amazon Journey of Roosevelt and Rondon on its Centennial is available in paperback via Amazon.com.
---
Get the Del Mar Times in your inbox
Top stories from Carmel Valley, Del Mar and Solana Beach every Friday for free.
You may occasionally receive promotional content from the Del Mar Times.