Breeding a Breeders' Cup champion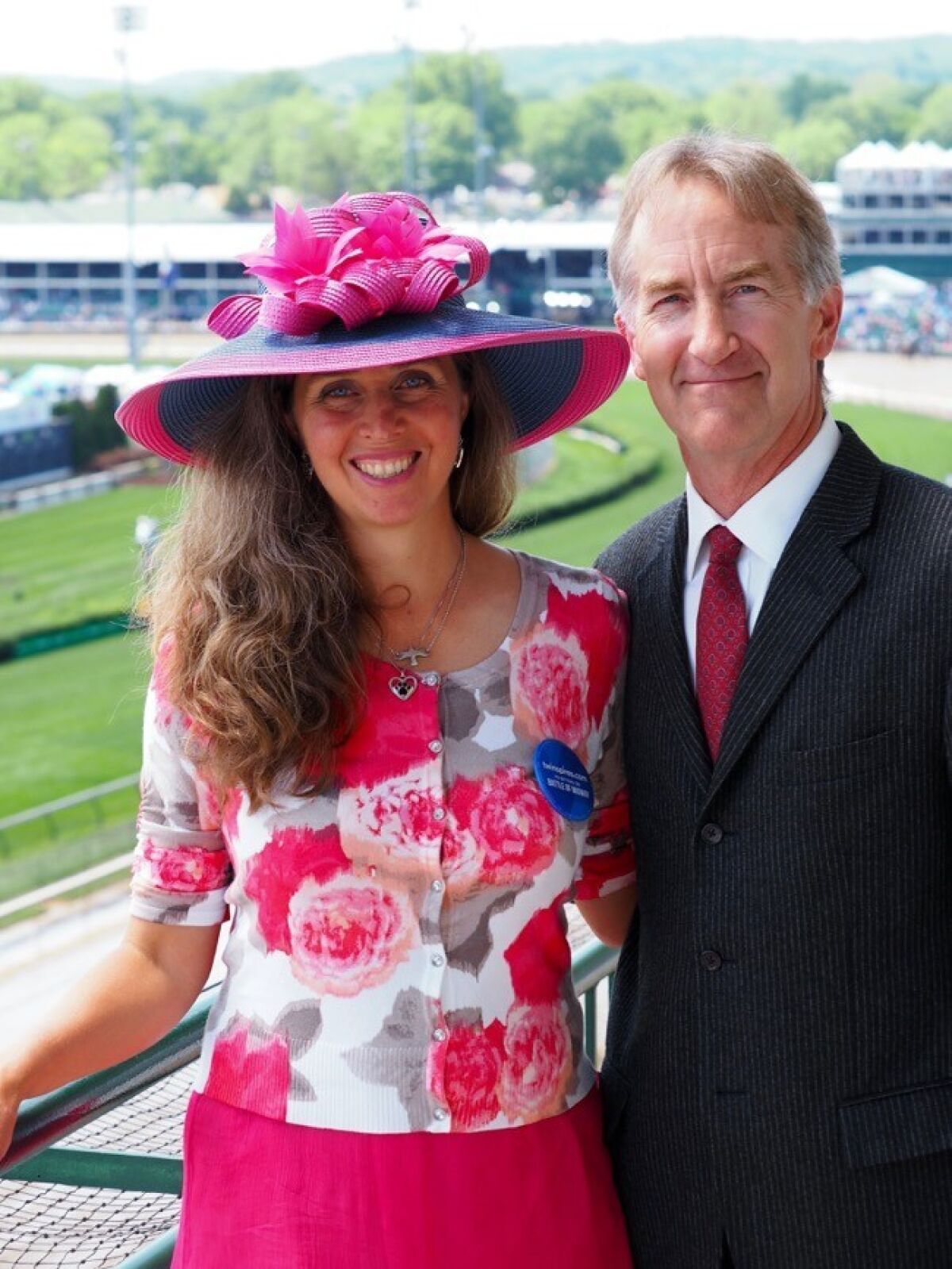 It was a hometown victory for Del Mar during the Breeders' Cup World Thoroughbred Championships on Nov. 3, when Battle of Midway triumphed in the Dirt Mile.
Local residents Pavla and Erik Nygaard of Thor-Bred Stables bred the 3-year-old colt, who scored the biggest victory of his career that afternoon.
"It was totally awesome," Pavla Nygaard said of the experience, when they watched Battle of Midway take down Sharp Azteca in the final strides to win by a half-length.
It may have been the first Breeders' Cup victory for the Nygaards, but certainly not their first success story with racehorses. As part of Thor-Bred Stables — which they co-own — they bred 2016 Del Mar Futurity winner Klimt and 2015 Sam F. Davis Stakes winner Ocean Knight. The Nygaards also own Irish Surf, who set a track record when winning the 2014 Cougar II Handicap on Del Mar's former Polytrack surface.
Pavla said that she has always loved horses. "I was a horse-crazy girl without access to (them) until I was in my late 20s," she said.
The first one Pavla bought was a 4-year-old thoroughbred mare nicknamed Willow.
"I had a grand total of 10 (riding) lessons under my belt," she recalled. "She was one week off the track, and had a sensitive gas pedal with no brakes."
Regardless, Pavla developed a special relationship with Willow, and she still has the mare, who is boarded in Rancho Santa Fe.
In 2006, Pavla and her husband, Erik - who has worked as a rocket scientist for TRW and as a Wall Street financier - started Thor-Bred Stables, and initially only raced horses. By 2008, they had also acquired four mares for breeding, but they were sold as the recession hit. However, the Nygaards recovered and were able to again start their band of broodmares with four of their former race mares in 2011, and later purchased other broodmares to help kickstart their broodmare operation. The first crop of foals arrived in 2012.
So far, "we've had three graded stakes winners from 24 foals in the first three crops — I'm very proud of that," Pavla said.
While the Nygaards maintain a "tack-and-training" facility and farm for young racehorses in Florida, their mares and foals are boarded at Chesapeake Farm in Kentucky. Pavla said Thor-Bred usually has around 10 mares.
She noted that she often visits the Kentucky farm, and has the opportunity to go into the pastures and stalls. This allows her to develop relationships with the horses, and the majority of them know her well enough to come looking for carrots when she arrives. While Pavla is there, she observes them and focuses on their traits, which is helpful when planning her mares' future matings with stallions.
She also spends a lot of time studying pedigrees and attending sales, trying to identify the characteristics that stallions tend to pass on to their offspring, including temperaments and conformation. Pavla said she often consults with various people in the industry for opinions on matches. Some of the pairings end up being more intuitive, and others more logical, she said.
"It's a bit of a process," Pavla emphasized.
"While I do most of the legwork and recommendations, Erik is very much involved, and we are very much of complementary team of 'yin and yang' personalities and points of view," she said. "He is the numbers and statistics guy, I am the horse person, and we do better together than either would on our own. … I tend to get feedback from a lot of people in the industry and that feedback plays differently in each mating, where the final decisions are Erik's and mine."
When deciding the match that would result in Battle of Midway, the Nygaards ultimately decided to pair their stakes-winning mare Rigoletta with champion sire Smart Strike.
The Nygaards had bought Rigoletta as a 2-year-old with the assistance of bloodstock agent Marette Farrell and Dan Hendricks, who trained Rigoletta during her career. Rigoletta went on to become one of the top runners in her division that year, with the Grade I Oak Leaf Stakes among her victories. However, she suffered a tendon injury during a race the following spring, and the Nygaards kept her as a broodmare. Pavla noted that Rigoletta was strong and determined, and she noticed similar traits in Smart Strike's offspring.
"With Battle of Midway, pedigree consultant Les Brinsfield had a lot of effect on the best pedigree options, as did the pedigree-matching database that Erik built that year, but the tie went to the intuitive choice," Pavla said. "I usually have an easy time of coming up with three final stallion possibilities, but the narrowing down from those three to the actual choice is usually the hardest part."
Battle of Midway was born in 2014, part of the third crop from the Nygaards' broodmare band, and he spent his early days frolicking in the same pastures as future stakes winner Klimt.
Pavla recalled Battle of Midway's early days and said that he was as an "in-your-face" type — not in an obnoxious way, but very curious. She said he was always the first one to approach her. "He wanted to see what I was up to," Pavla said.
Battle of Midway grew up at Chesapeake Farm, but was sold as a yearling at Saratoga in New York and went to trainer Bill Recio's farm in Florida. Eventually, he ended up in Hall of Fame trainer Jerry Hollendorfer's barn, and went on to finish second in this year's Santa Anita Derby and third in the Kentucky Derby. He also faced Klimt in the Shared Belief Stakes at Del Mar - they were next to each other in the starting gate, but at the end, Battle of Midway finished first and Klimt was third. The Breeders' Cup Dirt Mile was Battle of Midway's final race, as he was retired to WinStar Farm in Versailles, Ky., shortly afterward.
Meanwhile, the Nygaards have plenty to focus on, with the arrival of more foals and about eight horses currently racing.
Pavla said it's a full-time job (and then some) to manage the Florida farm, keep track of all of their horses, attend sales as much as possible, and maintain tabs on the constantly changing industry.
"In my experience, luck plays a huge part (in this industry), not just some," she said. "All of us in the industry have had some amazing horse get injured or worse through some unfortunate unlucky situation, and, on the other hand, we have also benefited from a perfect trip in a race that went our way, and, of course, even the best planned mating still needs the hard work and luck of those who care for the horse during their career. In this industry, you can focus on results or the process. Sometimes you can get a good result with a bad process, but we try to influence what we can with a thoughtful process, and hope that the results can follow. When luck smiles on us like it did in the Dirt Mile, it is an incredible feeling for sure."
And the fact that the Breeders' Cup Dirt Mile was held at Del Mar this year was icing on the cake. "Certainly it (the Breeders' Cup win) was very special to have happened, but to have it happen at our home track, and his mom was third in the (Grade I) Darley Debutante Stakes (at Del Mar) when she was running, it made things come full circle," Pavla said.
---
Get the Del Mar Times in your inbox
Top stories from Carmel Valley, Del Mar and Solana Beach every Friday for free.
You may occasionally receive promotional content from the Del Mar Times.