Forged in the `grays' versus `greens' fire, Eisenberg left her mark on Del Mar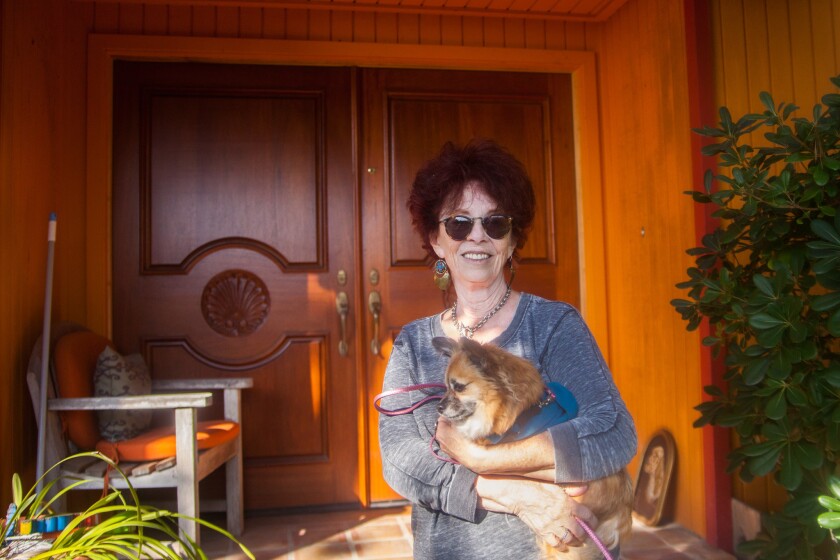 Olde Del Mar has gotten just a little bit quieter.
Brooke Eisenberg, the former mayor and unapologetic firebrand, returned to her native New York City recently after carving out a 30-year legacy as a fierce -- some would say rabble-rousing -- advocate for transparent government and constrained growth.
"I do say what I mean. I've never been shy about it. It's been a good thing and a bad thing," she said Feb. 6 while awaiting movers on their way to clear out her home on Hoska Drive. "But I think I had an impact when I felt people weren't being listened to, and I think that's the most important thing about this city."
The evening before, Del Mar's city council took pause to recognize her decades of devotion to Del Mar's civic life. Mayor Dwight Worden, who served as a special counsel to the city during Eisenberg's council tenure and later sat alongside her on committees that worked on the fairgrounds master plan and the Gardens Del Mar proposal, took particular pleasure in issuing the proclamation.
"Brooke is one of most outspoken, brightest, most dedicated people in Del Mar we have," Worden said. "She won't hesitate to tell you her mind. I've heard it many times."
That legacy dates back nearly 34 years, when she and her then-husband left New York City "in search of adventure," she said, settling in Del Mar in 1984 amid the uproar over proposals to build what are now the Del Mar Plaza and the L'Auberge Del Mar Hotel--that seminal divide between pro-development "grays" and slow-growth "greens."
Eisenberg quickly staked her ground and helped drive the petition that in April 1986 brought Del Mar's landmark Measure B to a successful vote, forcing the plaza and hotel to scale down and to this day requiring voter approval for development projects downtown greater than 25,000 square feet.
That campaign, combined with her crusade against the fairgrounds' ill-fated Grand Prix, propelled her onto the city council along with another green in the same election. When two more allies won council seats in 1988, the greens had completed their takeover.
"It was four women and one man," Eisenberg said. "That was the best council ever. We were great."
In 1990, Eisenberg's husband fell ill with leukemia, prompting her not to seek another term. He died the following year, but her activism did not soon wane. She served on the city's Design Review Board and was a guiding force behind the preservation of the San Dieguito Lagoon. She also weighed heavily on the fairgrounds masterplan, using her voice to temper the fairgrounds' impact on the city.
Regardless of whether it was with her fellow greens or the grays, led by five-term mayor Tom Pearson, Eisenberg advocated "forcefully but with public grace and courtesy," Worden said.
"She was a real fireball and still is," he said in an interview, recalling her penchant for "very politely but very firmly getting right in your face to tell you what she thought and to tell you when she thought you were wrong. She did that with people on all sides of the political spectrum. With Pearson and the other grays she was regularly in their face. For me and people on the green side, if she thought we were off she'd turn her cannons on us. I always really respected that and it set her apart."
Eisenberg's impact can also be found in Del Mar Community Connections, for which she was a founding board member. An attorney by training, she handled the legal paperwork that in 2000 grew DMCC from an informal network of caregivers into a 501(c)3 that provides Del Mar's elderly residents with transportation, housing assistance and a wealth of activities.
"It started out small, with free legal services and those kinds of little things," Eisenberg said. "Now it's huge: there's paid staff and all kinds of activities for seniors. It's just absolutely wonderful."
Over the past decade, Eisenberg dialed back on the activism but was never shy about making her voice heard on crucial issues, such as the Village Specific Plan and Proposition J in 2012, and the heated debate a few years ago over plans for the forthcoming city hall and civic center.
By then she had remarried - to jazz musician Dave Pike, pioneer of the amplified vibraphone - whom she had known in New York in the 1960s. Pike died of emphysema in October 2015. The quietude that followed eventually compelled Eisenberg to seek out the busier din of Manhattan's Upper West Side.
"I just need the action," she said.
But true to form, she offered a parting shot before leaving town for good.
"The city has transitioned tremendously, and I'm concerned," she said. "A lot of money has come in. Money is good, but there's a lot of antipathy to the people who have been here for a long time, and it has to do with money: property taxes."
---
Get the Del Mar Times in your inbox
Top stories from Carmel Valley, Del Mar and Solana Beach every Friday.
You may occasionally receive promotional content from the Del Mar Times.