Crushing it: Carruth Cellars expecting biggest-ever grape production this season
Solana Beach's Carruth Cellars, an urban winery and tasting room, received a bumper crop of grapes this month. Carruth's warehouse cellar on Cedros Avenue will be filled as they will be crushing more than 260 tons of grapes this "crush season," over 100 tons more than they have ever crushed before.
"The fact that this is a vast crop is awesome," said Steve Michaliszyn, assistant winemaker. "In five years at the winery, I haven't seen this many grapes."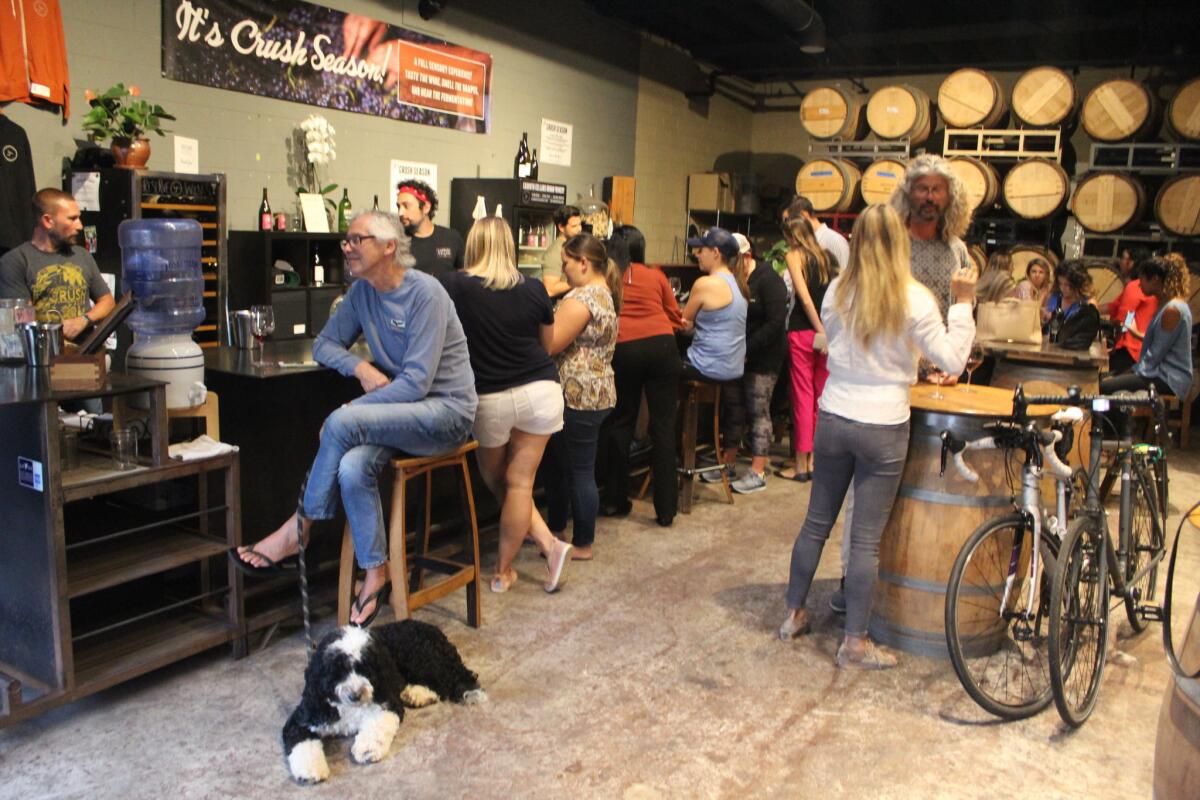 As the urban winery will more than double its production this year, they are inviting the public in to help be a part of the daily punch downs throughout the crush season which lasts through the end of October. The community is welcome to come experience and learn about winemaking first-hand every evening around 6 p.m.
"People are really intrigued by the process of making wine," Michaliszyn said. "The opportunity to see the entire process is something that you would only see in a vineyard but we're right here in town."
Carruth Cellars was founded by owner and winemaker Adam Carruth in 2006. He first started making wine in his Carlsbad backyard, bringing in grapes from Northern California. He opened the Solana Beach space in 2010, bringing the vineyard to the urban community—they have gone on to become one of the fastest-growing urban wineries in the county with many award-winning vintages.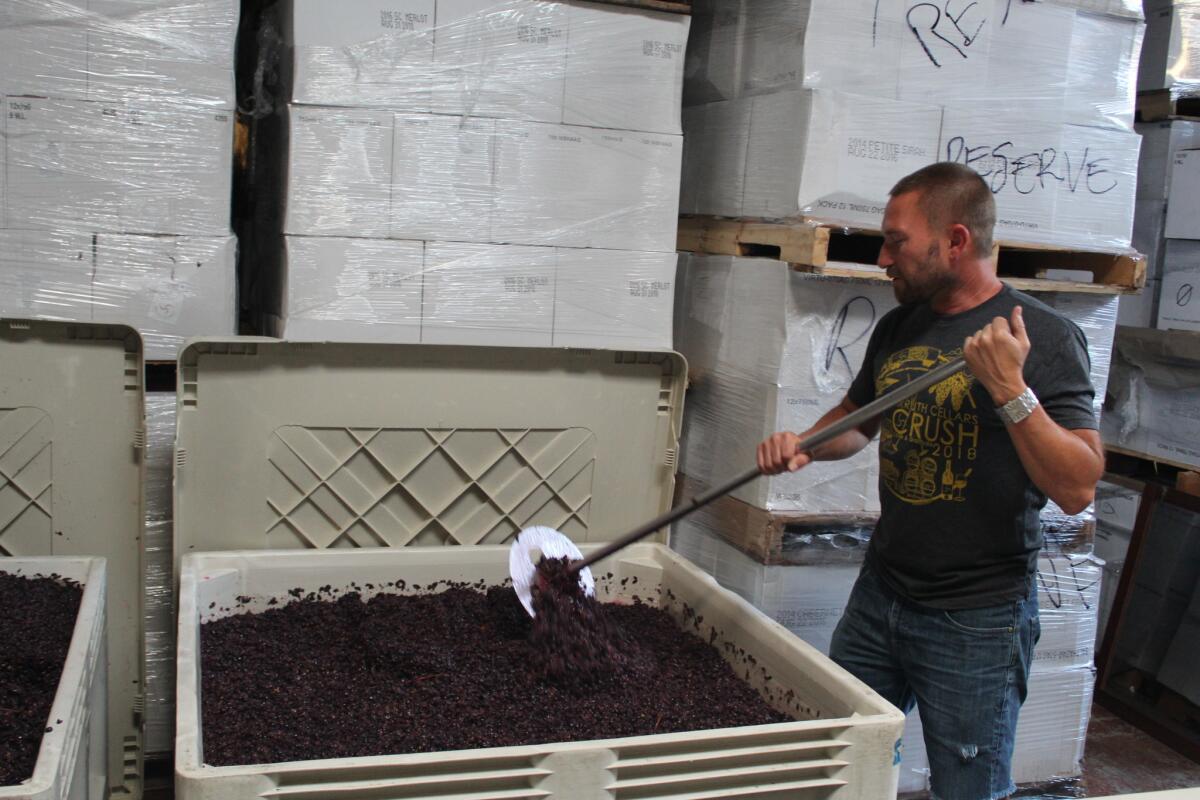 The winery specializes in Sauvignon Blanc and lot of heady Bordeauxs and blends such as Cabernet Franc, Zinfandel and Pinot Noir. While you can find Carruth wines in some Solana Beach and Del Mar establishments, the focus is on direct to consumer. On a given afternoon in the winery, about 80 percent of the people sipping in the tasting room are wine club members, locals and regulars, that Michaliszyn knows personally.
On Cedros Avenue, the warehouse doors roll up to bring people into an open environment, revealing the entire production operation—where all the crushing and fermenting is taking place.
Crush season marks the very beginning of the fermentation process. Over the last few weeks the winery received the first tons of the expected 260 ton haul — Pinot Noir from Russian River Valley, Zinfandel from Dry Creek Valley and Petite Sirah from Alexander Valley.
After a cold soak, the grapes are placed into the bins. During the punch-down process, winemakers use a long tool to push down the "cap" of grape seeds and skins that forms at the top of the bin during primary fermentation.
By doing this it introduces oxygen to get fermentation going— Michaliszyn said you want to mix it all in so it all ferments evenly, and keep the temperature of the bins down, avoiding hot spots, resulting in a "nice, flavorful, fruit-forward wine."
"You get an awesome smell of the carbon dioxide pushing off the grapes," Michaliszyn said of the fragrance of the crush that lingers in warehouse as they work.
The winemakers must punch down the grapes three times a day and as this year they will have to do that process for over 260 tons, they are hoping to get a helping hand from the community.
Michaliszyn said like everything they do at Carruth, the crush will be a "fun good time" and guests will be able to appreciate the amount of hard work, love and gratitude that goes into a bottle of wine—no bad vibes allowed because bad vibes make for bitter wine. As an added bonus, a good crush session can also be quite the workout for the abs and arms.
Eventually the grapes will find their way into over 400 French oak barrels and will spend two years fermenting—people will be able to enjoy the wine in 2020.
Michaliszyn, a Del Mar resident, has always had a deep love of wine, instilled by his family and trips to European vineyards as a child. While punching down grapes and carefully circulating them throughout the bin he mused on how wine is much like life, better with age, growing with time—he loves most how each year's grapes bring different perspectives to the wine. From what he's seen from the quality of grapes that have come into Carruth so far—2018 is going to be a great year.
Following crush season, Carruth has a big reserve wine sale of wines made over the last 10 years in November, allowing people to stock up before the holidays. This year's party will be held on Nov. 10.
The winery also places an emphasis on being a part of the community and supporting local nonprofits through Corks for a Cause events and Pay it Forward bottles where a portion of proceeds are dedicated to a nonprofit organization or cause.
Over the years, Carruth has expanded from its humble backyard and beach roots, opening tasting rooms in Carlsbad in 2016 and the unique Little Italy Wine Garden in 2017. Each location has a totally different vibe although the Solana Beach location remains the most important spot during crush season, when the tasting room transforms into a fully-functioning wine cellar.
"This is the heart and soul, where everything happens," Michaliszyn said.
No experience is required to participate in the punch downs. Each shift starts at 6 p.m. and lasts about 45 minutes to an hour. For more information, visit carruthcellars.com/crush. Carruth Cellars is located at 118 S. Cedros Avenue #C.
Get the Del Mar Times in your inbox
Top stories from Carmel Valley, Del Mar and Solana Beach every Friday for free.
You may occasionally receive promotional content from the Del Mar Times.