Casa de Amistad awards $60,000 in scholarships at 'Future Leaders' dinner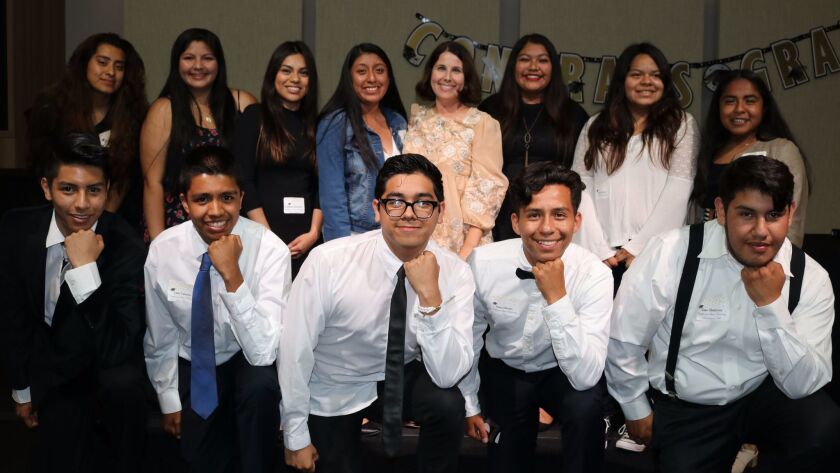 Casa de Amistad dedicated a night June 1 to celebrate the achievements and successes of its own graduating seniors. Casa de Amistad, a nonprofit tutoring and mentoring program, is committed to serving underserved families in North Coastal San Diego. Casa de Amistad serves over 240 students in preschool through 12th grade on a weekly basis. On June 1, however, 12 of Casa de Amistad's high school seniors were the night's main focus.
These 12 seniors were invited, along with their families and mentors, for a dinner aptly named Casa de Amistad's Future Leaders Scholarship Dinner. In 2016, a generous gift from an anonymous donor led to the creation of Casa de Amistad's first scholarship fund from which the dinner received its name: the Future Leaders Scholarship Fund.
The Future Leaders Scholarship Fund, is directed by a committee of Casa de Amistad volunteers. The purpose of the fund is to offer financial assistance to graduating seniors who will be headed to a community college or four year university. This year, Casa de Amistad awarded $60,000 in scholarships.
At this year's Future Leaders Scholarship Dinner, students planning to attend community college (Mira Costa College across the board) received $500 scholarships, while students attending four-year universities representing schools such as CSU San Marcos, CSU Dominguez Hills, and UC Riverside received $6,000 scholarships. The difference in awards is due to the new campaign offered by MiraCosta Community College, called the Mira Costa Promise. Under the Promise, the first year at the school would be covered financially, in addition to receiving resources and funding towards books and other supplies.
In addition to monetary awards, students received brand new Apple MacBook Air computers. Students arrived to the Future Leaders Scholarship Dinner knowing they received scholarships, but they were not aware of the amount of their awards, nor did they know what kind of laptop they would be receiving.
Students and their families were amazed when these awards were revealed. La Costa Canyon Senior Juan Duran described receiving these gifts as have a great "impact" on his financial situation, citing how these gifts lifted stress and uncertainty off of his shoulders: "I am very grateful to have received the scholarship." Juan will be attending CSU Chico in the fall and intends to study construction management and concrete industrial management.
The evening was spent celebrating the students, with kind and encouraging words shared by mentors who have worked with these students over months, and even years. Moving on to universities all over California to study a wide variety of topics, these students are on their ways to becoming future leaders. Visit www.casadeamistad.org.
---
Get the Del Mar Times in your inbox
Top stories from Carmel Valley, Del Mar and Solana Beach every Friday for free.
You may occasionally receive promotional content from the Del Mar Times.