Local teen appointed to Kids Board of Directors due to humanitarian work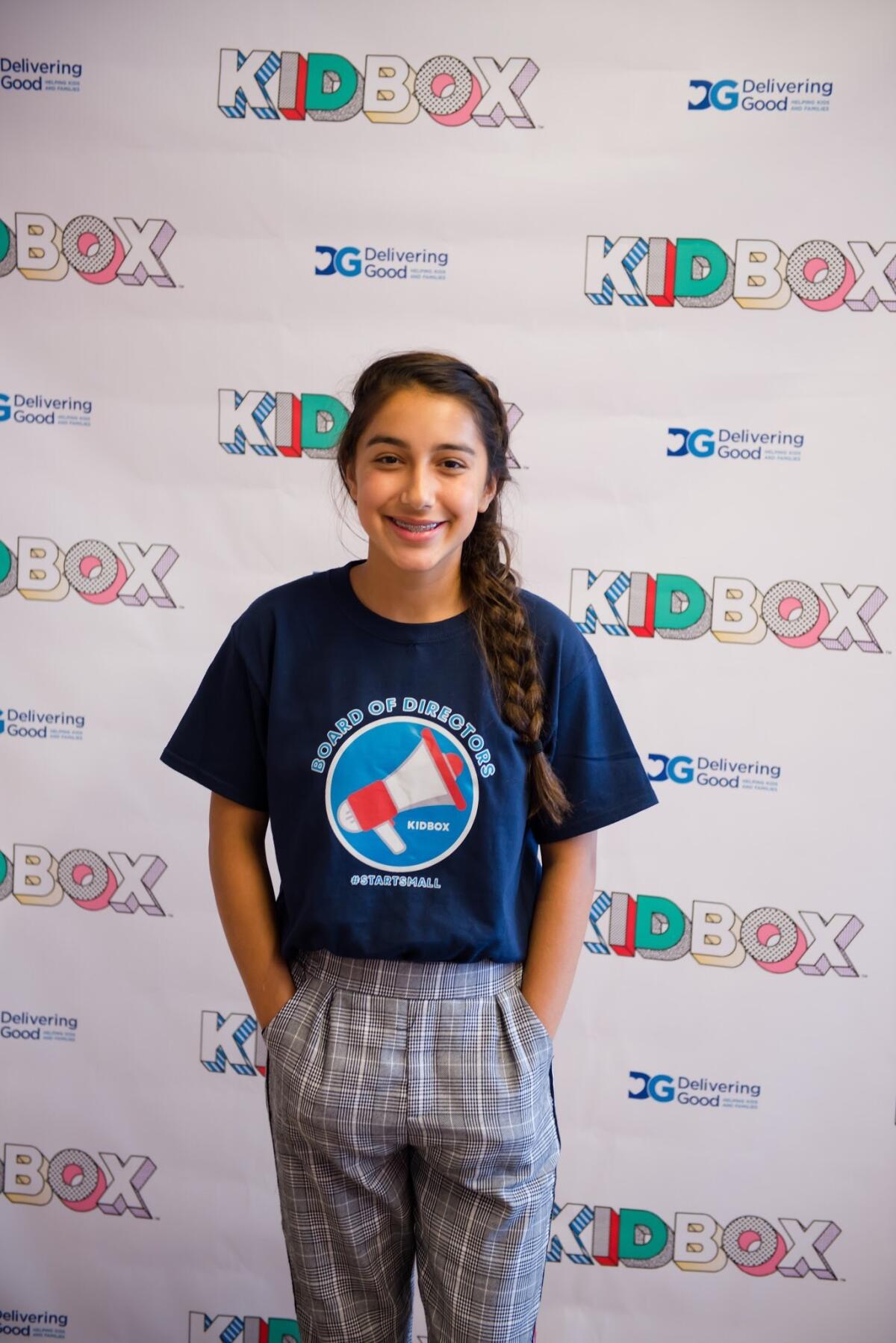 KIDBOX, the only kids' style box "offering cool brands, amazing prices, and a mission to clothe one million kids in need," recently announced the appointment of its new Kids Board of Directors for the 2018-2019 term, according to a news release. Among the new board members is incoming Cathedral Catholic High School freshman Daniella Marie Benitez, 13, who builds homes for families in need.
Daniella just graduated from Notre Dame Academy (NDA) in Carmel Valley, spearheading the building of a home in Mexico through Build a Miracle (buildamiracle.net) earlier this year. Daniella and her younger brother, Gabriel, who is entering 7th grade at NDA, have headed up the building of another home, each by leading their respective teams to raise $16,000, so two more homes will be built this fall.
KIDBOX's Kids Board of Directors, a program initiated in 2017, is comprised of 12 outstanding kids ages 8-14 who have demonstrated strong leadership skills, a flair for fashion, and a passion for social good, the news release stated. The board will advise KIDBOX on kids' style, learn new leadership skills, and identify new ways to give back in their local communities.
"We created the Kids Board of Directors program before our formal adult board was formed because we are a brand for children and parents and from the start we wanted to understand what matters to our customers," said KIDBOX CEO Miki Berardelli in the news release. "The board allows us to see the world through a kids' point of view and ensures that children -- the heartbeat of KIDBOX -- have their fingerprints all over our brand."
In addition to advising KIDBOX on how the company can further innovate on preferred kid style trends and toys, the young, promising leaders will also be charged with participating in meaningful projects throughout the year since giving back is KIDBOX's core mission, the news release stated. Projects will include conceptualizing and executing a creative community service initiative in their hometowns with guidance from KIDBOX. The board will pitch these ideas to a panel of executives in a "Mini Moguls: Changing the World One Box at a Time" session in New York City for the opportunity to have access to $10,000 in clothing value to put towards implementing their ideas, according to the news release.
"Our Kids Board of Directors furthers KIDBOX's social good mission by tapping into extraordinary kids who are already making impacts in their local communities and beyond," said KIDBOX founder Haim Dabah in the news release. "We look forward to collaborating with these enthusiastic, entrepreneurial, and philanthropic kids to help them grow their voices as leaders and spread social good in style."
The Kids Board of Directors kicked off with a recent trip to KIDBOX's new headquarters in New York City where they participated in concurrent interactive sessions focused on the fashion business, leadership, philanthropy, technology and design.
During the day, they were joined by kids from Harlem nonprofit Cherry's Kids, Inc. and Queens nonprofit The River Fund, where together they designed anti-bullying T-shirts to be included in fall KIDBOXes timed for National Bullying Prevention Month in October. They also heard from an anti-bullying professional to learn more about how they can create a voice for themselves and speak out against bullying in their communities. Visit kidbox.com and prn.to/2uXTWhY
Get the Del Mar Times in your inbox
Top stories from Carmel Valley, Del Mar and Solana Beach every Friday for free.
You may occasionally receive promotional content from the Del Mar Times.