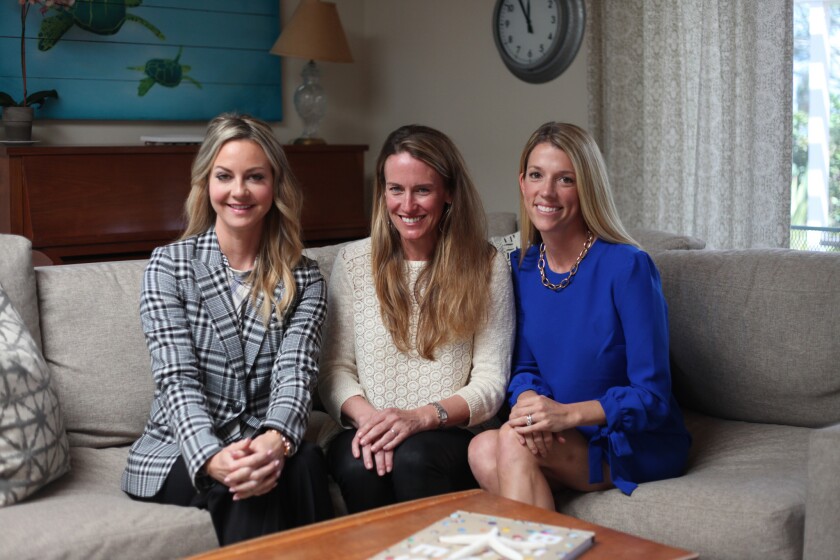 At once somber and celebratory, 19 women of Del Mar will gather next week in one of their homes to award $20,000 in grants to three nonprofits that survived the women's vet-and-vote elimination to become the inaugural donees of the Del Mar Women's Giving Collective.
It was only six months ago that the collective was little more than Lani Curtis' yearning for a way to engage and inspire the next generation of female philanthropists strewn throughout Del Mar's streets. The answer, thought Curtis, would be to go the way of the giving circles that are growing ever more popular as the civic-minded look to get more bang out of their philanthropic buck.
For anyone who grew up in these parts, as Curtis did, the gold standard of homegrown giving has to be the Rancho Santa Fe Women's Fund, which after 40 years stands more than 100 women strong and hands out some $250,000 every year to a roster of grateful nonprofits.
Curtis, the director of development at Horizon Prep in Rancho Santa Fe, wanted to join the venerated group, but was unable to since she did not live within the 92067 ZIP code. So she brought the model to Del Mar, but skewed to a younger demographic. The most fertile such ground within 92014's boundaries: her fellow moms at Del Mar Heights Elementary School.
Recruiting and word of mouth helped stir up a buzz, and members from the RSF collective handed down essential guidance to help the budding Del Mar collective navigate the logistics and pitfalls of starting a giving circle—structure and operations, recruiting volunteers, how to vet a nonprofit and make sure it is the right fit.
"They've been extremely generous with their time and helping us get off the ground," Curtis said. "They're excited for us. It means a lot to have that camaraderie."
When time came for the Del Mar collective's inaugural meeting in January, three dozen women showed. The ask: commit to two years and a $1,000 contribution each year. Curtis would have been happy to come away with 10 core members. Nearly twice that number signed on—allowing them to offer a $10,000 grant on top of the two $5,000 grants they had planned for.
"I've found that when you do it as a community, people are spurred on to do more and you stretch yourself and you realize you are capable of even more than you thought," Curtis said.
Each member of the collective has brought her own reason for joining, whether that be to amplify their dollars' impact, to learn about nonprofits they otherwise wouldn't have, or even be a role model for their children.
"This idea that we need to take care of people who can't take care of themselves: that's just a good thing for all of us to pass on to our kids," said Tricia Dixon, who now has a running dialogue with her 8-year-old son about homelessness.
Dixon and her husband had started to feel like they had fallen into a charitable rut, donating as if by reflex to the same organizations year after year. Having grown up in a family where giving and volunteerism were the norm, she wanted to engage more and seize a sense of ownership over her giving.
"It's about revitalizing the gift of being able to reach out to other organizations rather than it be just, 'OK, it's Christmas, time to write my check,' or, 'It's the end of the year, I need to make sure I hit that tax threshold,' and giving over and over to the same groups," Dixon said.
That's exactly the spirit Curtis saw took hold as the collective's 19 members researched and vetted 15 nominations, winnowing the list down to the six executive directors who made their pitch in Kristin Yanicelli's living room two weeks ago before an audience rapt by their work and the details of their money's potential impact. All six nonprofits were worthy, the women said, but only three could win.
The Monarch School won their hearts the most. Run as a partnership between the San Diego County Office of Education and the nonprofit Monarch School Project, the K-12 school in Barrio Logan serves up to 350 homeless children from across San Diego County. The $10,000 will bolster the school's wide array of wrap-around services, especially in providing shoes, clothing and school supplies.
One of the $5,000 grants will go to Just in Time for Foster Youth, a non-profit that helps foster children transition out of the foster system after they turn 18. Their presentation cited several of their clients in college who will now get help with laptops, books and other needs.
The other $5,000 grant will go to Girls Rising Above Child Exploitation (GRACE), a faith-based group that opens the doors this summer to a safe house for girls age 12 to 17 at risk of sex trafficking. Because of a matching grant GRACE had in place already, the collective's $5,000 will become $10,000—enough to buy a much-needed van.
The intimate look into the lives of those who had come out of the programs made it clear that members of the collective will be getting personally invested in the issues the collective takes on, beyond simply reaching for their pocketbooks.
"We're sitting there listening and fighting back tears," Yanicelli said. "I think we all came out of that meeting saying not just, 'I'm going to write a check and listen,' but also, 'How can we also move into a different direction?'"
That's the sort of contagion that Curtis says will elevate the collective's members to new philanthropic heights.
"The hope is that this is a little bit of an incubator for all of us individually, that people will get connected to organizations as a volunteer, as a donor, even take on board positions," Curtis said. "The idea is to really use this as a platform for all of us to become more heavily invested in the philanthropic and donor community within San Diego—and to start now, not to wait until we have all the time on our hands."
Once the checks are doled out next week, these donating women of Del Mar will spend the summer honing their stated mission and what types of organizations to seek out. In September, they'll add new members and begin the giving cycle anew.
"We want to grow as donors and philanthropists ourselves and as a group. I fully expect that it's not only going to be giving money through the Del Mar Women's Collective," Curtis said. "These women are just getting started."
Learn more about the Del Mar Women's Giving Collective by contacting delmargiving@gmail.com.
---