Del Mar couple devoted to helping foster youth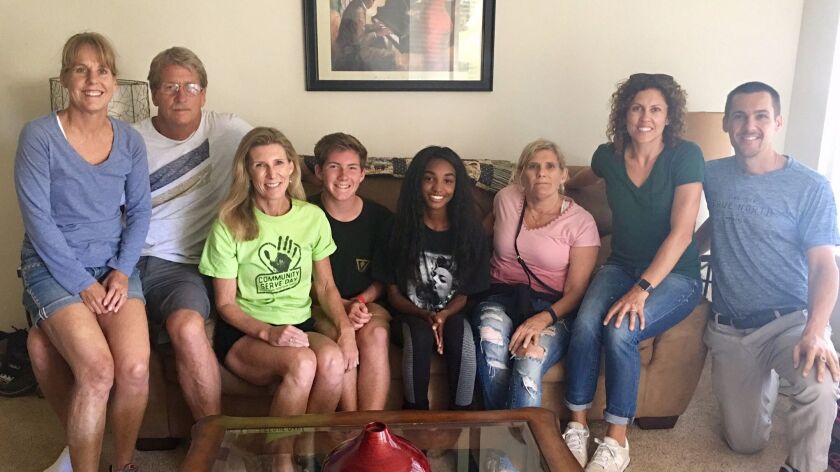 When their children grow up and require less attention, many people take up a hobby. But Bill and Gretchen Morgan took on a cause — helping foster youth transition to independent lives.
For the past several years, the Del Mar residents have worked with their church, Solana Beach Presbyterian, and local nonprofit groups on a variety of programs aimed at helping foster youth in San Diego County deal with a variety of challenges.
One of their favorite endeavors is through a group called Just in Time for Foster Youth, which has the "My First Home" program to assist young adults in the county's foster youth system transition to their own apartments.
Volunteers such as the Morgans gather donations, buy household items from furniture to kitchen and bathroom supplies, and help the newly independent adults move into their new apartments.
"We come in and we provide everything," said Gretchen, 56, who runs her own accounting business when she isn't organizing some type of effort to help foster youth. "It's really fun."
Over the past several years, she said, the couple has helped about 25 young adults who have aged out of the foster care system move into their own apartments.
But the work doesn't stop there. The couple are involved in such activities as helping foster youth get driver's licenses and prepare for job interviews, and they also help host an annual Christmas party and a beach party designed to reunite younger foster children who have been separated from their siblings.
Bill, 63, a former college swimming coach who now works in residential real estate sales, said the various programs provide a community to support foster youth as they strive for successful lives, whether that means a college education or a good job.
"We love it because we are able to be part of that community, it's fulfilling, it's exciting," said Bill. "You get to do things that have an impact on their lives going forward."
Other services that groups such as Just in Time provide are helping foster youth learn to manage their finances, establish credit and save the money for an apartment security deposit.
"A lot of these kids can end up homeless without this kind of support," said Bill.
The work of volunteers such as the Morgans is essential to providing the support that foster youth need, according to Don Wells, executive director of Just in Time for Foster Youth.
"Just in Time would be unable to serve over 700 individual young people each year without the commitment of resources and relationships provided by volunteers like Bill and Gretchen. They truly create the extended family we hope for that changes the perspective of transition-age youth who have been disappointed so many times in the past by people who 'didn't show up.' Bill and Gretchen show up, year after year in exceptional ways," Wells wrote in an email.
Gretchen said she first became involved in helping foster youth in her 20s, but then put aside that volunteer work as she and her husband raised their two daughters, both of whom have now graduated from college.
Several years ago, she joined the Foster Youth Ministry at her church, a group she now leads.
Among the church group's efforts is hosting an annual Christmas celebration for foster youth, including a party, complete with gifts and stockings.
The couple have even rented a storage unit where they keep donated furniture and household items which are used to furnish the apartments of newly independent foster youth.
Providing a support community is so important for foster youth, said Bill, because many of them don't have the family support that other young people enjoy. And leaving them without support can have negative impacts, such as causing them to forego an education or even end up on the street.
"We really believe it's important for the community to be involved. We need individuals in the community to understand the depth of the problem and the depth of the need," Bill said.
Those who want more information about the various foster youth programs, or to donate furniture or other items, can contact Gretchen at gmorgan@gretchenmorgan.com.
---
Get the Del Mar Times in your inbox
Top stories from Carmel Valley, Del Mar and Solana Beach every Friday for free.
You may occasionally receive promotional content from the Del Mar Times.