'Gaspar Doctors of Physical Therapy' helps patients find root of the problem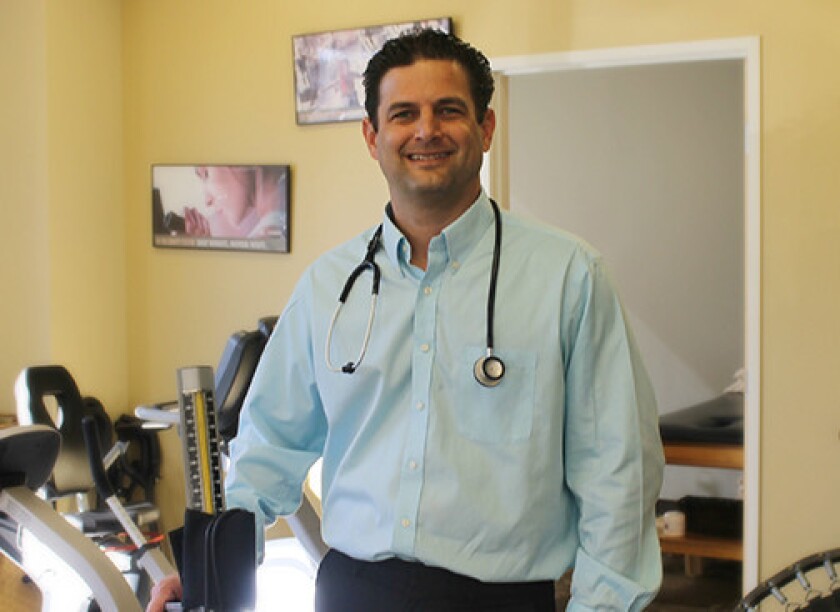 A past patient at Gaspar Doctors of Physical Therapy recently celebrated her 100th birthday at the Bressi Ranch location. Brian Stone, PT, DPT, clinic director at that office, said she attributed her health and longevity to "a good sense of humor and sticking to her exercise program."
"Many of our seniors continue to come in even after they have finished their therapy as members of our senior exercise program," said Stone. "They enjoy the benefits of the exercise, and also the camaraderie with the staff and other past patients."
Many who suffer from acute or chronic back or neck pain, sore joints and mild orthopedic injuries often turn to physical therapy.
"Physical therapy is a good alternative to many other medical interventions in that it is non-invasive, has very few side effects and has shown to be very cost-effective," said Stone. "In fact, studies show that people who are seen by a physical therapist quickly after injury and/or an episode of back pain, have a 30 to 50 percent lower chance of requiring more aggressive medical care and may save over $2,000 in their total cost of medical care."
Gaspar Physical Therapy was established in 1994 by Dr. Paul Gaspar, DPT, as a small clinic in Frog's Gym in Encinitas.
"There was a fun and family-oriented environment where patient care was always placed as the top priority," said Stone.
A second location opened in Solana Beach in 2001 and two years later a third practice opened in La Costa. The company now has six locations in North County San Diego, including Oceanside, Bressi Ranch, Coastal Carlsbad, Encinitas, Solana Beach and Torrey Highlands.
As the size of the practice grew over the years, so did the areas of specialization. Stone said the focus on outpatient rehabilitation now consists of cardiac rehab, pulmonary rehab, aquatic physical therapy, women's health and pelvic floor rehabilitation, custom orthotic fabrication, and hand therapy with a certified hand specialist.
The largest facility, The Sports Performance Center, opened in 2011. Located on Avenida Encinas in Carlsbad, it encompasses more than 6,000 square feet of state-of-the-art sports therapy equipment such as a biomechanics lab and artificial turf where athletes have space to perform higher level exercises.
This past October, the company announced the opening of a sixth clinic in Torrey Highlands for patients who live farther south.
"Over the years there have been several opportunities to either buy smaller clinics or to sell the company to bigger corporate interests, but that is not our goal," said Stone.
He said the 27 therapists and more than 100 employees share this same vision.
"Many of our therapists have been with the company for over 10 years, which speaks to the family environment and small-business approach that still defines our company," said Stone.
It is independently owned by physical therapists, which Stone said allows for care that is guided by clinical decision-making and what is in the patient's best interest.
Gaspar met several of his current partners while working as a professor at the University of Southern California's physical therapy school between 1996 and 2000. During this time, he became a clinical instructor for several student interns who joined the practice after graduating and they eventually became partners.
As one of the seven partners, Stone said what sets the business apart from other practices is the commitment to quality. "Our patients are given ample time with their therapists and the therapists all have strong backgrounds in manual therapy to be able to provide effective 'hands-on' treatment," he said. "Our physical therapists are trained to not only eliminate your short-term pain, but will work with you to come up with longer-term exercise programs to keep your pain from coming back and optimize your health and function."
Stone said that one of the big changes that has occurred over the past year is that direct access became available January 1, 2015. This allows patients in California to seek care directly from a physical therapist without a physician's prescription.
"There are several reasons that people can benefit from physical therapy," said Stone. "Physical therapists are excellent at finding the root cause of musculoskeletal problems."
In addition to typically being seen within one or two days, Stone said a comprehensive plan is administered during the first appointment to determine the problem and find the best approach to address it.
The business has been recognized as a top physical therapist practice, including a 2016 Readers' Choice "Best of"award and Best Physical Therapists in San Diego 2016 by Expertise.
Gaspar Doctors of Physical Therapy also takes pride in giving back to the surrounding community. This includes supporting many local nonprofit organizations and high school athletic training programs, offering hundreds of free athlete physicals and helping raise money for athletic training scholarships. The business has also been active in raising funds for breast cancer research and will be adopting a family over the holidays to provide food, clothing and gifts for them.
"Our company is also different in that many of our clients consistently remark that it is a fun and enjoyable place to be," said Stone. "We have always strived to maintain customer care and quality service as the number one priority of our practice."
For more information, visit www.gasparpt.com or email info@gasparpt.com.
- Business spotlights are developed through this newspaper's advertising department in support of our advertisers.
---
Get the Del Mar Times in your inbox
Top stories from Carmel Valley, Del Mar and Solana Beach every Friday for free.
You may occasionally receive promotional content from the Del Mar Times.