Israeli, Palestinian and American teens to unite through Hands of Peace program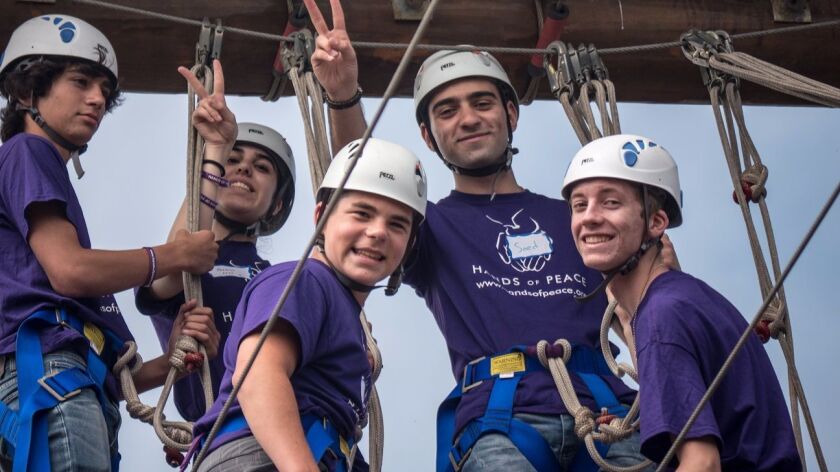 A three-week peace-building program with 47 Israeli, Palestinian and American teens will take place in Carlsbad this summer, July 12-31, to break down the walls of conflict in the Middle East and throughout the world, according to a press release. Hands of Peace brings together high school students to build bridges and leadership skills among teens divided by conflict, culture, geography and history. Their activities take place at various locations throughout San Diego County.
Now in its fourth year in Carlsbad, the Hands of Peace program empowers young people to find their voice as peace leaders, break down stereotypes and gain the knowledge and critical thinking skills to take steps toward peace in their home communities.
Teen participants have undergone an extensive application process to be part of the program, showing a desire to share their perspectives, listen and work toward peace.
Many of the Middle East participants have experienced violence and loss as a result of the ongoing Israeli-Palestinian conflict and are meeting the other "side" for the first time. The central activity of the program is intensive daily dialogue sessions, led by professional facilitators, in which teens share personal stories, listen and share views about paths for peace. They also take part in educational activities, including a visit to a church, synagogue, and mosque and a community organizing workshop.
Other activities include a "Ropes Course, Hunger Van Service Project, Cross Border Teen Peace Summit and Mural Painting."
Participants are hosted by local families and stay in their homes. This gives the host families an opportunity to build strong, long-lasting relationships with the teens and see conflict through the eyes of those who have experienced it firsthand.
"Young people are the key to change and peace, so the transformations that we see taking place during the summer program give us hope for a better future," says Gretchen Grad, founder of Hands of Peace.
Following the summer program, Hands of Peace alumni continue to grow as peace leaders, taking part in seminars, alumni club activities, and a year-long leadership program to implement community projects in their home communities. Currently, San Diego teens are working on a program focusing on tolerance. Israeli and Palestinian teens are working on a number of activities, including a dialogue project between a Jewish school and nearby school of Palestinian Citizens of Israel, programs for hospitalized children in Haifa, awareness building of differently abled people in the West Bank and more. Visit handsofpeace.org.
---
Get the Del Mar Times in your inbox
Top stories from Carmel Valley, Del Mar and Solana Beach every Friday.
You may occasionally receive promotional content from the Del Mar Times.