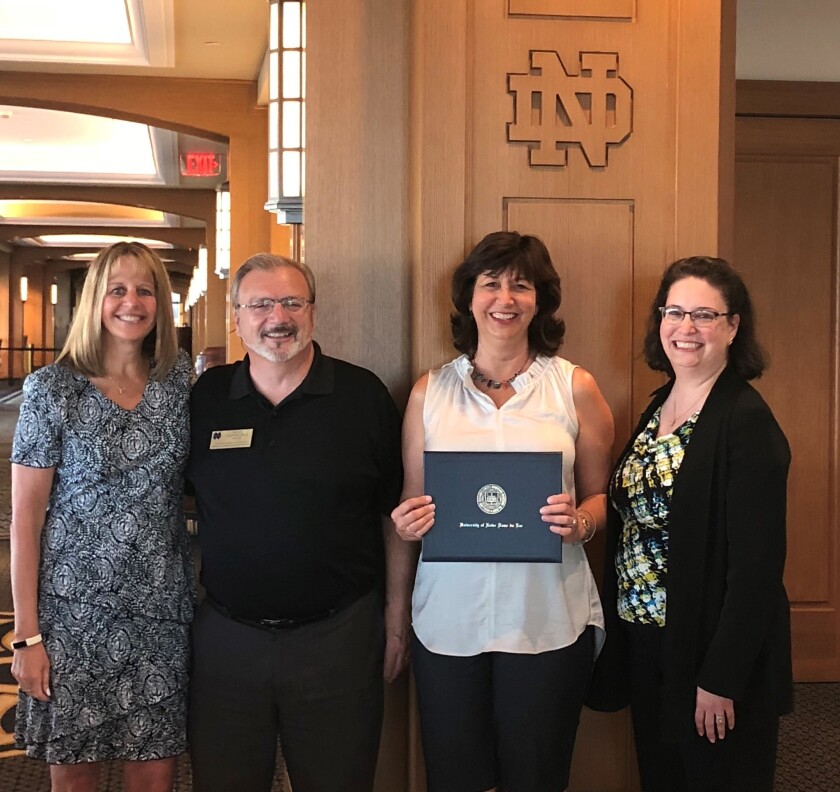 Carmel Valley resident Janine Mason was selected as a Fellow for the 9th Annual Catholic Leadership Certificate Program at the University of Notre Dame July 7-14. She joined 46 other leaders from more than 20 countries from North America, Africa, Eastern Europe, and Latin America.
Sponsored through a collaboration between Nonprofit Certificate Education in the Mendoza College of Business and the Nanovic Institute for European Studies in the Keough School of Global Affairs, it was an eight-day program designed to give nonprofit Catholic leaders a deeper understanding of their leadership role in their organizations and their responsibilities to their clients and colleagues.
Top experts and Notre Dame faculty educated the fellows on topics important to effectively lead nonprofit organizations, such as organizational evaluation, fund development, people-centered leadership, strengths based leadership, culture and mission, strategic planning, negotiation, fundraising, conflict management and leveraging polarities.
Mason is the president and executive director of the Fieldstone Leadership Network, a nonprofit organization which provides leadership development programs for nonprofit professionals so they are better able to lead, collaborate, and problem solve. The Network operates in San Diego and Orange Counties and has been serving the nonprofit executives for over 25 years.
The Network currently offers nine different programs, including coaching, learning groups, experiential team building, retreats and sabbaticals. Over 1,600 nonprofit leaders have participated in these programs.
Mason is a member of St. Therese of Carmel Parish, where she has served as Guild President, Lector Coordinator and a Religious Education Teacher. She recently represented St. Therese of Carmel on the Bishop's Synod on Marriage and Family Life and subsequently worked as a member of the Bishop's Synod Implementation Team.
Notre Dame's leadership program is part of the university's commitment to support the mission and work of Catholic leaders and institutions around the world. Each year fellowships are offered to professionals in nonprofit organizations that cover 95 percent of the $5,000 registration fee.
For more information on the Notre Dame program, contact Marc Hardy, Ph.D. at 574-631-1087 or email him at mhardy@nd.ed For more information on Fieldstone Leadership Network, visit www.fieldstoneleadership.org
---