Making films to make the world a better place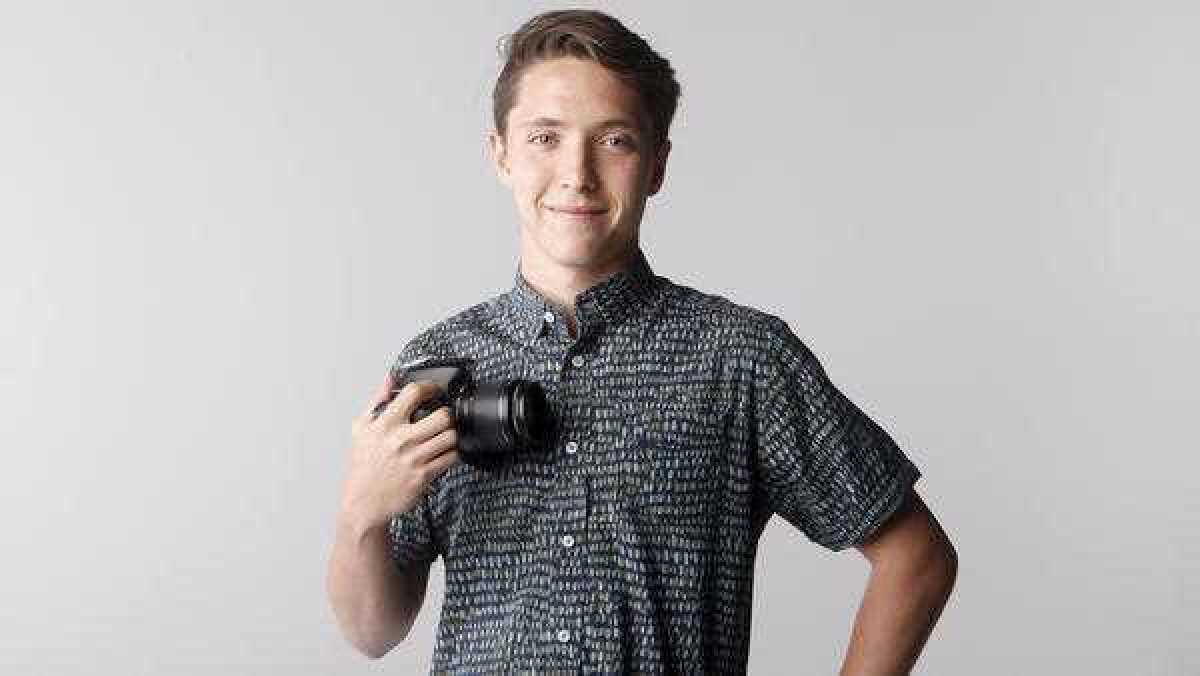 Nathaniel Goodman has learned to embrace more of the moments of his life, including the difficult ones. When he was 9, he and his parents were in a car accident that almost ended his parents' lives. While he was spared from any serious injuries, he'd spent the year that they were recovering doing what he could to be supportive and help out around the house, and those things helped distract him from the trauma and grief.
"At first, I didn't want to preserve my memory of the accident. I wanted to move on, erasing evidence of trauma. But troubling moments become part of who we are, for better or worse, giving our lives depth and humility," he says. "That's one of the reasons I started to make movies: to preserve moments and capture emotions, even the vulnerable ones."
Today, he's the founder of Filmmaking for Good, a nonprofit he started to help other nonprofit organizations share stories about the work they're doing in the community through his promotional videos. He meets with clients, spends time shooting footage and interviews, and edits the material into films that those organizations can use to raise money and awareness. That work enabled him to apply for and be selected as one of the winners of this year's Diller Teen Tikkun Olam Award (dillerteenawards.org) in which each of the 15 recipients nationwide receives $36,000 for taking on global issues and working toward change.
Goodman, 19, lives in Carmel Valley with his parents, Wende and Ira, and will be a freshman at Brown University this fall. He took some time to talk about Filmmaking for Good, what it means to him to be selected for the Diller award and how he's learned to find value in failure.
Q: Tell us about Filmmaking for Good.
A: Filmmaking for Good has one very simple goal: to promote as many nonprofit organizations and youth groups as possible to raise awareness and funds, from which more people can be served and inspired to serve. It all started in high school, when I saw there was a disparity between organizations doing good work effectively and those doing it ineffectively. I noticed that the missing piece of the puzzle was media outreach, so I thought of no better way to bridge the resource gap than to bring my skills to struggling nonprofits.
Q: Why was this kind of work something you felt like you wanted to do?
A: It combined my natural inclination to produce films with my community involvement, in a variety of settings. It was a talent that I loved practicing, and it was needed by almost every organization I participated in. People like to watch a multidimensional project involving moving pictures over reading a one-dimensional narrative, in most instances.
Q: How did you get into filmmaking?
A: From an early age, I would watch my father craft short videos of family events and observe my mother work on her still life paintings. Though I would not classify our family as artistic — my father is an eye surgeon and my mother is a substitute teacher — I was always encouraged to find a mode of expression that's dear to me, so I could march to my own drum. I picked up my first camera when I was 5, unwitting of the potential that lay within the little black box. Following my traumatic car accident, I knew I wanted to pursue storytelling because it helped me capture emotions and maintain memories; many of which make up the life that was almost swept away before my eyes. I've found filmmaking to be instrumental to my development. It's able to convey certain emotions and realities in ways literature, photography, and music cannot.
What I love about Carmel Valley ...
I was born in Arizona, raised alongside scorpions and coyotes. While Scottsdale showed me how to get along with similar people, I didn't know how to thrive in a diverse environment until I moved to Carmel Valley. Today, I carpool with students from Beijing — adopting motivating phrases like "jia you," which means "work harder" — and learn how to count in Arabic from my lab partner. The discussions I share here have shaped the way I value different perspectives.
Q: What happens when a nonprofit has a service project they want your help with?
A: My project works not only through word of mouth in the community, but also via my website and YouTube channel. On these online platforms, prospective nonprofit organizations can view my previous projects and arrange a time to meet with me, wherein we discuss ways I can visualize their project in the most compelling way possible. Overhead is pretty minimal, as I have my own camera equipment, computer and editing software. Rarely do I need to outsource my work.
Q: Were you familiar with the Diller Teen Tikkun Olam Awards before receiving one this year?
A: I was vaguely familiar with the awards before applying. Up until my senior year, I never thought I would stand a chance winning an award bestowed to only 15 Jewish teens in the entire country. Each year in high school, I saw press releases on teens who had previously won the award. I was inspired by their dedication to service and innovation in the community, so I sought to make the most of the resources around me to create a meaningful service project, without the slightest intention of applying for the award in the future. However, upon entering senior year, my parents encouraged me to apply. They have always been an integral source of support in my life. I am forever indebted to them for giving me the support and confidence I needed to thrive in the application process and beyond.
Q: The term "tikkun olam" means to "repair the world." When you think about this, what do you see in the world that needs repairing?
A: When I think of "tikkun olam," a few things come into my mind: I think of Frederick Douglass' maxim that, "it's easier to build strong children than to repair broken men." This quotation strikes me because I've noticed that much of the world's political and social problems stem from poor education of youth. That is why many of my videos focus on youth-centric nonprofits and my volunteer work is devoted to at-risk youth. If we can build better youth, then we can build a better future, and thus a better world.
Q: What does it mean to you to receive the award?
A: It is such an honor to be selected and I'm so grateful to the Helen Diller Family Foundation for giving me this opportunity to further my vision for helping others. Receiving this award is not only an honor, but it's also a validation of the importance and potential of our work; this award allows me to carry on the Jewish tradition of "tikkun olam."
Q: What's been challenging about running your own nonprofit?
A: What is difficult about this project is putting what a youth director and I have planned into a cogent narrative. Resolving this issue requires several in-person meetings so I can fully understand what they envision. Another challenge is promotion, of not only my service project, but also the individual videos I make for organizations. I start tackling these obstacles by connecting with the community on Facebook — I've found that just a simple share or like can go a long way in garnering viewership and awareness for a cause.
Q: What's been rewarding about the work you've been doing?
A: Seeing people get excited about an issue because they watched my video. Because igniting some fire in the belly is the first step to making greater change. There is also a great sense of satisfaction from the process of making films itself. I love working the camera and meticulously editing a project on the computer.
Q: What has this work taught you about yourself?
A: It's taught me how to be self-sufficient, but also important is that this work has showed me that there are things that I am not good at. So, working with a team or outsourcing a project can be equally important. I've also learned the importance of keeping my word, and being careful who I give it to. There have been times when I've stretched myself too thin with academics, conservatory, service, etc., that I drive myself to exhaustion.
Q: What is the best advice you've ever received?
A: To not let my plans interfere with life's spontaneity and freedom because it's the spontaneous encounters that may expose us to failure, and failure is the best way to learn. As Peter Diamandis says, "fail early, fail often, fail forward."
Q: What is one thing people would be surprised to find out about you?
A: That I play ping pong almost every day.
Q: Describe your ideal San Diego weekend.
A: On Saturday, it would be to meditate with the sunrise at Torrey Pines Preserve; work out; read a book on personal development, neuroscience, or economics; go surfing with friends; hang out with my family; play ping pong; and end the night watching "Eternal Sunshine of the Spotless Mind." On Sunday, it would be a walk on the beach with family, journaling to assess my failures of last week and goals for the upcoming week, work out, go to the San Diego Zoo (I've actually never been before), and get boba tea on Convoy Street with friends, and cook Indian food with my mom.
– Lisa Deaderick is a writer for The San Diego Union-Tribune
---
Get the Del Mar Times in your inbox
Top stories from Carmel Valley, Del Mar and Solana Beach every Friday for free.
You may occasionally receive promotional content from the Del Mar Times.