Del Mar man is the local voice of polo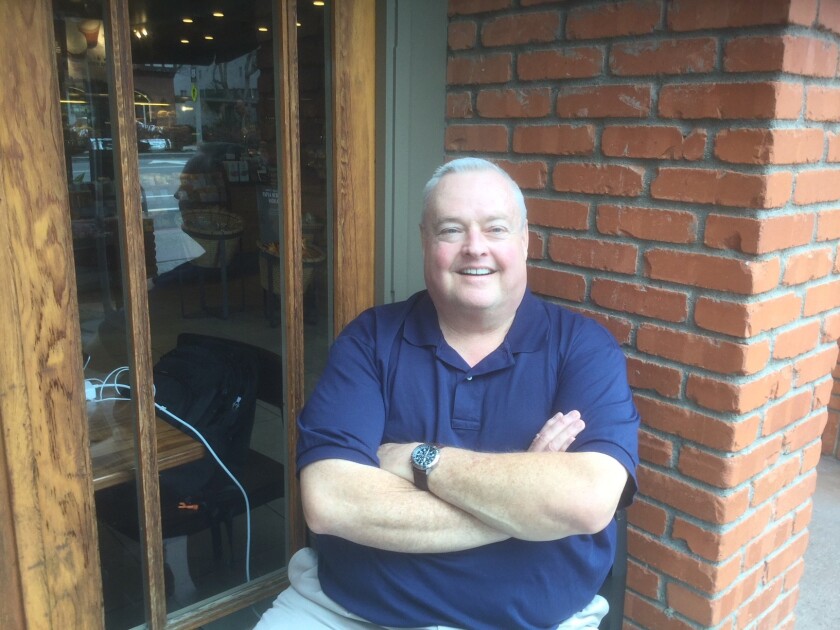 One day, Steve Lewandowski found himself unexpectedly announcing an exhibition polo match at the Del Mar Fairgrounds equestrian arena.
In the years to follow, Lewandowski's prowess in calling a match has led him to polo grounds throughout the United States, Mexico, Northern Europe and South Africa, as well as on-air stints on ESPN and Fox Sports.
"It's just been a fun adventure," Lewandowski said. "It was just a serendipitous happenstance and it's turned into a pretty good gig."
The Del Mar resident's 28th season as the broadcaster at the San Diego Surf Polo Club will commence Sunday, June 17, at the organization's field, 14955 Via de la Valle, east of Interstate 5. Information on the event can be found at sandiegosurfpolo.com
"I've announced hundreds of matches all over the world, and still I look forward to it every single time," Lewandowski said. "I've never been bored with it in 28 years. It's a labor of love."
A native of Milwaukee, Lewandowski's introduction to the San Diego area occurred while he was in the Navy.
In deciding to make this region his home in the early 1980s, he had little idea what polo was about. He came from a blue-collar family, far removed from the blue-blood circles associated with "the sport of kings."
"My dad carried a lunch pail to work," said Lewandowski, who runs an insurance company located on Camino Del Mar. "We didn't know anyone that played tennis, let alone polo," said Lewandowski.
A girlfriend who came from a polo-playing family interested Lewandowski in the sport and he took lessons.
"Then, all of a sudden, I got addicted and started playing four days a week," he said. "It satisfies that competitive need and was very exhilarating."
Lewandowski's unexpected turn at the mike during the polo club's fairgrounds exhibition occurred when the regular announcer had to leave the booth to participate as a player. The girlfriend, longtime polo club member Sherry Moseley, asked Lewandowski if he could take over the duty, and he agreed.
"I seemed to have a knack for it," he said. "I had a lady who was in the crowd come up to the announcer stand ... and she gave me her business card. She was a talent agent in L.A. She said, 'Send me your demo reel.' And I agreed, although I didn't know what a demo reel was at the time. ... I was like, 'Wow.'"
"Then I started being invited to announce at other clubs. ... I was invited to Los Angeles to announce up there, and that was the first time I got paid for it. And then I started getting invited all over the country. ... So it really blossomed."
Rancho Santa Fe resident and former Surf player Alex Pisciotta recalls the day of the exhibition when Lewandowski took his initial stab at announcing.
"I did play in that tournament," he said. "I remember Steve announcing that tournament. He was pretty good that night, as I remember."
What impresses Pisciotta to this day is that Lewandowski is somehow able to project his voice in a way that it can be understood in the fairgrounds' arena.
"The acoustics are very bad there, and the only guy I ever heard there that I could understand was Steve," Pisciotta said. "Everybody complains that they can't understand what the announcers are saying, but you can understand Steve. He has an amazing voice."
Also, Pisciotta praised Lewandowski for his knowledge of the intricacies of the sport.
"When he first started announcing polo, he took the time to learn about the game and the rules, and the history of where polo started, and things like that."
In addition to learning about the on-field action, Lewandowski observed that matches and tournnaments frequently are staged in conjunction with fundraising auctions for charity. He enhanced his marketability as a polo announcer by learning to be an auctioneer.
"Almost all polo is done in conjunction with philanthropy," he said. "So, when these clubs have their big match of the year, they'll have me come in as the announcer and then I can also do the auction. So, the auction raises even more money for the charities. ... Of all the polo announcers, I think I'm the only auctioneer."
His career takes him to numerous polo events throughout the United States, including the largest annual polo gathering in the country, The Bentley Scottsdale Polo Championships, in Scottsdale, Ariz.
In 2008, Lewandowski said, he was the English voice for polo's World Cup in Mexico City's Campo Marte.
He said he enjoys calling matches because of the nature of the sport, in which four players mounted on horseback on each side compete to punch a ball into a goal with wooden mallets.
"It's a fun sport to follow," he said. "It's like hockey, it's that fast paced. Like hockey, you have to master two skills. I would suggest polo is more difficult because horses have a mind of their own, and because the field is so huge."
By necessity, Lewandowski has a spotter to assist him in following the action.
"It's important to have a spotter to make it a seamless, smooth calling of the game," he said.
Now entering his 28th year as the San Diego Surf Polo Club's play-by-play caller, Lewandowski still finds that polo opens doors to experiences he never dreamed of before that fateful day years ago at the fairgrounds.
Offered Lewandowski: "I think it was Winston Churchill who said a polo handicap is the only passport you ever really need."
---
Get the Del Mar Times in your inbox
Top stories from Carmel Valley, Del Mar and Solana Beach every Friday for free.
You may occasionally receive promotional content from the Del Mar Times.