Urban Remedy, the health-conscious Bay Area eatery, expands into San Diego County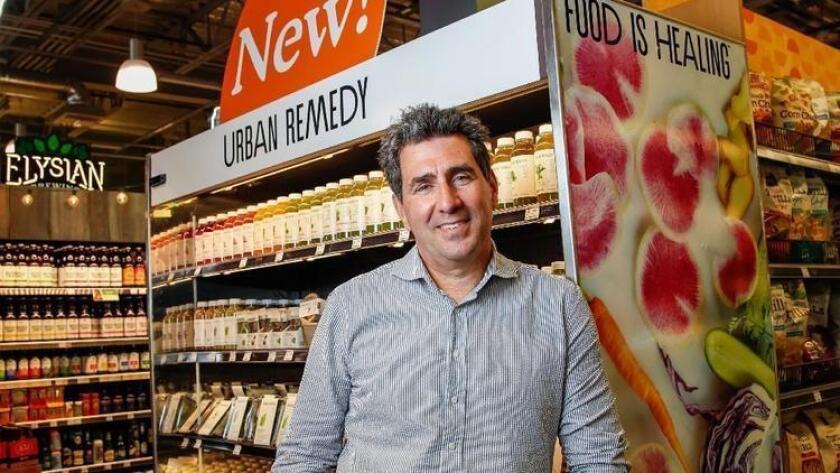 San Diego County consumers looking for fresh, organic, ready-to-eat meals, cold-pressed juices and snacks now have a new choice.
Urban Remedy, which sells its foods and juices in kiosks, stores and online, recently opened in San Diego County -- only the second market for the nearly 10-year-old company headquartered in the Bay Area.
Earlier this year, it installed kiosks inside the Whole Foods in La Jolla and Del Mar. This month, it opened three more San Diego County kiosks inside Jimbo's Naturally. It plans to open a stand-alone store in Solana Beach on June 11.
Also, in the next six to 12 months, Urban Remedy hopes to open 10 to 15 more kiosks and three to four more shops in San Diego County.
"We are coming to San Diego in a big way," said Paul Coletta, Urban Remedy's CEO. "We are not just dabbling."
The company rolled out its first store in 2013 and didn't introduce kiosks until 2016. Today, it has 15 stores and about 50 kiosks inside mostly grocers but also hospitals and corporate offices. Its total sales from kiosks are larger than from stores as well as online. In 2017, same-store sales for its kiosks grew more than 25 percent, Coletta said.
Its stores – the Solana Beach one spans about 250 square feet – stock on average about 100 items vs. about 50 items for its kiosks, which only offer its best sellers.
Its top-selling products include the $11.75 Macro Bowl, a gluten-free quinoa with roasted sweet potatoes, kale, pumpkin seeds, beets, cumin chickpea croutons and a Tahini vinaigrette. Also popular is the $5.25 four-ounce Booster Shot made with organic carrot and turmeric juice that has 7 grams of sugar.
Below, Coletta, CEO since 2014, recently chatted about what he means by pay the farmer not the pharmacist, why kiosks are its fastest growing business and where locally he'd like to put automated kiosks. (The interview was edited and condensed.)
Q. Why pick San Diego County as your second market?
A. We felt San Diego was a more underserved market with fewer options for fresh clean food. I'm also familiar with (the area). I lived there for almost a decade.
We debuted with the La Jolla Whole Foods kiosk about three months ago and opened the Del Mar Whole Foods kiosk a few weeks ago. The success of our first kiosks in La Jolla rivaled sales of some of the Bay Area locations. That gives me a lot of confidence that our products resonate in that market.
Q. The company opened its first store in 2013. Why did it take about five years to enter a second market?
A. We really wanted to prove out one market first with our full omni-channel network of retail and online and that took the better part of three to four years. That time also allowed us to refine our omni-channel business model and optimize our product portfolio.
Q. Why are sales growing faster at a kiosk than store?
A. Convenience. If I'm at Jimbo's market twice a week to pick up eggs and other groceries, it's very convenient to pick up an Urban Remedy Macro Bowl. Our kiosks have been successful because they are in the path of the consumer who is already in the store buying other things.
Consumers first discover us in a fresh kiosk and then migrate to our store for a broader offering and can participate in our loyalty program that rewards frequency. There's real synergy between these spokes.
Q. What's the benefit of having stores?
A. We can develop a product from concept to consumer in about six to eight weeks. We develop our products in house. We would first launch it in a few or all 15 retail stores we own. If it works, we next put it online. If it works in the store and online, we then move it to the kiosks where we have limited space but high volume. We own every one of our channels, even the kiosks. It allows us to launch and learn.
Q. What's been the biggest challenge in growing a fresh food business?
A. We believe the future of foods is ultra fresh. But we also believe it's clean. By clean, we mean certified organic, certified non GMO, low glycemic. Foods that are not clean are creating inflammation in the body, which is a precursor to most chronic diseases. Food is healing. It's not a tag line. It's a call to action.
We define ultra fresh as products that are as close to nature as possible. The higher the nutrient density, the shorter the shelf life. Good food goes bad and that's a good thing.
The single biggest business challenge we have is food waste. When dealing with a three-day shelf life, that is your reality. There are many ways to minimize that. You decrease waste with demand forecasting and history of what sells when and in what geography, how our products are selling and how seasonality affects the rate of sales. So we have real-time manufacturing. We place orders daily. We don't stock or inventory our items.
We place the order in the afternoon. The second shift at the production facility in the Bay Area would start working on the order and finish it later that night. It's then trucked that night to arrive in the morning the next day (in San Diego County).
What we don't do to minimize waste is we don't process our food. We don't strip nutrients from our food.
Also, the omni channel allows you to balance inventory. So for example, if the Del Mar kiosk is having a great day and low on inventory, the store manager at Solana Beach (can stock it with foods from the store that's about 2.5 miles away.) There's synergy and yes that helps with food waste.
Q. What's next for the company?
A. We are trying to make eating fresh and clean easier. We built fully-automated kiosks (that you pay with) credit cards. We launched 10 in hospitals and corporate headquarters in the Bay Area. We started this three months ago. We don't have this in San Diego yet, but we plan to bring to them to various channels such as hospitals and airports very soon.
Our intention is to take these automated kiosks (to where) the consumers live, work and play. Go where the customer is and the competition isn't.
About Urban Remedy
Headquarters: Point Richmond, Calif.
Founded: 2009
Employees: 300
Where to find Urban Remedy locally:
Kiosks inside Jimbo's in Carlsbad, Del Mar Highlands and 4S Ranch stores; kiosks inside Whole Foods in La Jolla and Del Mar; and stand-alone store at 142 S. Cedros Ave. in Solana Beach.
-- Hang Nguyen is a freelance writer for The San Diego Union-Tribune based in Los Angeles.
---
Get the Del Mar Times in your inbox
Top stories from Carmel Valley, Del Mar and Solana Beach every Friday for free.
You may occasionally receive promotional content from the Del Mar Times.