Lessons in resiliency, hope at suicide prevention week at Torrey Pines
Last week was Yellow Ribbon Week on the Torrey Pines High School campus, a week centered on suicide prevention.
In a crowded gym on March 7, teacher Don Collins had each teenager turn to the student next to them and say: "It's good to see you" and "I care about you." In unison, the students said: "It may be raining, but it's not going to rain forever."
Collins has his own hope that the messages of hope spoken in the gym and posted around campus will carry more weight this year as Torrey Pines has lost two students to suicides in the past nine months.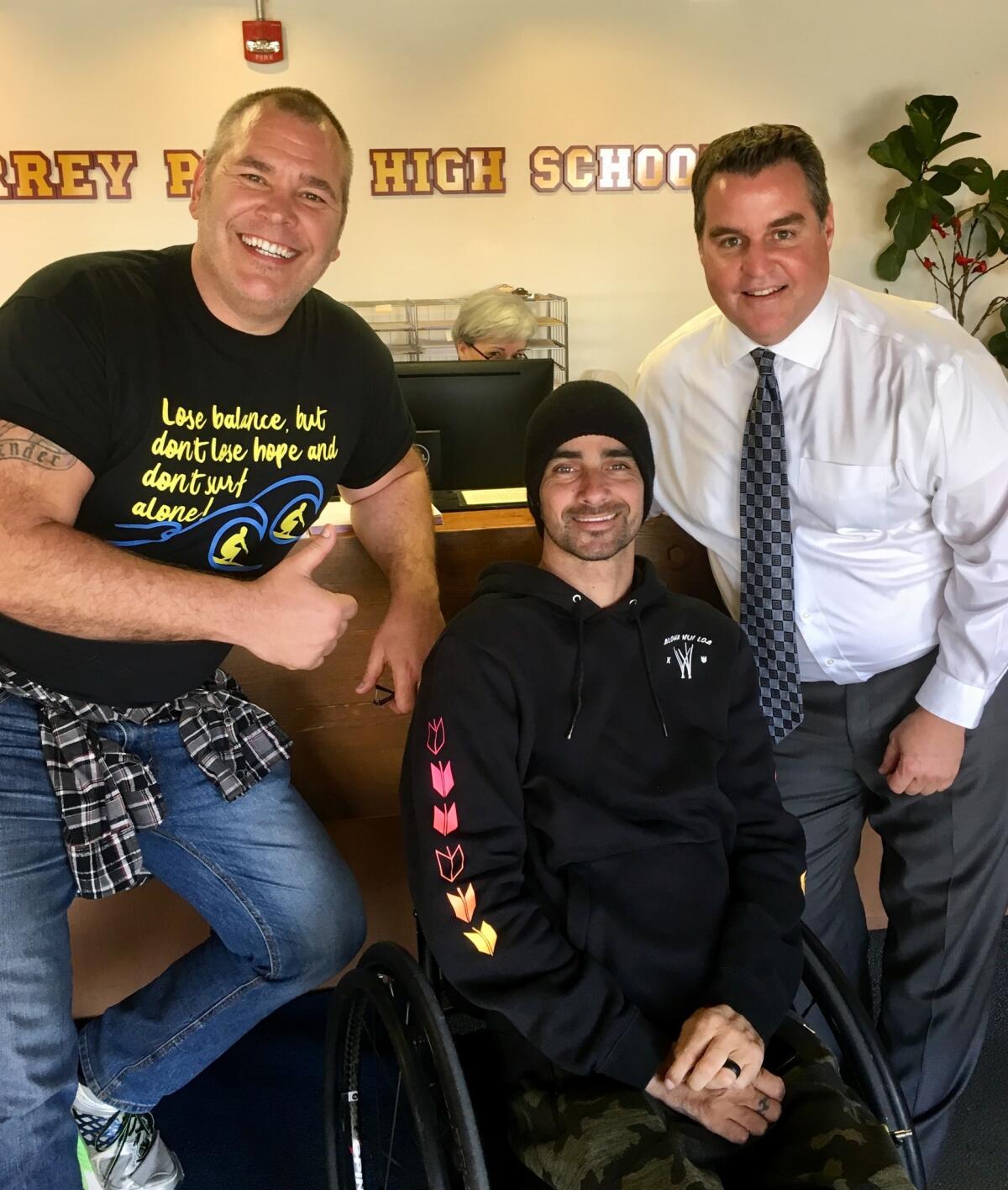 "Last year a 14-year-old student didn't talk to anyone and planned for more than a month to take an action that impacted his life, his family's life, the school and the lives of the police officers. It was a shock," Collins said. "Last month, we lost a student who was beloved by many students, staff and anyone who knew him. And we don't want to lose anyone else."
The purpose of Yellow Ribbon Week is to help all students understand that it's OK to ask for help, that there's no shame in that.
"Torrey Pines is an awesome place to be but it's also stressful and difficult," Collins told students. "Your ability to cope and develop resilience is everything."
For the week, Peer Assistance Leadership students designed a logo and slogan: "Lose balance, but don't lose hope, and don't surf alone" and decorated the campus with inspirational and informational posters. Hundreds of students signed a pledge to seek help if they need it and to learn the warning signs and symptoms of mental illness to better support their friends and family. The TP Mental Health Club brought Love on a Leash Therapy dogs on campus for several days and created activities like hallway posters where students could indicate anonymously struggles and successes that they have experienced.
Torrey Pines Foundation Executive Director Nicole Baril helped bring Jesse Billauler, a world champion quadriplegic surfer, to campus to speak to 2,500 students for two packed sessions in the gym. He shared his story about staying positive and embracing life in spite of the incredible adversity he faces: "Your power is in your perspective, not your circumstance."
Billauer was born and raised in Pacific Palisades, Calif., and grew to love the ocean and surfing. By 17, he was named one of the top 100 surfers by Surfing Magazine and aspired to travel the world competing in surf competitions, to star in a feature film, to graduate college and to get married.
On March 25, 1996, a month after his 17th birthday and weeks before turning pro, his life forever changed in an instant. He was surfing in Malibu with friends before school when he was knocked off his surfboard and hit his head on a shallow sand bar. His body went immediately limp and numb. He floated, waiting for a wave to turn him over and when one did he called for help. His best friend was able to pull him to shore.
He had broken his neck and severed his spinal cord and was told he would never walk again.
"At that moment, life completely stopped," Billauer said. He said he felt like a little kid dependent on everyone else when a week before he was traveling the world surfing, from Indonesia to Tahiti to Hawaii. The experience made him realize how precious life is, how tomorrow is never guaranteed and to be grateful for what he had.
After his injury, Billauer said he had the choice between just staying home and feeling sorry for himself or to continue to follow his dreams and to do the things he loved. It took some time, but he got back in the water and learned to surf again with an adaptive board, gaining back a feeling of freedom and independence.
"I couldn't do it alone. We all need help. Everybody in this world needs help, don't be afraid to ask for help," Billauer said.
In 1999, he founded Life Rolls On, a nonprofit dedicated to improving the quality of life in young people with spinal cord injuries through adaptive surfing and skateboarding. He will host 12 events across the country this year, including one locally at La Jolla Shores on Sept. 15.
Realizing that his story was an important story to share, he also gave back by becoming a motivational speaker, hoping to bring hope and inspiration. He said he has had kids tell him that they were thinking about suicide until they heard him speak, which is powerful to him.
Sadly, he shared his experience of losing a friend to suicide.
"No one is perfect. We all have struggles and difficulties. With me, people can see that I had an accident so they always ask me if they can help me out. That makes me lucky, because with a lot of able-bodied people, you can never tell that something's wrong with them because they look completely normal. But there are so many out there that have problems," Billauer said. "It's up to you as a friend, or a stranger, to ask people how they're doing and always be there for somebody. And, hopefully, it won't be too late."
Billauer hasn't let anything keep him from living his dreams that he once thought he lost in a wave almost 22 years ago. He did travel the world surfing, becoming the first adaptive surfer to tackle the waves of Cloudbreak in Fiji in 2005 and becoming a a world champion at the ISA World Adaptive Championships in 2015. He graduated from San Diego State University and he did star in a feature film, the surf documentary "Step Into Liquid." Four years ago he got married and five-and-a-half months ago he became a father to twin boys, "The biggest accomplishment in my life," he says.
He has impacted thousands of lives through Life Rolls On and through his public speaking and sharing his message.
"I made my life what it is today and I couldn't do it alone. Don't feel alone. We're all here for each other and we should be looking out for each other," Billauer said. "Look at life as a beautiful thing. Because if you focus on the the negative, life will be terrible."
After Billauer's speech, Collins said students talked to him about appreciating and checking in with their friends more, appreciating their abilities more —"The assembly was cool and made me grateful for my blessings," said senior Jake Smith. Students spoke about seeing that needing help isn't a bad thing, and the importance of seeking help when they need it or offering help when they can.
"Jesse was heavy. It's heavy when you keep the vibe alive and show love for the sport by helping other people be able to surf," said Puerto Rican transfer student and surfer Juan Gonzales who told Billauer he was his hero during the assembly's question and answer session. "It's cool that after all he's been through that he keeps showing the love…He inspires me."
"We know that there is no assembly, no day, no week, no ribbon or poster that will solve the problem. We also know the work we do to normalize help-seeking behavior, de-stigmatize talking about suicide and mental illness, and educate our campus to consider signs and symptoms that may be a flag on the field that someone you know and care about is suffering are important steps we can all take," Collins said. "It may be stormy now, but it's not going to be raining forever. Life is amazing and if someone reading your paper is struggling and sees this, I hope they use this moment as their sign to reach out for help."
Contact the Suicide Prevention Lifeline at 1-800-273-TALK.
Get the Del Mar Times in your inbox
Top stories from Carmel Valley, Del Mar and Solana Beach every Friday for free.
You may occasionally receive promotional content from the Del Mar Times.