Bishop Robert W. McElroy installed as Sixth Bishop of San Diego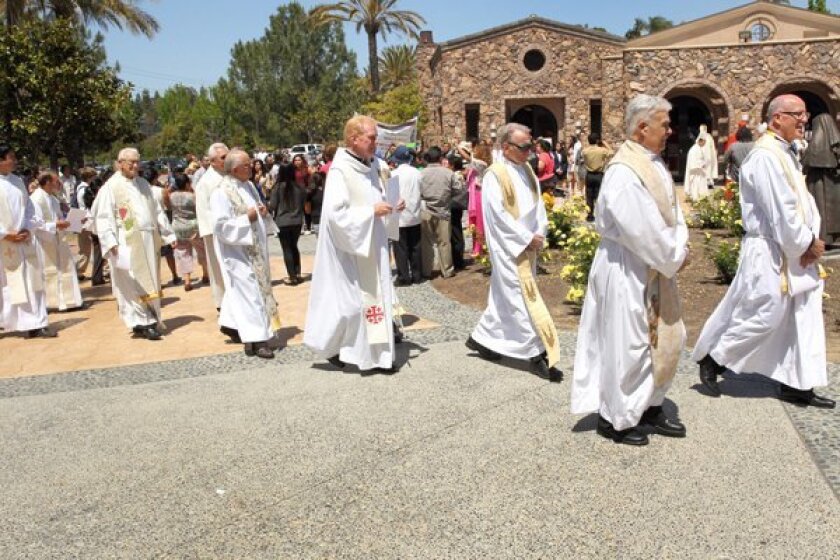 Bishop Robert W. McElroy was installed as the Sixth Bishop of San Diego at St. Therese of Carmel Church
(Jon Clark)
Bishop Robert W. McElroy was installed as the Sixth Bishop of San Diego at St. Therese of Carmel Church
(Jon Clark)
Bishop Robert W. McElroy was installed as the Sixth Bishop of San Diego at St. Therese of Carmel Church
(Jon Clark)
Bishop Robert W. McElroy was installed as the Sixth Bishop of San Diego at St. Therese of Carmel Church
(Jon Clark)
Bishop Robert W. McElroy was installed as the Sixth Bishop of San Diego at St. Therese of Carmel Church
(Jon Clark)
Bishop Robert W. McElroy was installed as the Sixth Bishop of San Diego at St. Therese of Carmel Church
(Jon Clark)
Bishop Robert W. McElroy was installed as the Sixth Bishop of San Diego at St. Therese of Carmel Church
(Jon Clark)
Bishop Robert W. McElroy was installed as the Sixth Bishop of San Diego at St. Therese of Carmel Church
(Jon Clark)
Bishop Robert W. McElroy was installed as the Sixth Bishop of San Diego at St. Therese of Carmel Church
(Jon Clark)
Bishop Robert W. McElroy was installed as the Sixth Bishop of San Diego at St. Therese of Carmel Church
(Jon Clark)
Bishop Robert W. McElroy was installed as the Sixth Bishop of San Diego at St. Therese of Carmel Church
(Jon Clark)
Bishop Robert W. McElroy was installed as the Sixth Bishop of San Diego at St. Therese of Carmel Church
(Jon Clark)
Bishop Robert W. McElroy was installed as the Sixth Bishop of San Diego at St. Therese of Carmel Church
(Jon Clark)
Bishop Robert W. McElroy was installed as the Sixth Bishop of San Diego at St. Therese of Carmel Church
(Jon Clark)
Bishop Robert W. McElroy was installed as the Sixth Bishop of San Diego at St. Therese of Carmel Church
(Jon Clark)
Bishop Robert W. McElroy was installed as the Sixth Bishop of San Diego at St. Therese of Carmel Church
(Jon Clark)
Bishop Robert W. McElroy was installed as the Sixth Bishop of San Diego at St. Therese of Carmel Church
(Jon Clark)
Bishop Robert W. McElroy was installed as the Sixth Bishop of San Diego at St. Therese of Carmel Church
(Jon Clark)
Bishop Robert W. McElroy was installed as the Sixth Bishop of San Diego at St. Therese of Carmel Church
(Jon Clark)
Bishop Robert W. McElroy was installed as the Sixth Bishop of San Diego at St. Therese of Carmel Church
(Jon Clark)
Bishop Robert W. McElroy was installed as the Sixth Bishop of San Diego at St. Therese of Carmel Church
(Jon Clark)
Bishop Robert W. McElroy was installed as the Sixth Bishop of San Diego on April 15 during a ceremony that was held at St. Therese of Carmel Church in Carmel Valley.
On March 3 Archbishop Carlo Maria Viganò, apostolic nuncio to the United States, announced that Pope Francis had named Bishop McElroy to San Diego. Bishop McElroy has served as an auxiliary bishop of San Francisco since 2010. He succeeds the late Bishop Cirilo Flores, who died September 6, 2014.
Archbishop Viganò was joined by Cardinal Roger Mahony, Cardinal William Leveda, and Archbishop Jose Gomez at the installation ceremony. Also in attendance were retired Bishop Robert Brom (Bishop of San Diego from 1990-2013) and Bishop Gilbert Chavez (Auxiliary Bishop of San Diego 1974-2007).
Several hundred Priests, Permanent Deacons, Religious Men and Women, cultural group representatives and parish representatives were on hand to witness the reading of appointment letter signed by Pope Francis, the act that officially places Bishop McElroy in charge of the diocese.
The Diocese of San Diego includes 98 parishes in San Diego and Imperial counties, covers 8,852 square miles, and has a total population of 3,236,492 people, of whom 998,127, or 31 percent, are Catholic.
The ceremony can be seen at https://newce.com/BishopMcElroy/
Photos by Jon Clark.
---
Get the Del Mar Times in your inbox
Top stories from Carmel Valley, Del Mar and Solana Beach every Friday.
You may occasionally receive promotional content from the Del Mar Times.