Brownies, Daisies learn about construction at Carmel Valley's Pacific Trails Middle site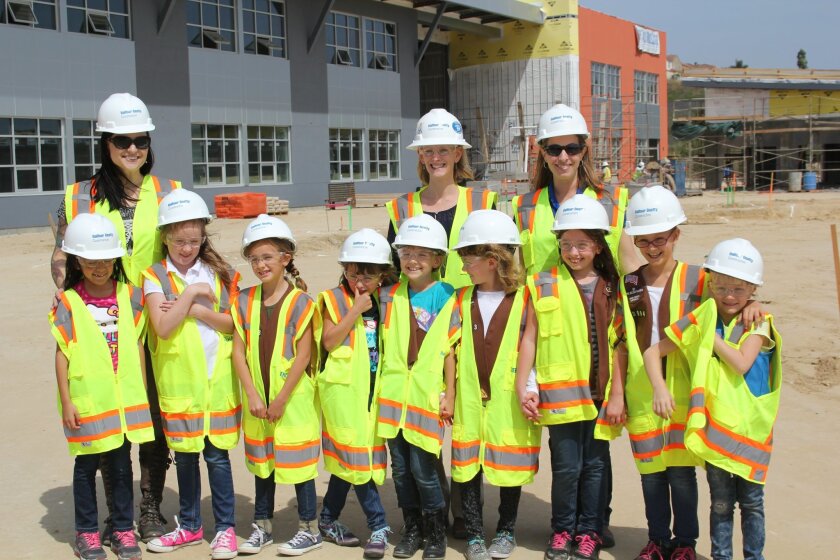 Outfitted in hard hats and orange safety vests that hit below their knees, Girl Scout Daisies and Brownies toured the Pacific Trails Middle School construction site on April 2 to learn about what it takes to build a 74,000-square-foot school.
The San Dieguito Union High School campus in Pacific Highlands Ranch is set to welcome 237 seventh-graders when construction is completed in the fall. And as Principal Mary Anne Nuskin told the girls, they still have a lot of work to do through summer.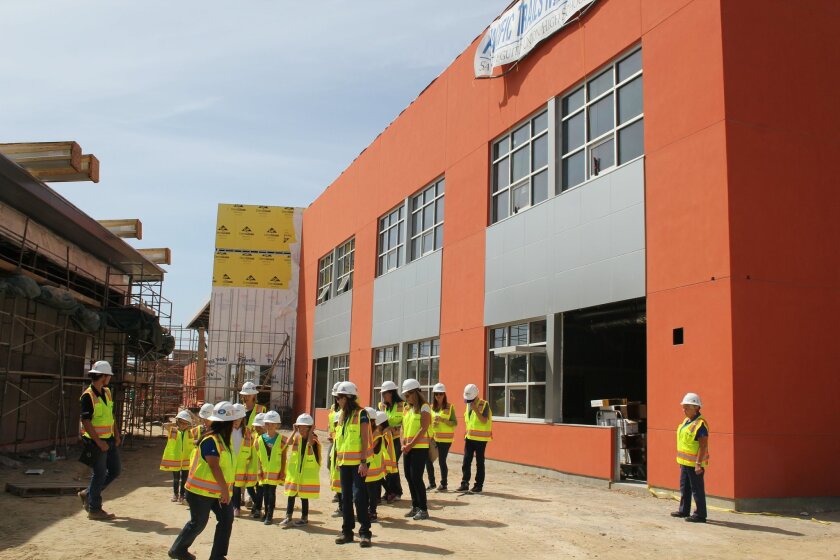 K. Grace Chan, project manager for Balfour Beatty Construction, compared the project to building a sand castle — on a much larger scale.
"Something this big, I need a lot of help," Chan said, telling the girls she had to assemble a strong team to get the project done right.
The girls represented Troops 2203, 3164 and 3894, with first- and second-grade students from Escondido Christian and Sunset Hills.
Cecilia Kucharski, the Brownie Troop 3894 leader, is the director of business development for Balfour Beatty, and April Medlin, leader of Brownie Troop 2203, is a division project accountant manager for Balfour Beatty.
It was stressed to the girls multiple times on the tour the many different construction careers they could choose to explore.
The troops got a sneak peek of all six buildings under construction on the campus, including the multi-use room, the spacious gym where the outline of the future school stage was in view, and one of the science labs in the two-story classroom building.
As they entered different spaces, Chan pointed out the foundation and the wiring and framing that make up "the guts of the building."
"What's the pink stuff?" asked one troop member of the cotton-candy pink fluff of insulation in the future multi-use room.
Chan pointed out that the big, dusty expanse between classroom buildings would one day be a grassy quad space for students, and that the big circles painted on the ground represented trees.
As much as she could, Chan introduced the girls to different members of the construction team, from electricians to plumbers.
"As a good leader, you have to know everybody's names and appreciate what they do," she said.
---
Get the Del Mar Times in your inbox
Top stories from Carmel Valley, Del Mar and Solana Beach every Friday.
You may occasionally receive promotional content from the Del Mar Times.