From top to bottom, Carmel Valley bikini designer enjoys fashion business
From polka dots to paisley, young Carmel Valley designer Julie Freed is hoping to make her imprint on the bikini business.
Freed, 22, is running a growing J.KINIS Swimwear shop on Etsy while she wraps up a degree in fashion design at Palomar College. For the past year, her fun and funky two-piece suits have made their way down runways and been spotted on San Diego beaches.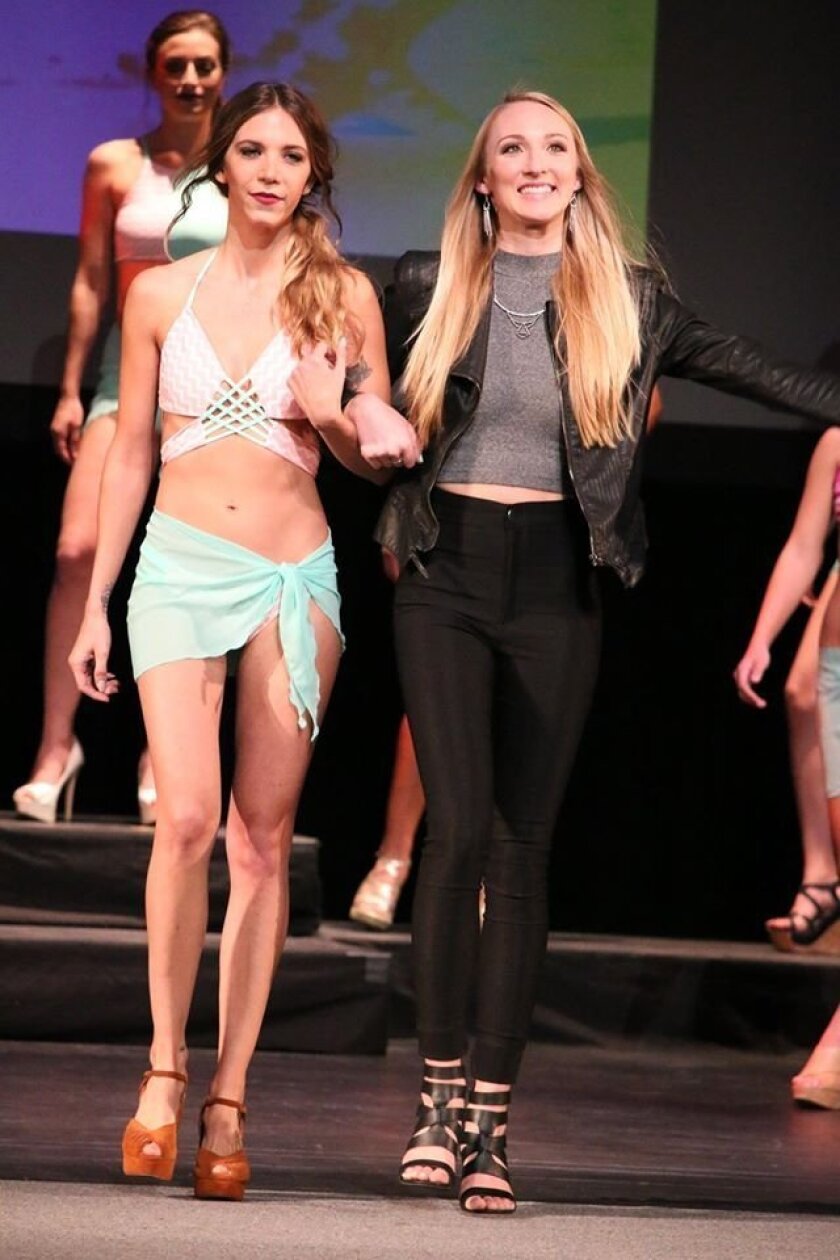 Freed graduated from Canyon Crest Academy in 2011, previously attending Carmel Valley Middle School and Ashley Falls Elementary School. She knew she wanted to do something artistic as a career but wasn't quite sure which direction to go, at first trying photography.
"I had my first sewing class at Palomar College and absolutely fell in love with it," Freed said.
The first item of clothing she made was pajama pants. Initially, she thought she would like to design children's clothes, but once she made her first bikini, that was it.
"Palomar College really gave me a lot of confidence," Freed said, noting the professors in the fashion design and merchandising program have been incredibly supportive and helped her find something she truly enjoys doing.
Bikinis seem to be a natural fit for the sunny California blonde — she was always on the hunt for cute bikinis that weren't outrageously priced. Last summer, she wore one of her custom suits out and received tons of compliments, as well as tons of requests from people who wanted a J.KINI of their own.
That got Freed's designer mind going.
"I decided to try and put a few on Etsy, and I didn't expect anything from it," Freed said. Her first sale came from a customer in Florida. "It was very exciting! It felt like the best day."
The Etsy shop has been open since January, and she has sold hundreds of bikinis, with even some customers from Europe and Brazil. She takes care of every aspect of her growing business from start to finish — from sourcing the fabrics (she travels frequently to Los Angeles for this) to designing, cutting and sewing each bikini and packaging and shipping from her home.
Her target market is ages 16 to 30, and she is happy to do custom orders — one custom order was a unique, navy off-the-shoulder-style bikini for a customer headed to Las Vegas.
All of her suits are reversible, in beautiful and funky fabrics like shimmery gold or a fresh mint and pink chevron. Her most popular style is a high-neck bikini top. Of the prints, girls are digging the tie-dye and galaxy fabrics. She plays with all different kinds of strappy designs — crisscrossed, tied and some with time-consuming hand-braiding.
Fashion has afforded her some great opportunities so far. Freed recently won first place in the fashion competition at the San Diego County Fair for a dress she designed and, at Palomar, she has twice been selected to show her looks in the annual MODA Fashion Show.
Last year, she showed six pieces and this year she showed 10 in at the show held at the California Center for the Arts, Escondido, with guest speaker designer Zandra Rhodes.
Freed, who sees herself moving to LA after graduating next year, markets her suits by wearing them beachside and poolside. She also has a fun Instagram account where she shows off the suits and is developing a playful brand.
"I want to work my way to becoming the biggest bathing suit shop on Etsy," Freed said.
Check out J.KINIS at etsy.com/shop/JKINIS.
---
Get the Del Mar Times in your inbox
Top stories from Carmel Valley, Del Mar and Solana Beach every Friday for free.
You may occasionally receive promotional content from the Del Mar Times.