Carmel Valley volunteer recognized as state's Big Sister of the Year
When Katie Nielsen first met her Little Sister, Candra, she was a shy 8-year-old girl. Over the past nine years through Big Brothers Big Sisters, their outings have gone from learning to ride a bike and swim to learning to drive, getting a job, filling out a tax return and planning big for the future.
"It brings me to tears thinking of how much she has done for me and my family. I couldn't possibly know how to thank her for everything and I would not know where I would be right now if it weren't for Katie," Candra wrote in an essay about her Big Sister. "When I do tell her how much I appreciate her and how could I ever repay her, she says, 'When I see you graduating from the university, that's how you'll repay me.'"
Nielsen, a Carmel Valley resident, has been named the Big Sister of the Year for the state of California and is in the running for "Big of the Year" for the entire country, which will be decided in April.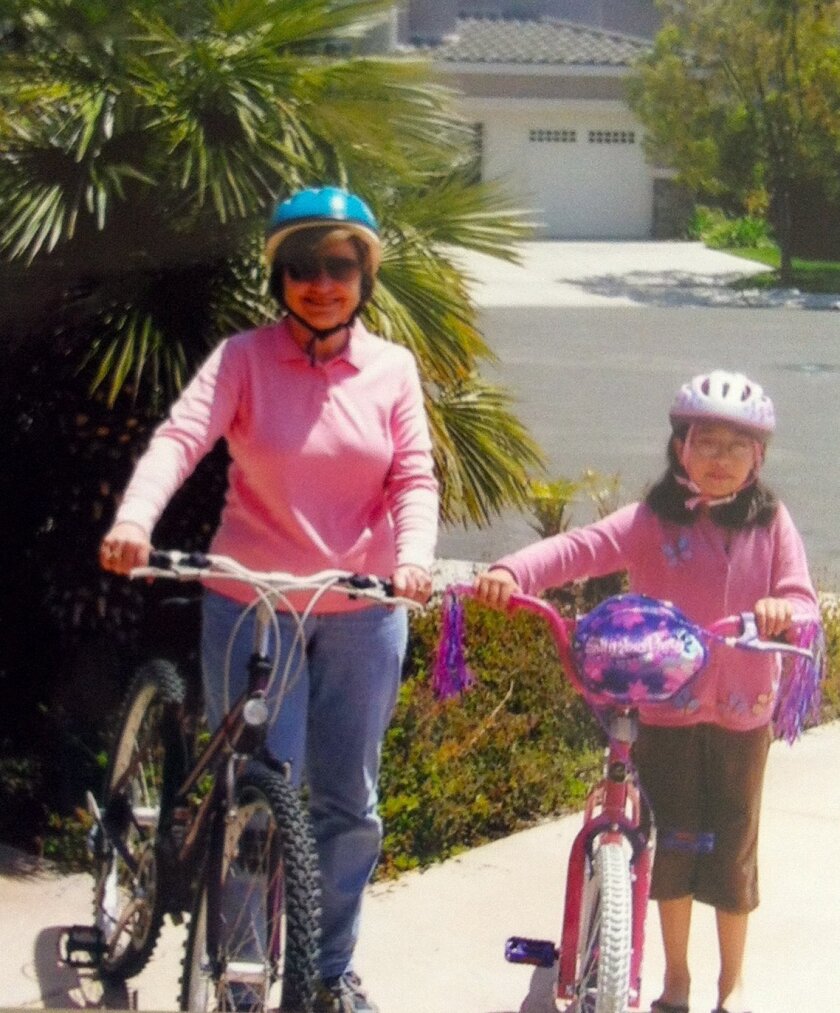 More than the accolades, Nielsen is most honored by the relationship she has built with Candra, spending nearly every Saturday for the past nine years with the girl she has come to think of as a daughter.
"It's been wonderful for me to see how she's grown from this shy young girl to a very poised, confident 17-year-old. She is a kind, caring and loving person," Nielsen said. "I'm proud of her and the girl that she's developed into."
Tina Rose, marketing director for Big Brothers Big Sisters of San Diego County, said Bigs of the Year seeks to recognize people like Nielsen, who go above and beyond the expectations of a volunteer mentor.
"The 'Bigs of the Year' not only change the lives of the child they are mentoring, but they also inspire others in their community or workplace to engage in the mission of the organization," Rose said.
"Katie is an exemplary role model of what it means to be a Big Sister. Her commitment to Candra and the Big Brothers Big Sisters of San Diego County program is heartfelt, genuine and inspiring," said Deborah Condon, CEO and president of Big Brothers Big Sisters of San Diego County. "Katie has supported Candra as she faced many of life's hardships. I know she will continue to be a strong mentor for Candra far into the future."
Nielsen has been involved with Big Brothers Big Sisters for 12 years, starting when she lived in Ohio. A longtime commercial banker, she had a Little Sister in Ohio for three years before moving to Carmel Valley with her husband, Merrill, 11 years ago.
She recalls the first Saturday she met Candra, and how the child was afraid to even speak.
"She has a really tough home life," Nielsen said of Candra, whose first childhood memory is being at the police station after being taken away from her mother.
Candra's mother has six children and has spent some time in jail, leaving the girl to care for two younger siblings. Her two older brothers dropped out of high school when they became fathers.
In the nine years that Nielsen has known Candra, the child's family has been evicted from four homes.
One Saturday, Nielsen had a hard time finding the address Candra's mother had given because the family was living in a one-bedroom guesthouse in an alley behind the main house, with no hot water.
Nielsen is proud that despite her challenging situation, Candra gets straight A's at Patrick Henry High and was accepted into the SOAR program, a college preparatory independent study curriculum that helps low-income students get into college and helps with applications for scholarships. Through SOAR, Candra expects to finish high school early this December and go to college.
She will not only be the first in her family to go to college, but the first to graduate from high school.
"I'm a Purdue graduate, so she's heard a lot about the school from me," Nielsen said, noting that she hasn't persuaded Candra to pursue a banking career; Candra is interested in studying psychology.
"I have her to thank for showing me all that I am capable of and how much intelligence I have," Candra wrote. "Katie has been in my life through all the tough times, from problems with myself to family problems. My family didn't scare her away, so I know she is here to stay."
Over their time together, the pair have flown kites at the Embarcadero, sailed in yachts on the bay and visited every San Diego-area museum and amusement park. Candra has fond memories of singing in the car together on their outings and being too short for certain rides at the Del Mar Fair.
Last year, Nielsen helped Candra get her first job, at the Crown Cove Aquatic Center in Coronado, where she works with younger children.
"I got my first job because Katie was right behind me, pushing me not to give up. I would have never played the piano, ice skated or even had a best friend that will stick with me forever," Candra said.
Each of their lives has been enriched by the other — Candra said Nielsen has taught her to be cheerful and work hard; Nielsen said Candra has taught her patience, to be happy despite the many challenges of life — and helped her with many upgrades on her iPhone.
Both Nielsen and Candra are very grateful for what Big Brothers Big Sisters is able to do for a community, especially now that one of Candra's siblings also has a Big Sister of her own.
"It's just the best community activity I can think of to be involved with," Nielsen said. "It's incredibly fun, and you really can see the difference you can make in one person's life."
Learn how you can positively impact a child's life, donate or volunteer at www.SDBigs.org.
---
Get the Del Mar Times in your inbox
Top stories from Carmel Valley, Del Mar and Solana Beach every Friday for free.
You may occasionally receive promotional content from the Del Mar Times.