'Champions of Hope' fundraiser to shine light on Crohn's disease, colitis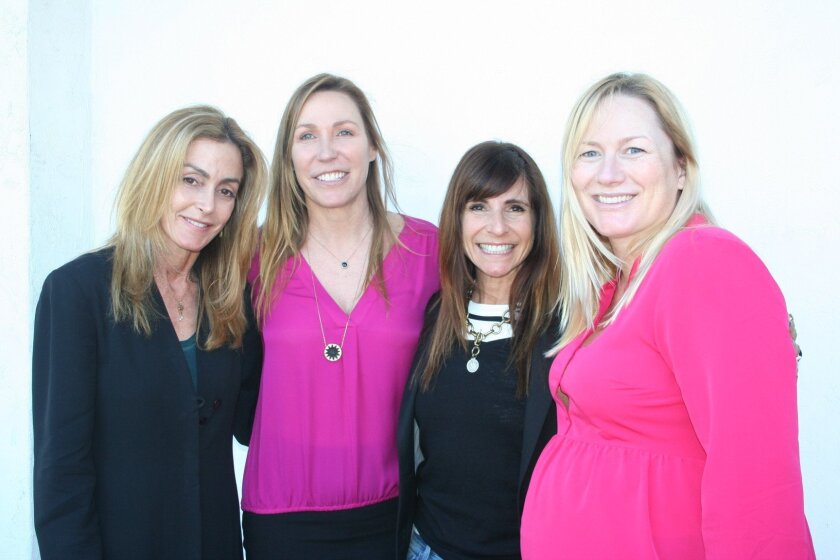 An estimated 1.6 million American adults and children suffer from Crohn's disease or ulcerative colitis, two chronic and often debilitating digestive diseases.
To raise awareness about these conditions and funds for research and support programs, Solana Beach supporters of the San Diego chapter of the Crohn's and Colitis Foundation of America are organizing "Champions of Hope," an awards dinner March 15 at the San Diego Central Library.
"So many people are afflicted, (and) it's just never talked about," said Solana Beach resident Debbie Hart, who serves as co-committee chair for the event, along with locals Laurel Smith and Susan von Posern. "We want to raise awareness."
Crohn's disease and ulcerative colitis are conditions that can cause diarrhea, bleeding, cramps and fatigue. Approximately 16,000 people have one of the two conditions in San Diego County, said Carly Bazzett of Solana Beach, the San Diego chapter's executive director.
Many patients must take drugs, which have serious side effects, or undergo surgery to get some relief. No cure exists for either condition, both of which fall under the umbrella of inflammatory bowel diseases.
"I was diagnosed at 14, and I did not know another person that had inflammatory bowel disease until I was 20, because it wasn't discussed," said von Posern. A Solana Beach resident since 1997, von Posern is a board member and general counsel of the local chapter.
"That's six lonely years. It's my goal to prevent that from happening to other people."
The Crohn's and Colitis Foundation is a nationwide organization dedicated to funding research and providing support to patients. Launched in 1980, the local chapter holds a number of fundraising events each year to benefit research and help patients and their families through educational forums, support groups and other services.
At no cost, for example, the chapter sends about 120 children who have these diseases to Camp Oasis at Camp Ronald McDonald for Good Times in Mountain Center, Calif., each year.
Last year, the chapter raised about $1.4 million for the cause.
"The money you donate stays in San Diego," said Bazzett, whose grandmother has Crohn's disease.
Last year, von Posern, Hart and Smith helped organize "Rally for Cures," a reception that took place just before the San Diego Aviators' opening tennis match against the Austin Aces in July at the Valley View Casino Center in San Diego.
Wanting to work together again, the group began planning the chapter's March fundraiser in September.
During "Champions of Hope," the chapter will recognize actor and advocate Benjamin King, who was diagnosed with Crohn's disease more than five years ago, as well as health coach and former "The Bachelor" contestant Tenley Molzahn, a supporter of the foundation and spokeswoman for awareness of gluten intolerance and celiac disease.
The chapter will also honor Dr. William Sandborn, a board member and chief of the division of gastroenterology and director of the UC San Diego IBD Center.
"Our honorees are so important because they are bringing awareness to these diseases," said Smith, a native San Diegan who has lived in Solana Beach for 14 years. A friend and neighbor of von Posern's, her niece was diagnosed with Crohn's eight years ago.
"Being outspoken is half the battle," von Posern added.
"Champions of Hope" will feature dinner, drinks, entertainment, and live and silent auctions.
More than 200 people are expected to attend the event, which begins at 5 p.m. March 15 at San Diego Central Library's Shiley Event Center. General admission tickets cost $175 and VIP tickets cost $275.
"We're excited about it," von Posern said. "From the music to the auction items to the venue, we're absolutely confident it's going to be a great night."
For information about the Crohn's and Colitis Foundation of America or the local chapter, visit www.ccfa.org or www.ccfa.org/chapters/sandiego.
To purchase tickets, donate auction items or purchase auction items, or learn about sponsorships opportunities, visit www.ccfa.org/chapters/sandiego.
---
Get the Del Mar Times in your inbox
Top stories from Carmel Valley, Del Mar and Solana Beach every Friday for free.
You may occasionally receive promotional content from the Del Mar Times.