Choice Superfood Bar & Juicery offers healthier choices for Solana Beach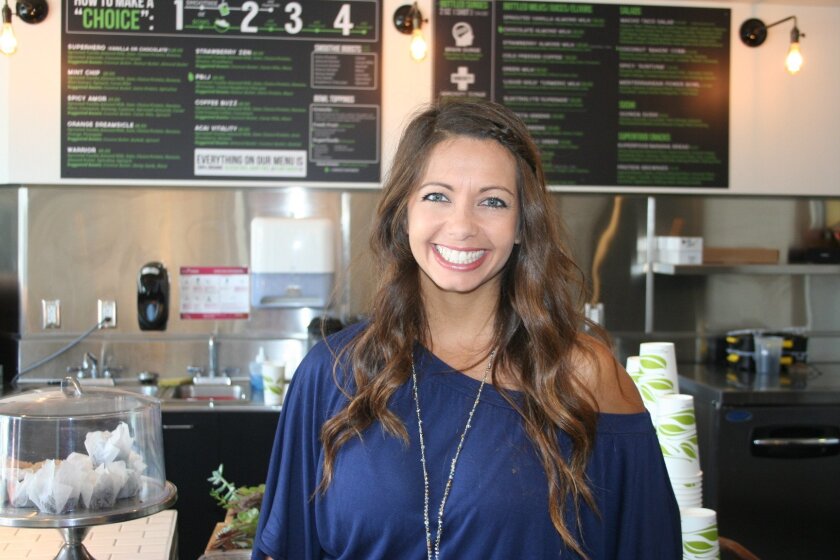 Solana Beach has a new restaurant in town to help residents make healthier choices.
Nearly a year after the launch of its original location in Carlsbad, Choice Superfood Bar & Juicery recently opened its second site in Solana Beach's Boardwalk shopping center.
"We're bringing something new and different," said owner Nastasha McKeon.
From smoothies to sushi and everything in between, every item on Choice's menu is gluten free, dairy free and plant-based.
Food and drinks are served sustainably, too.
Cold-pressed drinks come in glass jars that customers can return for store credit. Smoothies are served in cups that look plastic, but are actually made out of vegetable fibers. The shop also uses only reusable bags.
"Everything we do, from our food to our packaging, all has sustainability in mind," McKeon said. "We just want to do our part in paving the way for other companies to follow suit and make more sustainable choices."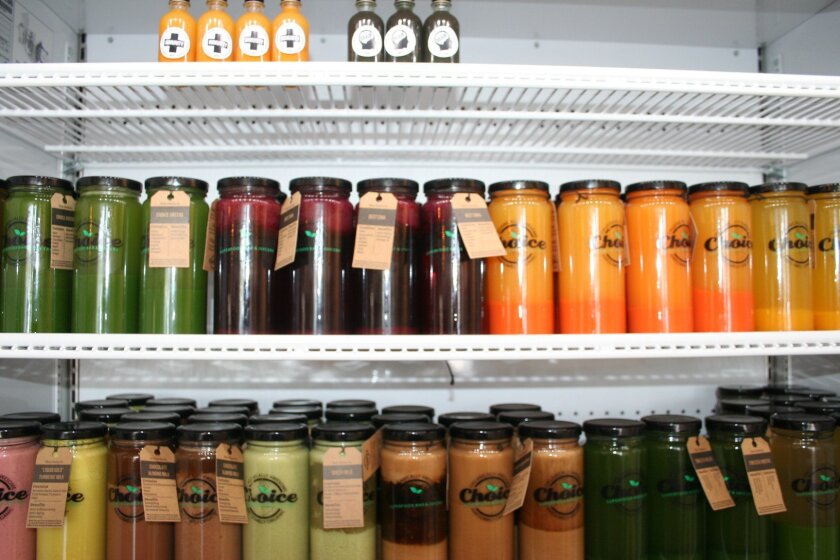 A San Diego native, McKeon has been a vegan for many years. Her lifestyle choices guided her education and career choices.
She earned a certification in clinical and holistic nutrition from the Natural Healing Institute in Encinitas and a certification in plant-based nutrition from Cornell University in New York.
McKeon previously worked as a nutritional consultant for local businesses and organizations, including Scripps Health's Employee Wellness Program. She has also helped local restaurants implement plant-based menus.
"It became my mission to teach people how to make healthy food taste good, but I could only reach so many people," she explained. "I decided to open something that had healthy food that tastes great and is convenient so people could make better choices. Here I am, less than a year later with two stores."
Last June, McKeon opened Choice in Carlsbad. Located on Carlsbad Village Drive, the shop operates out of a shipping container turned juice bar.
With a growing demand for healthier options elsewhere in North County, McKeon opened her second shop April 6 in Solana Beach.
"Everyone is supportive and loves what we do, but Carlsbad is a little far away for some of our customers," McKeon said. "Coming to Solana Beach just made a lot of sense."
McKeon plans to further open up the roughly 850-square-foot shop by transforming the storefront window into a roll-up garage window with bar seating.
Choice has already created a laid-back, coastal vibe with music and free WiFi for customers.
"We just want to create a cool place to hang out," she said.
Using organic ingredients, McKeon created the menu, which includes milks, juices, smoothies, smoothie bowls, salads, sushi and snacks.
One of Choice's most popular items is the PB&J Smoothie, which was recently named "Best Smoothie" by San Diego Magazine. The blended drink includes homemade vanilla almond milk, protein, peanut butter powder, raspberry chia jam, banana, date and ice.
In addition to its menu, Choice offers one-day and three-day cleanses, where customers can pick up a package equipped with one salad, four cold-pressed juices, almond milk and water per day. Customers can sign up in the store or online and pick up their package daily.
"Most people don't realize they feel bad until they feel good," McKeon said. "We give people the tools they need to clean their diet and change their lifestyle. A cleanse is a great way to do that. In three days, you can really reset your system."
Although she just opened her second site, McKeon has no plans to slow down soon. She hopes to open more shops in other communities.
"My biggest goal in life is to leave the world a better place than I found it," McKeon said. "I think my path in doing that is through nutrition, health and wellness, and inspiring people to make better choices."
Choice is located at 437 South Highway 101, Suite 118, in Solana Beach. The restaurant is open 7 a.m. to 6:30 p.m. Monday through Friday and 8 a.m. to 6:30 p.m. Saturday and Sunday.
For more information, call 858-704-4346 or visit choicejuicery.com.
---
Get the Del Mar Times in your inbox
Top stories from Carmel Valley, Del Mar and Solana Beach every Friday for free.
You may occasionally receive promotional content from the Del Mar Times.