Del Mar Foundation hosts Easter Egg Hunt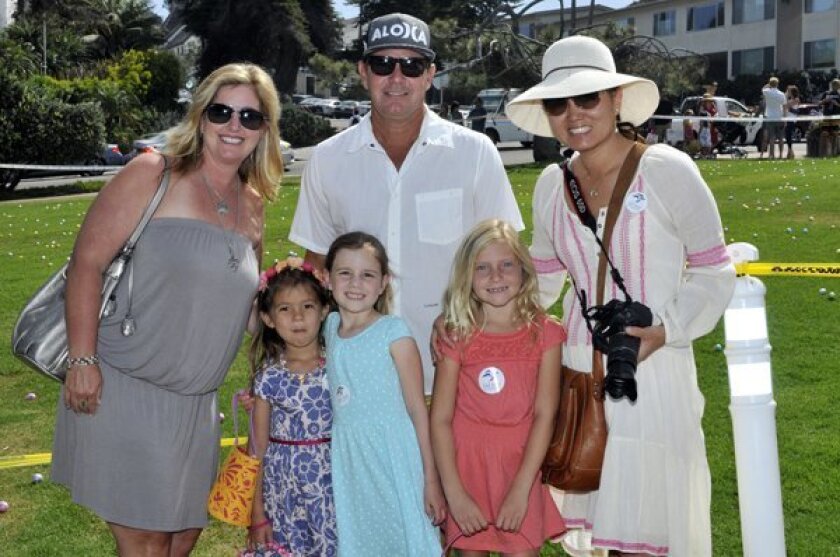 Jennie and Bob Burchell, Cathy Rogowski with Reese, Riley and Ella
(McKenzie Images)
Cindie Fessenden,Rachel Olsen with Elena, Addy and Stella
(McKenzie Images)
Chrissy Cabral with Kaelyn, Kristen and Scott Sundstrom with Annie and Katie
(McKenzie Images)
Raelyn Holmes with Ava
(McKenzie Images)
Meara and Mike Demko with Elsa and Sylvie
(McKenzie Images)
Egg hunters
(McKenzie Images)
Egg hunters
(McKenzie Images)
Egg hunters
(McKenzie Images)
Laurie Kertzman with Kenzie
(McKenzie Images)
Sunhee Yun with Ara
(McKenzie Images)
Jennifer Porter with Ando and Miya
(McKenzie Images)
Kent and Christine Malmberg with Kayla and Cassidy
(McKenzie Images)
Chrissy and Sam Lambros with Ella
(McKenzie Images)
Del Mar Foundation members Kelley Huggett, Judd Halenza, Karla Deerinck, Sandra Hoyle, Jill Wheeler
(McKenzie Images)
Arun and Shaleena Venkat with Humsa and Sohan
(McKenzie Images)
Del Mar families participated in the annual Easter Egg Hunt at Seagrove Park on April 4. The festive event, which also featured the Easter Bunny, was hosted by the Del Mar Foundation and its Young Del Mar Committee.
Visit www.delmarfoundation.org.
Photos by McKenzie Images.
---
Get the Del Mar Times in your inbox
Top stories from Carmel Valley, Del Mar and Solana Beach every Friday.
You may occasionally receive promotional content from the Del Mar Times.