Del Mar Heights students build skills, confidence with engineering challenge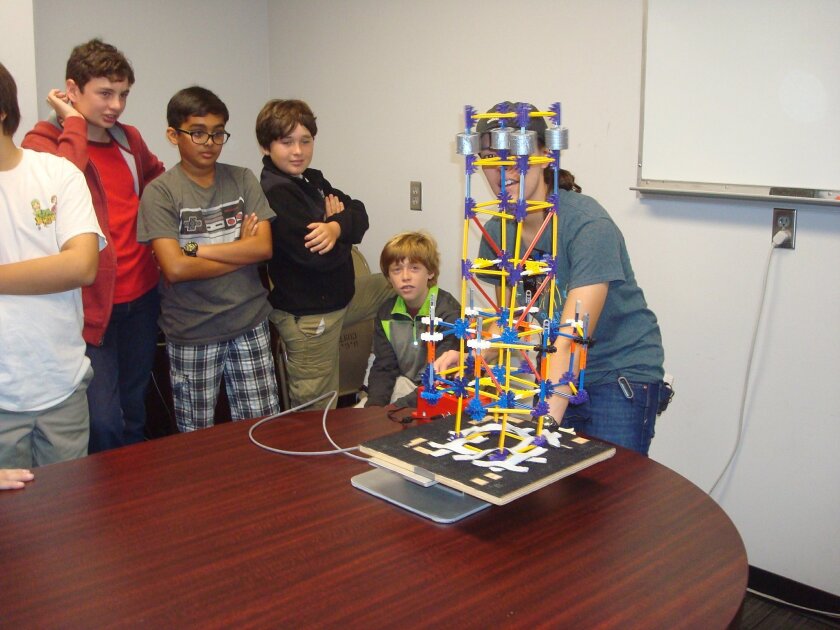 If you walk into the Del Mar Heights Elementary School Science Lab and see children taping and gluing, do not be fooled. They are not making a craft. They are, however, being creative. Each year, the students are challenged to use the engineering design process to solve problems.
This month, sixth-grade students at Del Mar Heights Elementary competed in the UCSD K'Nex structural engineering challenge. During the K'Nex project, students participate in a realistic scenario in which they try to win a contract to build a building for a landowner. They must create buildings that are aesthetically pleasing, earthquake resistant, and cost-effective. On the final day of the project, the UCSD engineering students interview the students, look at their architectural drawings and scale construction drawings, and shake the structures on a shake table to determine the winners. Through these engineering activities, students learn critical thinking, perseverance, and how to collaborate with team members to solve a problem while having a blast.
During the engineering design process, students define problems, brainstorm solutions, and then implement a cycle of planning, building, testing, improving, retesting, and evaluating. There are different engineering projects for each grade level. First-graders design and test toy sailboats with the goal of creating the fastest boat that does not sink. To be successful, boats must travel at least 100 centimeters in 10 seconds when tested in a test tank with a fan. Second-graders must design bridges that can hold the weight of 50 pennies using a limited supply of materials, and third-graders create lunar landers that can land gently without tipping. Students in fourth grade build electric cars and engineer improvements to prevent damage during crashes, and fifth-graders build and test water rockets made from 2-liter bottles.
---
Get the Del Mar Times in your inbox
Top stories from Carmel Valley, Del Mar and Solana Beach every Friday.
You may occasionally receive promotional content from the Del Mar Times.