Del Mar swimmer gets one more shot at Catalina relay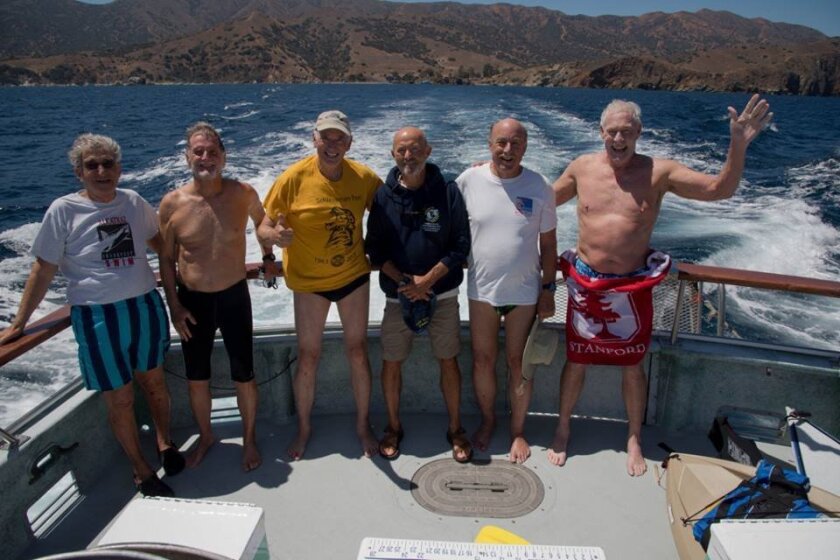 It was just three years ago that six local 70-somethings embarked on a record-setting swim across the Catalina Channel.
Now 2016, and at 79 years old, Tony Joseph of Del Mar wanted one more shot at the relay. This was his last chance — at least with the same team.
"If we hadn't gone in 2016, I'd be aged out," Joseph said from his Del Mar home.
Joseph and his fellow teammates set a new swimming record for men in their 70s on Aug. 12, when they swam from the California coast to Catalina Island in 14 hours flat.
The team, called the Swell Guys Too, consists of Joseph, Bill Crane, Steve Cross, Steve Dockstader, Dan Henry and Pete Pettigrew. The previous record for the men ages 70-79 category was 16 hours, five minutes. Records are certified by the Catalina Channel Swim Federation.
Departing from Rancho Palos Verdes, each team member swam an hour, then climbed in the "mother boat" for a rest, before getting back in the water for another leg. Swimmers were accompanied by observers on kayaks, including Del Mar resident Tom Hecker, who was one of two support paddlers for the all-night swim.
Crane started the swim, diving in the water at 9:41 p.m. At 64 degrees, the water was cold.
Next up was Pettigrew, then Henry, Dockstader and Cross. With high swells and strong winds, the conditions were tough.
"The conditions just kept getting worse and worse as we went along," said Cross, the team captain.
Joseph, the sixth and oldest swimmer, faced the most time-consuming obstacle. He was separated from the observation kayak. Ever the competitor, however, he had two questions when he completed his turn: How did I do? Whose distance did I beat?
The swimmers then repeated the rotation, with Joseph's second stretch in the 11th hour. In the 13th hour, the final swimmer, Pettigrew, faced one last challenge. One of the observation kayaks capsized twice, leaving him to go it alone.
"There was some drama," Cross said.
Pettigrew completed the final stretch at 11:41 a.m., arriving at Doctor's Cove on Catalina Island. Altogether, the group covered 23-and-a-half nautical-miles, averaging 1.7 miles per hour.
"It was more challenging," Cross said.
Swell Guys Too formed in 2012. The group became the first group of men in their 70s, along with the Wild Old Women, the first group of women in their 70s, to swim from the shore to the Island. That swim took 16 hours, 5 minutes.
"We're all accomplished open ocean swimmers and have raced up and down the coast for years competing against each other," said Cross, adding that every member is also a member of the La Jolla Cove Swim Club.
Conditions were much better in 2013, when Joseph joined the group and Swell Guys Too set a record by completing the swim in just 10 hours, 57 minutes and 6 seconds.
That time the team swam from the island to the shore.
"It worked out just like clockwork," Cross said about the Sept. 24, 2013 swim. "We just kept swimming and it just felt like we were getting vacuumed along. It was a great feeling."
"The water was warm," Joseph added.
"For what it's worth, I don't think that record's going to be broken," he said. "We had perfect conditions. You just couldn't have a better night."
The team took two years off after the 2013 record-setting swim.
A few members had to address medical issues, including Cross who had eye surgery.
"We're not all original parts," Cross said with a laugh.
"When you get to 70, things begin to give out," added Joseph, who trains at UCSD and La Jolla Cove.
"Stuff starts to happen, but it doesn't interfere with our goals," Cross said.
The group set out with a goal to complete a new swim across the Catalina Channel in 2016.
Other than Joseph, all of the same team members signed up. But with one team member, Dave Little, still dealing with a medical issue, Joseph stepped up.
A retired judge, Joseph served on the San Diego Superior Court for 20 years. He worked in law for 40 years, previously as an attorney.
Joseph's been a swimmer even longer, swimming competitively since he was a high schooler in the early 1950s. He's swam competitively in the ocean for 35 years.
"Tony was more than ready to step in and take another swim," recalled Cross, who works in corporate finance. "Tony said he could train and be ready. We took him at his word."
Although the group's latest swim took an additional three hours to complete, the teammates agreed that in the end, it is the more memorable relay.
"It really required everybody to stay completely focused," Cross said. "It was very, very challenging to stay focused."
There are no immediate plans to compete again next year, but Cross said Swell Guys Too will likely be back. Although Joseph, who turns 80 in October, won't be able to participate with the group of 70-somethings next year, he definitely hasn't taken his last swim.
"You're as young as your goals," Cross said.
---
Get the Del Mar Times in your inbox
Top stories from Carmel Valley, Del Mar and Solana Beach every Friday for free.
You may occasionally receive promotional content from the Del Mar Times.