Del Sol Lions mark fifth anniversary of service, outreach to community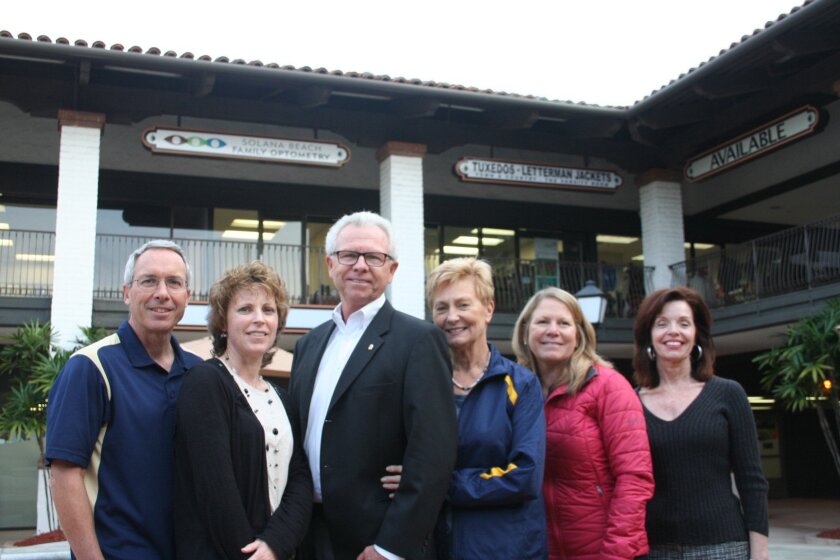 Thanks to the Del Sol Lions Club, local students have school supplies and local families have food. Since its founding, the local club has raised more than $60,000 for 125 service projects in the community — an accomplishment that club members recently commemorated during the club's fifth anniversary celebration Feb. 24 at Realty World in Solana Beach.
"We're just community people," said club president David Cain, a Solana Beach resident. "We just want to help each other and be involved in the community."
With their goal to establish a local Lions Club, six local residents began meeting monthly more than five years ago at Denny's off Via de la Valle in Del Mar.
"We quickly populated a board and started bringing in members," recalled Linette Page, one of the club's charter members, who now serves as first vice president.
When the club was chartered with about 60 members on Feb. 15, 2010, members initially met at Sam's Place, a Greek restaurant that was on Lomas Santa Fe Drive. The club now meets from 5:30-7 p.m. every fourth Tuesday at Fletcher Cove Community Center in Solana Beach.
Within the chapter's first year, it obtained nonprofit status, allowing the group to seek additional government and corporate grants, and ultimately furthering its community outreach.
"We raise the money locally and we spend the money locally," Cain said.
Today, the Del Sol Lions Club has about 30 members of all ages and backgrounds from Del Mar, Solana Beach, Carmel Valley, Rancho Santa Fe and surrounding communities.
Some original members have since left the area. The club also lost some members when it sponsored a new club in the region, Live Well San Diego Lions Club.
"Ours is a very diverse group of people," said Page, a Solana Beach resident. "We have retirees, we have working professionals, we have new families. We have a really broad range of members, and they all want to give back."
In sum, club members have spent about 6,800 hours volunteering in the community.
Among its dozens of service projects, Del Sol Lions has provided backpacks, books and school supplies for students at Casa de Amistad, a Solana Beach-based organization that is dedicated to fostering education and character development for local underrepresented children. The club has also partnered with the San Diego Food Bank to provide food to local families in need.
"We've stayed very true to wanting to serve, wanting to be a reliable partner, and continuing to grow what we're doing with these groups on a year-by-year basis," said Page, noting that last year the club raised $3,000 to donate 200 backpacks to Casa de Amistad students. The club also donated scientific calculators to the students in high school.
Club member Dr. Kristin Peterson-Salgado, owner of Solana Beach Family Optometry, provides free eye exams for local K-12 students at her practice. Del Sol Lions covers the cost of glasses.
To date, she has given about 40 free exams to local children from low-income families.
"It's just so rewarding," said Peterson-Salgado, who opened her practice four years ago in Loma Santa Fe Plaza. "I wasn't looking for a networking club or to drum up business; I just wanted to do good things in the town where my family lives."
Beginning in March, the club, with Peterson-Salgado's help, is now going to offer screenings for preschool children. Del Sol Lions recently received $1,000 from the city of Solana Beach's Community Grant Program to expand its program.
"I think that's what makes us unique from other organizations," Page said. "Our members aren't people who just want to write a check and be done. Our members want to be out in the community, giving back."
Always looking for new ways to do just that, the club surveys its members annually to determine what causes and projects are most important to volunteers and supporters.
This year, for instance, the club plans to provide books and establish a shoe bank at the Boys & Girls Clubs of San Dieguito's La Colonia Branch.
"Our goal is to grow what we're doing every year," Page said. "We welcome anyone who wants to serve the local community."
For more about Del Sol Lions, visit www.e-clubhouse.org/sites/delsol.
---
Get the Del Mar Times in your inbox
Top stories from Carmel Valley, Del Mar and Solana Beach every Friday for free.
You may occasionally receive promotional content from the Del Mar Times.