Cathedral Catholic student receives Girl Scout Silver Award for project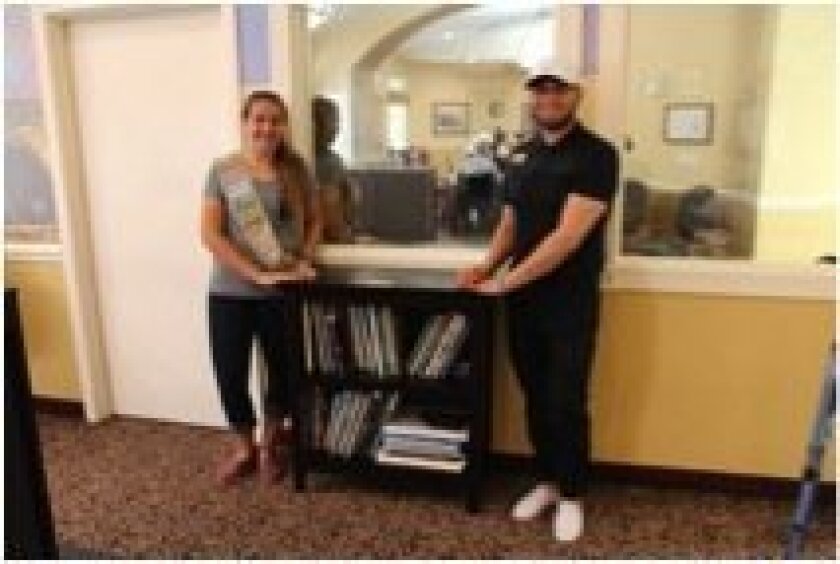 The Girl Scout Silver Award is the highest award a Girl Scout Cadette can earn, and this was recently awarded to Jennifer DeSantis, a freshman at Cathedral Catholic High School and a varsity rower at San Diego Rowing Club.
Jennifer's project sought to raise awareness about the need for, and support the creation of, a visual library at a memory care facility for the elderly.
Having often visited this particular residential facility, Jennifer noticed residents would gravitate towards printed material that was colorful and filled with pictures rather than words, but she also noticed there was very little available for them.
"I watched a resident flipping through a travel brochure. She would look at the pictures and when she got to the end of the eight-page brochure, she would flip it over and start again. These residents could not remember plot lines, but they could still enjoy books, especially those that take you to different places. Some pictures could even stir up old memories. Most of all, these pictures could help transport these people out of their rooms." Thus, she decided to create a library for the two wings at the facility.
Jennifer accomplished her project by a long recycling effort where she regularly gathered the plastics, cans and glass of family, friends, and neighbors and hauled them to a local recycling center. She also worked as a pet sitter and applied for and received a book grant from Better World Books.
She used the money she earned to visit various book sales at libraries all over the county and received a donation of books from the Rancho Penasquitos library. After delivering the two bookcases she built, Jennifer loaded them with almost 200 books. The books ranged from art, design and architecture, to photography of people, places and animals.
As an Independent Girl Scout, or Juliette as the girls are sometimes known, Jennifer developed her project based on Girl Scout guidelines that encourage girls to explore their community for an issue to address, identify the cause, and tackle the issue in a way that creates a lasting change for the better.
This is Jennifer's ninth year as a member of the San Diego Girl Scouts. She has recently bridged to Senior Girl Scout; she received her Bronze Award in 2013. The Girl Scouts of San Diego will recognize all the successful scouts countywide at the yearly Silver Award Ceremony in June where they will receive their official council-issued certificates and pins.
---
Get the Del Mar Times in your inbox
Top stories from Carmel Valley, Del Mar and Solana Beach every Friday for free.
You may occasionally receive promotional content from the Del Mar Times.