Solana Beach seventh-graders rise to philanthropic challenge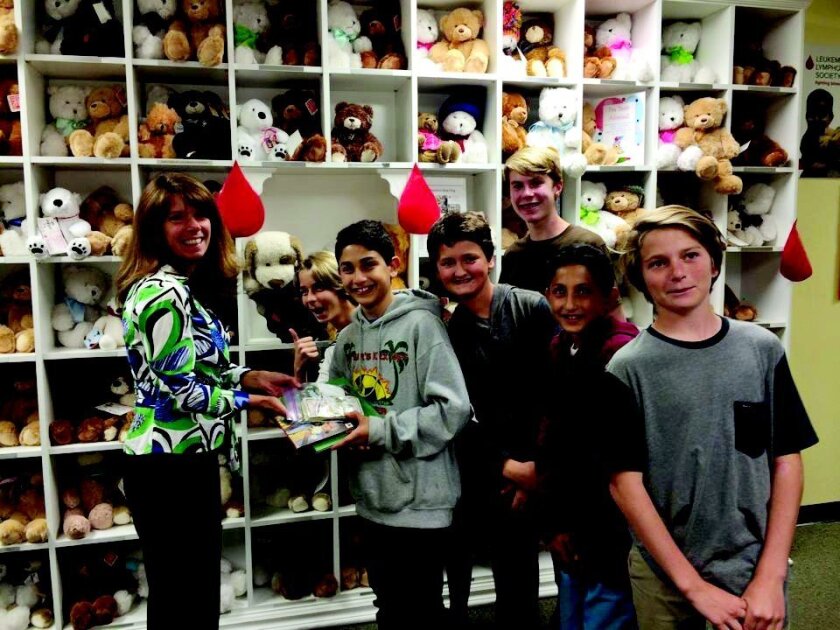 Earl Warren Middle School students were recently challenged with something much bigger than a pop quiz.
As part of a class assignment, social sciences teacher Connor Nesseler asked his seventh-grade humanities students to raise money and donate it to a good cause.
"We were given a project in which we tried to make a difference in society," said Mazen Idriss.
"Since everybody in our group has had a cancer occurrence in their family, we chose the Leukemia & Lymphoma Society," added Max Kornbluth. "We wanted to help a disease that affects kids our age, and leukemia is the most common cancer for kids."
By the end of the project, Max, Mazen and their teammates — Zack Borthwick, Némo Leonelli and Finn Mallery — donated more than $800 to the Leukemia & Lymphoma Society. They raised the money by holding a bake sale and a three-on-three soccer tournament.
"We all love soccer, so we chose something we'd have fun doing," Mazen said.
The 13-year-olds raised $427 from the bake sale and $376 from the soccer tournament for a combined total of $803. They also collected and donated gently used children's books for leukemia patients.
The boys personally presented their donation to the Leukemia & Lymphoma Society on May 8.
"It felt good to give it to a worthy cause," Max said.
"I think the boys learned a lot about picking a cause that's important to them, having a good reason and a motivation for why they want to make a difference, and deciding how they wanted to make that difference," said Max's mother, Angela Hill. "I think it helped them see the world differently and appreciate what they have and how lucky they are to be healthy."
---
Get the Del Mar Times in your inbox
Top stories from Carmel Valley, Del Mar and Solana Beach every Friday for free.
You may occasionally receive promotional content from the Del Mar Times.