Encinitas retiree carves new career as woodworking artist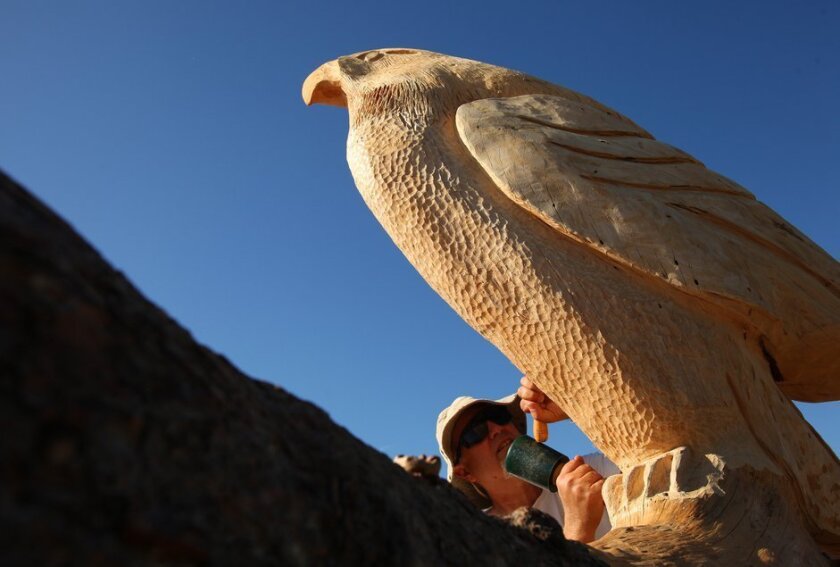 Although Tim Richards retired almost nine years ago, he has no trouble filling his free time.
The Encinitas resident has become a well-recognized, award-winning woodworking artist, recently unveiling his latest public art piece at the Torrey Pines State Reserve in Del Mar.
"I think it turned out really well," Richards said about the once-dead Torrey pine that is now a lively piece of art. "I enjoyed the whole creative process."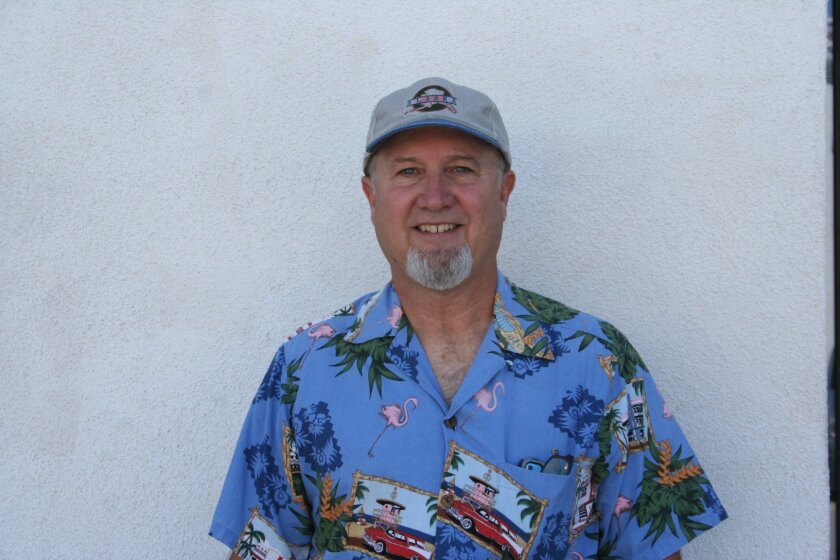 Originally from Michigan, Richards previously worked in sales and management at Frazee Paint, most recently at the Encinitas store. After more than 22 years with the company, he retired in the summer of 2006.
Upon retirement, Richards decided he would try his hand at woodcarving, so his son gave him a professional chisel set. He had always wanted to create his own duck decoy, having collected them since the 1980s.
"That got me started, and I carved a couple of those," recalled Richards, who has lived in Encinitas since 1985 and San Diego County since 1976.
With a natural talent, Richards sold a few of his duck decoys to a gallery in Utah, where he lives part time. Carvings of duck decoys led to carvings of other wildlife figures, including birds and fish.
It wasn't until 2011, however, that Richards' work attracted the community's attention.
That was when the woodworking artist transformed the stump of a beetle-damaged Torrey pine into a tiki head statue at one of the world's most famous surf spots. The 80-year-old Torrey pine became a 12-foot-tall replica of an Easter Island head — now a local landmark at Swami's Beach in Encinitas.
"That was quite an experience," Richards said. "It was the first time I ever used a chainsaw to carve."
Since creating his first public art piece, Richards has been called upon for other projects for private residences and public spaces. To date, he has created close to 40 outdoor carvings, including many tikis — one of his most popular requests.
Homeowners from all over Southern California have requested carvings. In addition to the Del Mar piece, he recently completed a tiki at a private residence in San Marcos.
"I get to travel around a lot of places and see a lot of neighborhoods I've never been to before," said Richards, who has received requests from people as far away as Long Beach.
After his 2011 carving at Swami's, Richards carved a 13-foot-long lizard in 2012 at Capri Elementary School in Encinitas. The following year, he carved a foot-long Southern California steelhead trout for the Elfin Forest Interpretive Center in Escondido.
Richards spends about 20 hours each week on carvings. He has also held two solo shows at the library and community center in Encinitas. In addition, he enters annual award shows. Among his several awards, last year, Richards was named California Open Wildlife Art Festival's "Decorative Carver of the Year."
In January, Del Mar resident David Arnold contacted Richards about carving a Torrey pine on the south end of Torrey Pines State Reserve. The city was cutting down the tree because beetles had damaged it.
Arnold asked the crew to stop working for an hour, giving him time to make a few phone calls. He contacted city staff and received support to turn the stump into art.
"It was astounding to see that they had it cut way down," said Arnold, adding that weddings, parties and other events have been held under the tree, which has been rooted on a patch of land with an ocean view for decades. "I felt that the tree and its history needed to be saved."
Arnold, a retired graphic designer and illustrator, designed a bench with an attached red-tailed hawk for the stump. After receiving approval from the city, Richards went to work on Feb. 17. He completed the piece March 6.
"It's a great location with an ocean view," Richards said. "A lot of people go through the park, both locals and tourists."
With his latest public art piece now complete, Richards already has several other private projects lined up. He's also been in contact with the city of Solana Beach to possibly transform another beetle-damaged Torrey pine on the Coastal Rail Trail.
For more about Richards, visit his page on Facebook at www.facebook.com/timrichardswoodcarving.
---
Get the Del Mar Times in your inbox
Top stories from Carmel Valley, Del Mar and Solana Beach every Friday.
You may occasionally receive promotional content from the Del Mar Times.