Designers think outside the box with kids' cardboard furniture line
To the chagrin of many parents, often the prosaic cardboard box that their child's gift comes in holds more fascination than the item inside.
With this oddity in mind, Jake Disraeli and his partners, Jordan Kepler and Justin Farr — aka the Cardboard Guys — invented a desk and chair set for children made entirely from cardboard.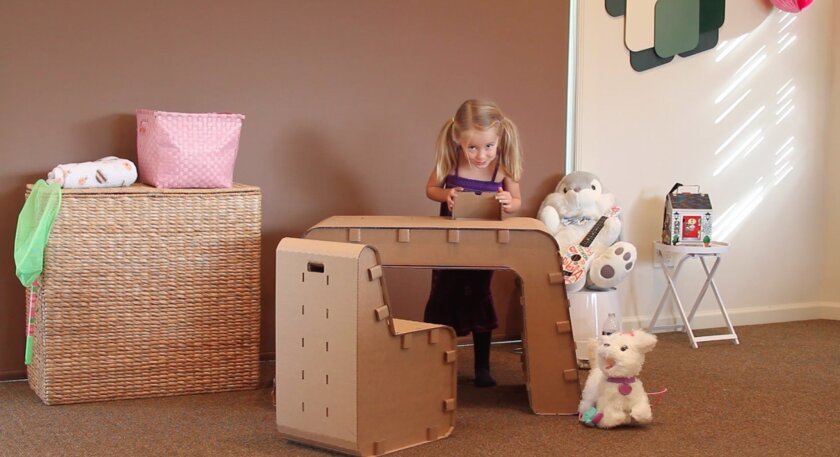 Unlike other kit furniture, the "Kids Imagination Furniture" items are designed for children to be creative through hands-on designing and building.
The set — made in the United States from 40 percent to 60 percent post-consumer recycled fiber — is 100 percent recyclable with the desk designed for DIY attachments and a chair that is so robust it holds more than 500 pounds.
Each kit arrives flat-packed and weighs only 11 pounds. It requires no adhesives, is child's play to assemble and comes with art supplies.
"We give the child everything they need to custom-design their own furniture," said Disraeli. "We allow them to do something that they've never been encouraged to do before, and that's to draw on the furniture!"
The desk top is reversible. "The child can color on one side and then flip it over and color on the other side," said Disraeli. The kit has an additional top so there is another blank surface to create another design, he added.
Born and raised in the area, Disraeli attended Carmel Del Mar Elementary School and Carmel Valley Middle School, and graduated from Canyon Crest Academy High School in 2009. He attended Cal Poly San Luis Obispo, graduating in 2013 with a degree in business and entrepreneurship.
Immediately after he graduated, Disraeli went on to be active in the entrepreneurship program. He was the innovation coordinator for a number of on-campus and off-campus programs to help recent graduates start their own companies.
The Cardboard Guy's business was initiated when Kepler and Farr — both industrial technology students — partnered on Disraeli's senior project.
"My partners had a very intimate relationship with cardboard and design and how things work together and how to produce it," said Disraeli. The three also worked with architecture and design professors, receiving critiques as the design was being developed.
"The Cal Poly community has been really great for us in terms of support from alumni and professors. The network that is provided here — we are actually part of a program called the SLO HotHouse incubator, a program for recent graduates that provides funding and resources to start a business — was so supportive," said Disraeli.
Additional money to fund production was provided recently by a successful Kickstarter campaign that raised more than $28,000. The furniture will be manufactured in Los Angeles, and will be sold on third-party ecommerce sites and eventually in traditional stores.
The concept actually started as college furniture for students and adults, said Disraeli. "After doing lots of in-depth interviews before we got too far into the business, what we kept coming back to was a unanimous suggestion that this would be really great for kids."
While cardboard furniture is not a new concept — architect Frank Gehry is credited as the pioneer of cardboard furniture — the approach that the Cardboard Guys are using is innovative.
"We are focusing on kids to foster their imagination. We learned that parents wanted to provide their kids an environment to color outside of the lines, to have a place for their kids' creative freedom," said Disraeli. "We can't wait to see what they do with it."
Visit www.thecardboardguys.com.
---
Get the Del Mar Times in your inbox
Top stories from Carmel Valley, Del Mar and Solana Beach every Friday.
You may occasionally receive promotional content from the Del Mar Times.