Del Mar-Solana Beach Optimist Club's Children's Challenge Awards honors student standouts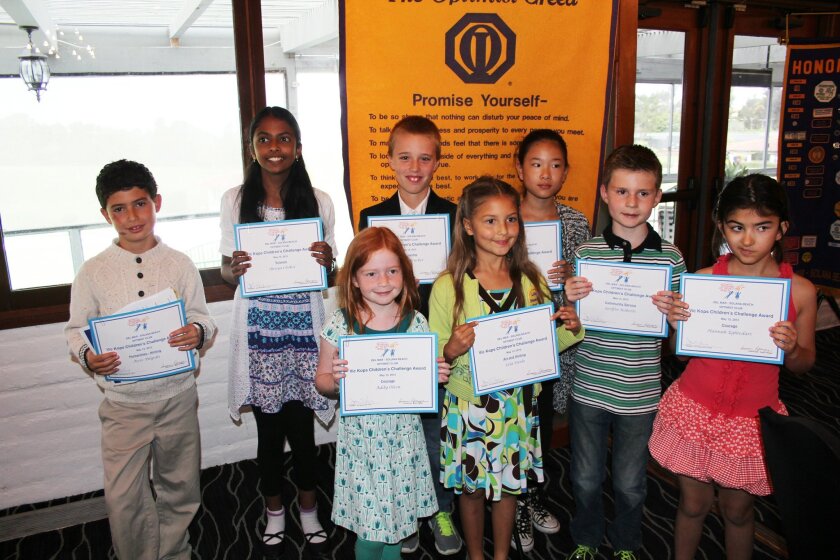 The Del Mar/Solana Beach Optimist Club held its 33rd annual Vic Kops Children's Challenge Awards on May 13, a happy morning celebrating the brightest examples of elementary school students in the categories of science, humanities, courage, arts, fellowship and community service.
This year's eight honorees were Shreya Choksi, a sixth-grader at Torrey Hills; Aviv Pilipski, second-grader at Sage Canyon; Hannah Eghtedari, third-grader at Ocean Air; Addy O, a second-grader at Del Mar Heights; Lila Steele, a second-grader at Del Mar Heights; Bettina Zhang, fifth-grader at Sage Canyon; Aaron Brucker, a sixth-grader at Sage Canyon; and Griffin Roberts, a second-grader at Ocean Air.
The students also received a $100 prize, which they were all very excited about.
Shreya received the award for science, nominated by her teacher, Uma Krishnan.
With her partner Hanan Zhang, she won first place in the regional Science Olympiad in February. The team went onto the state level, where they placed fourth in Southern California. Krishnan said Shreya is a dedicated student who studies and researches topics on her own and has offered to share her expertise as a volunteer coach for fourth- and fifth-grade students.
"She is an ideal student that every teacher would like to have," Krishnan said.
Aviv won his award in humanities for his excellent writing. Teacher Chris Rappa said she teaches her students to write a strong hook in their stories that will "knock readers' socks off."
"Aviv is so good at writing hooks I call him a 'hookologist,'" said Rappa as Aviv stood tall with a huge, proud smile.
Rappa said Aviv is also willing to assist his fellow students with their writing, helping them add "juice." Rappa said she's sure that Aviv's craft will weave itself into any career he chooses.
Hannah, an award recipient in the category of courage, is an "absolutely amazing" girl who has overcome many challenges in her young life and has done so with strength and grace, according to her teacher, Laura McCarthy. Complications from a benign tumor have caused her to endure several surgeries, facial paralysis and hearing loss.
"Setbacks have not stopped her at all," McCarthy said, noting that Hannah displays responsibility in finishing her work and leadership in the classroom by being a model student.
Also, Hannah is a strong writer, and recently wrote a very touching piece about a mother's unconditional love.
"Above all, Hannah is a good friend and is not afraid of her differences," McCarthy said.
Another winner in the category of courage was Addy, whose congenital venous malformation affects her legs, knee, foot and every movement she makes. Her teacher, Paige Rollins, said she confronts her challenges with endurance, bravery and great courage.
On bad days, she uses crutches, and she always finds a way to adapt. As an example, she participates in the lunchtime running club by skipping and has logged some of the most laps in her class.
"Despite the physical pain, she continues to be positive," Rollins said. "She is beautiful and exactly the person she's supposed to be."
Lila was honored in the category of arts for her accomplishments in writing. A prolific writer, she has written 15 short story books about dragons, her favorite topic. She also writes informational brochures in her spare time on topics like vegetables to hand out to her neighborhood community and also has several pen pals with whom she exchanges letters throughout the country and in Canada.
"Lila just loves to write," said her teacher, Nicki Waldal.
Bettina was honored in the category of arts, but her teacher, Genevieve Chapluk, said she "shines in so many ways." Chapluk said Bettina is talented, creative, diligent and collaborative and excels in painting, drawing and writing.
Bettina uses her skills to strengthen bonds with those around her, working with her friends on pieces and making gifts out of her prose such as when someone is sick or by writing a Mother's Day poem. She draws inspiration from artists she loves, such as writing a letter to Chapluk from "Harry Potter" character Professor Albus Dumbledore.
Chapluk said she admires how Bettina finds ways to share her gift to help brighten someone's day and make people feel special.
Aaron received the Children's Challenge award in the category of fellowship for what he brings to Sage Canyon's after-school program. Eboni Harvey, who leads after-school care, said she gives the kids freedom to come up with ideas for what they want to do in their groups, called chapters. As president of his chapter, Aaron chose to run a charity drive for the Salvation Army, collecting boxes and boxes overflowing with goods.
"We got over 100 things and I'm really proud of it," Aaron said.
"This guy will be a future leader for this community," Harvey said.
Griffin, the community service award winner, has also made a difference during after- school hours. On his own, he went around the Ocean Air campus and collected plastic bottles that were not recycled. He found a bin to use for recycling in the after-school program and monitored students to make sure they put items in the correct spot. He also offers to monitor snack time.
"He sets an example for everyone," said his after-school care teacher, Chelsea Galvan. "It's rare when a kid want to help and do so much for the campus and not expect anything in return."
---
Get the Del Mar Times in your inbox
Top stories from Carmel Valley, Del Mar and Solana Beach every Friday for free.
You may occasionally receive promotional content from the Del Mar Times.