Patriot Profiles: Meet Taya Kyle, an 'American Wife'
The story of Chris and Taya Kyle is a testament to heroism on the battlefield and a tribute to love at its deepest level at home. Not that long ago in 2001, Taya and Navy SEAL Chris were making eyes at each other at Maloney's in San Diego's Gaslamp District. Chris intrigued her with his idealism and romantic patriotism, saying, "I would lay down my life for my country." How could a girl not fall for that? They married in 2002 and set out to experience "happily ever after."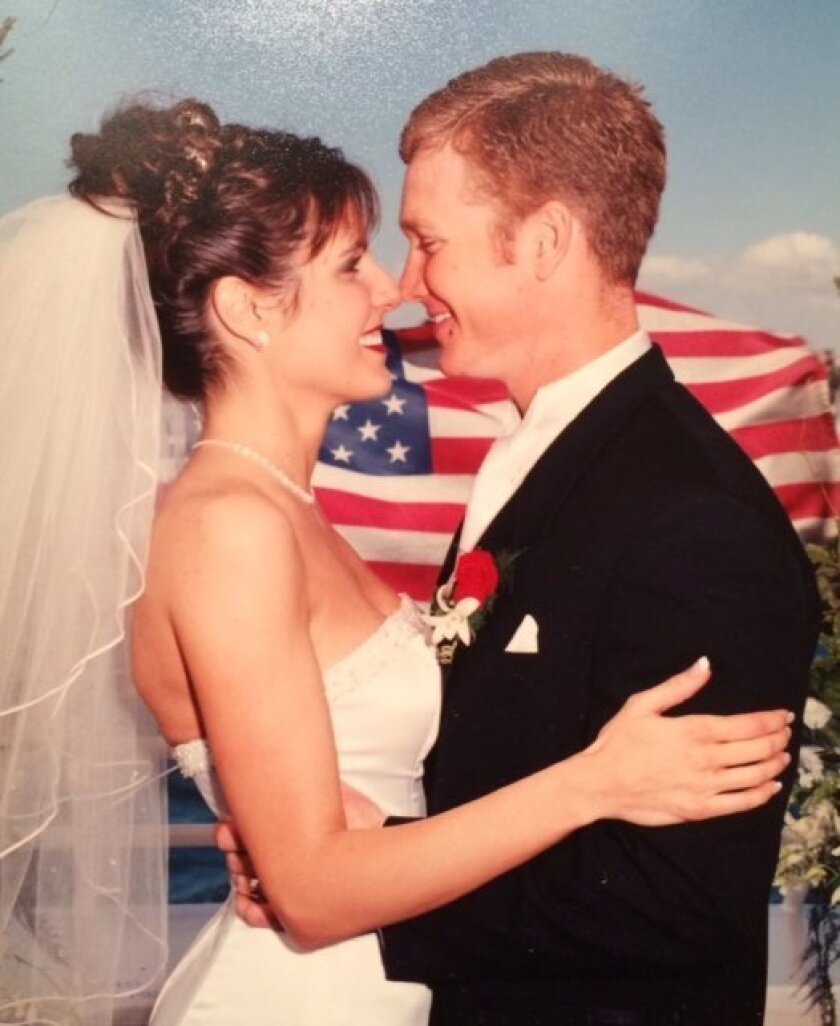 Training is on-the-job for thousands of military wives (and some husbands) in Taya's position. Becoming a Navy SEAL had built her husband up for the most terrible aspects of war — to survive and win against all odds or threats. Taya didn't have a grueling training program, no jack-hammered conditioning and pressure to become a ripped, "indestructible warrior." Yet she had to become indomitable, somehow.
Falling in love with a former Texas cowboy turned Navy SEAL in a time of war meant scares and separations — long ones. Christopher Scott Kyle followed orders, and was deployed to Iraq multiple times. For days on end, he put his life on the line in major battles, while Taya fought to ward off overload at home — raising two children and keeping up with everything. While Chris was busy providing American fighters with covering fire, using his skills and faith to stay alive, Taya was covering up their two kids at night, using her faith and skills to reassure that Daddy would be back.
The enemy's bounty on Chris grew with his reputation of being the most lethal sniper in U.S. military history. Taya fought the quiet battles. Her husband lived a life of danger in a foreign land and there was nothing she could do to change that.
"I can be hard-headed and want to have control over my own destiny or fix things," she said. "I feel like this is one way God broke me down to say, 'You can come to me, because this is truly out of your control.' I felt like my relationship and faith deepened through that process of being completely powerless."
The fog of war moved in on young lovers living in opposite realities. "I think the biggest challenge as I look back was knowing and feeling that he loved me and he meant it, and just because it wasn't shown in the same ways it traditionally was for other couples, that it didn't mean it was any less real for him.
"I heard Chris say at one point, 'We both just never gave up at the same time.' I remember thinking, 'I never gave up.' I know I expressed disappointment at the way things were going and he understood it as maybe I was ready to 'toss in the towel.' My main thing was — the day I got married, I was promising my friends and family and God that this was it for me," stated Taya.
Things got better when Chris got out of the military and channeled his passion to serve into supporting veterans and their families. Reality was the same now for him and Taya —the family was whole again. Then life took a shattering turn when Chris and his friend, Chad Littlefield, were killed while attempting to help a troubled veteran.
"I go back to my faith, so when (something unexpected happens), I can still have faith that it's going to be OK somehow, or I'm going to have the strength to go through it," said Taya. "My friends and family — when you have good people around you and you get a little off track … they can bring you back to the core they know you are."
Taya helps her children be in the driver's seat of life's turns, "to be their own unique people and deal with their grief in their own way, because what I'm learning is that everybody handles it differently and there's really no wrong way to do it. But you have to honor how you really feel about it."
How Taya really feels is detailed in her new book "American Wife," telling her private story of love and heartbreak, her own conditioning for a life of service, her struggle with grief and the battle to protect her husband's reputation. It's a testament to overcoming the unexpected and rising to new heights.
After meeting Chris in 2001, Taya would not have imagined a trajectory returning her to San Diego with a bevy of books based on the trials and triumphs of her life. The USS Midway Museum was chosen to host her West Coast book launch, organized by Sharon Smith and USO San Diego, UT San Diego, and "Papa" Doug Manchester. Taya brought a little bit of Texas with her, gliding in rhinestone cowboy boots across the storied carrier deck.
"Papa" Doug and his wife, Geniya, USO officials and other supporters, the Navy Color Guard and local media welcomed her warmly. Here was a woman who had lost so much, yet appeared so strong and willing to share both happy and painful parts of her life. All event profits went to USO San Diego (usosandiego.org), an organization tirelessly dedicated to providing services to U.S. troops coming in and going out. May 18 was declared Taya Kyle Day in San Diego by Steve Puetz, spokesperson for Mayor Kevin Faulconer.
No award can replace seeing her man playing with his kids and hearing their laughter. No one can wear Chris Kyle's boots as Taya's protector and provider, or emulate his loving embrace. She tells her children, "When something goes the way one or all three of us don't like, but has to happen … it's OK to acknowledge how you feel, but sometimes you have to suck it up and do it anyway."
Taya is embracing life on a new level, calling the shots for her family's future and finding sacrifice has its rewards.
She's met a number of people, she said, "who really are the heroes — they're the ones still doing it every day. Having lived through my story and putting it out there in the books, 'American Sniper,'' 'American Wife' — both show a different aspect. From what I've heard, it's opening dialogues for people. Having them open up to me and feeling like we aren't so alone … we can all come together and try to do something to make a difference.
"I thought sometimes I was embarrassed or I was ashamed or was failing. I thought I was the only one — that everyone else must be doing it better. If one person can come away with strength or courage to stick with it or reach out their hand to somebody else going through it… then it (her book) was worth it."
Chris and Taya's noble-mindedness lives on in the Chris Kyle Frog Foundation (chriskylefrogfoundation.org), founded by Taya in honor of her late husband. The foundation provides couple getaways from daily distractions — a rare chance to relax, connect, and interact meaningfully.
Taya advises, "Whatever your faith is — lean into it. Be able to be raw and own it. Realize your shortcomings don't make you a failure — they just make you real. It's OK to talk about it and get some help."
According to Taya, Chris Kyle stayed true to himself to the last day with her here in this ever-changing world. "He was a good man," she declared. "I loved him."
Taya, the "American Wife," is healing as life cycles on. "Growth is what I went through all the way through and I'm still growing, but compassion is where I'm at now."
---
Get the Del Mar Times in your inbox
Top stories from Carmel Valley, Del Mar and Solana Beach every Friday for free.
You may occasionally receive promotional content from the Del Mar Times.