Patriot Profiles: When troops need to move, U.S. Marines bridge the gap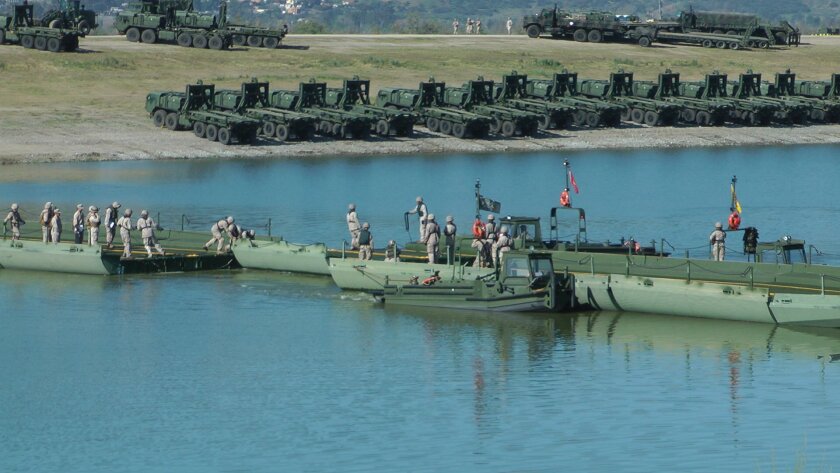 In the spring of 2003, Operation Iraqi Freedom was underway and 1st Marine Division troops were on the march. Keeping the enemy off-balance and retaining its tactical momentum, the division conducted an assault bridging operation on April 7 while under fire to cross the Diyala River and enter Baghdad, a city of 6 million people.
Amphibious Assault Vehicles were engaged with attacking enemy forces on the opposite side of the Diyala. Two Marines were killed when one vehicle was hit. Not willing to let a river hide the enemy, Combat Engineers from 8th Engineer Support Battalion kicked into gear, creating a crossing — their bulldozers under fire. Within hours, an American flag flew over a (floating) ribbon bridge as the first Marine tanks came across.
Readiness for combat? We're talking Marines. In March 2015, combat engineers from 1st Marine Logistics Group, Camp Pendleton, participated in a water and land bridging exercise at Lake Elsinore. Cpl. Kristopher Wickert, Bridge Company, 7th Engineer Support Battalion, helped lead the construction of an Improved Ribbon Bridge across a 490-foot span in approximately 2 1/2 hours. According to 1st Lt. Thomas Gray, public affairs officer, a corporal like Wickert can assume leadership as bridge master, which Gray defined as "a coach and quarterback … leading their teams through the bridge build from start to finish."
"It's basically dividing and conquering, splitting tasks … big tasks up into small tasks for teams and making sure each team knows their specific job in the grand scheme of things," said Wickert.
"I just control the madness," he added, "making sure everyone's on the same page, knowing what piece is coming next, where it is going to go and how it goes together."
The "madness" of accomplishing a massive engineering feat in a short period of time is detailed by Maj. Gen. Vincent Coglianese, commanding general, 1st Marine Logistics Group. "As with any military operation, there's a lot of planning involved — from the company down to the platoon level."
When Marines are training outside a base, city officials have to OK a proposed site. A convoy has to be assembled — 42 vehicles convoyed to Lake Elsinore. Coglianese said planning also includes "who sits in what vehicle, what vehicle carries what items, the rate of march (how fast), the coordination once they arrive (and) what tasks have to happen." There's also food, water, medical and security to consider and provide.
Wickert's first order of business is mapping. "Normally we would go out in our CRRCS (Combat River Raiding Craft) and check the water depth and current. We bring out drafter and surveyor marines, and they shoot a laser and get us the distance from shore to shore."
The bridge consists of two parts — interior bays (in the middle) and ramp bays (on the end). "We line them up at the roadway lines. There are two eyelets that fit together, and once that happens, you throw 'dog bones' (longitudinal couplings) over and that locks the roadway. Two screws move a 3-inch pin through the eyelets that totally locks it in place and keeps it stable," said Wickert.
"There's a lot of moving pieces when you're out there," he added. "There's boats going around, bays going around, people jumping from bay to bay trying to align it."
For Wickert's bridge team, safety depends on his "situational awareness." Challenges that can confront are unpredictable weather and changing currents and tides. A bridge bay may not open or close right, or could get bent.
When the Improved Ribbon Bridge was finished, a convoy of trucks loaded with steel parts rolled across to the site of a medium girder bridge. The challenge with land bridge construction is "physical, rather than environmental," said Wickert. "The pieces are very heavy — the lightest one's about 400 pounds. You have to be in pretty good shape to do that."
Wickert grew up in Winlock, Wash., playing with GI Joe figures out in his yard, where the seeds of being in the military were planted. He joined the Marines in 2011 to be a combat engineer. "I wanted to be up front. I knew combat engineers were ahead of the grunts (infantry) a lot, sweeping and doing dangerous stuff. You do a lot of things. Every day would be different."
Combat Engineering Instruction Course took about eight weeks, and much of Improved Ribbon Bridge training was "on the job."
In 2014, Wickert deployed with Combat Logistic Battalion-1 to Afghanistan. Their mission: to demilitarize. As a fire team leader, "we took down everything that was set up over the years (buildings, fences, etc., supporting all units). "I kind of prefer taking it down — it's just quicker."
In a combat zone, Wickert had some jumps, from indirect fire to (unknowingly) walking near a controlled explosive ordnance detonation. He was down the road from an insider attack at a military training academy in Kabul — where U.S. Maj. Gen. Harold J. Greene was killed and 15 NATO soldiers injured when an Afghan soldier opened fire.
Four years ago, Wickert was one of the first 10 Marines in the newly established West Coast-based Bridge Company, 7th Engineer Support Battalion. Wickert's company combined with Bridge Company, 8th Engineer Support Battalion, and one other, to serve the entire Marine Corps. At the time, land bridges were being done quite a bit in Afghanistan.
"Blowing up bridges is a common practice with the enemy," stated Coglianese, "especially if they're in retreat to slow up advances of opposing forces. It's happening right now in Iraq with ISIS blowing bridges in Tikrit. Whether the bridge is blown or there is a water crossing or gap we have to get through, we (the Marines) pride ourselves in being lightning-fast in 'maneuver warfare.' Bridges are extremely important to maneuver forces, so we dictate where we're coming, and not the enemy dictate or deny us access."
Cpl. Kristopher Lee Wickert has enjoyed seeing Bridge Company, 7th Engineer Support Battalion, grow from infancy, doing an outstanding job, creating many amazing crossings.
"I don't have kids, but it's like watching your kids grow up," he said. The bridges they build are incredibly strong. "Never had a bridge break apart."
As strong as the bridges is Wickert's work ethic to "get things done." As stable as his crossings are the friendships he reveres. "You have friends growing up, but they're not like the friends you make in the Marine Corps."
As fulfilling as it is to look back on shared perseverance, even more so is the sight of an American flag on a bridge to freedom.
---
Get the Del Mar Times in your inbox
Top stories from Carmel Valley, Del Mar and Solana Beach every Friday for free.
You may occasionally receive promotional content from the Del Mar Times.