Former Del Mar TV producer works with local students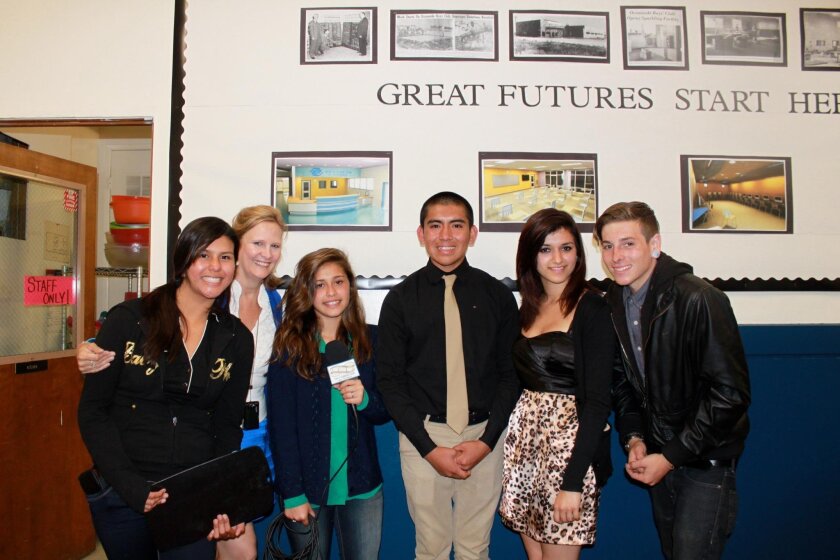 Stephanie Sullivan discovered her purpose at 50 years old.
That's when she founded PAY IT FORWARD MEDIA, an organization that provides mentoring and offers training in video production for local youth. And it all started with a class at Del Mar TV.
"It became an incredible passion to help other people," said Sullivan, who lives in Sorrento Mesa. "This is what I want to do."
Sullivan had no film or television production experience when she moved to San Diego at 19 years old. Then a single mother raising her young daughter, she landed a job as an executive assistant at San Diego-based Eastman Kodak Company, where she worked for 21 years.
In the early 2000s, Sullivan worked as a model, actress and voiceover artist on the side. Striving to have her own televised cooking show, she worked with speaking coach Jill Lesly Jones, who recommended Sullivan take a class at Del Mar Television Foundation, a nonprofit known as Del Mar TV.
Sullivan signed up for the class, eventually becoming certified as a studio producer. She also met former Del Mar TV president Pete Glaser, who inspired and mentored her to produce her first short film about the chef and food behind the case in Del Mar's Harvest Ranch Market. With help from other producers, editors and a videographer, Sullivan developed an 11-minute Del Mar TV "Pulse" story called "A Chef's Case Study."
"It was really fun," she said.
Sullivan then created her first show, a nearly 30-minute segment called "Sensual Dining" or "Dining with the 5 Senses," with three other co-producers. From 2002 to 2010, she went on to produce and host 22 documentary stories that aired on Del Mar TV and Time Warner Cable and also streamed on Del Mar TV's website.
"I just fell in love with the process," she said. "The whole team experience was fun."
With a goal to offer similar experiences to local students, Sullivan founded "PAY IT FORWARD MEDIA, Media That Matters," seven years ago, along with Francesca Carter and Dillan Stockham, two teenagers who were participating in Del Mar TV's Producer's Group. Originally called Community Visual Resource, PAY IT FORWARD MEDIA officially became a nonprofit in 2012.
"I felt this calling my whole life," said Sullivan, whose late mother was a social worker.
To date, Sullivan has produced more than 60 nearly 30-minute documentary stories, of which approximately 30 stories have not been edited and are being used as tools to train local youth.
Since launching the nonprofit, Sullivan has worked with about 50 students, including more than 30 students through the College, Career and Technical Education programs at James Madison High School in San Diego. Through the internship program, students learn how to film, edit and complete documentary films.
"It's been a great experience," she said. "It's really rewarding."
Sullivan is in talks with Del Mar TV about potentially collaborating in the future. She is also collaborating with Planet X TV to provide content and programming with the assistance of young people.
She hopes to expand PAY IT FORWARD MEDIA, envisioning an after-school program with middle school, high school and college students. Eventually, she plans to have youth run the nonprofit.
"I want young people to run it and make all those decisions," she said. "It's for them. It's their future.
"If you empower youth like that, they'll run with it."
For more about PAY IT FORWARD MEDIA, visit www.payitforwardmedia.org.
---
Get the Del Mar Times in your inbox
Top stories from Carmel Valley, Del Mar and Solana Beach every Friday for free.
You may occasionally receive promotional content from the Del Mar Times.