Teen Volunteers in Action aspire to leadership roles in future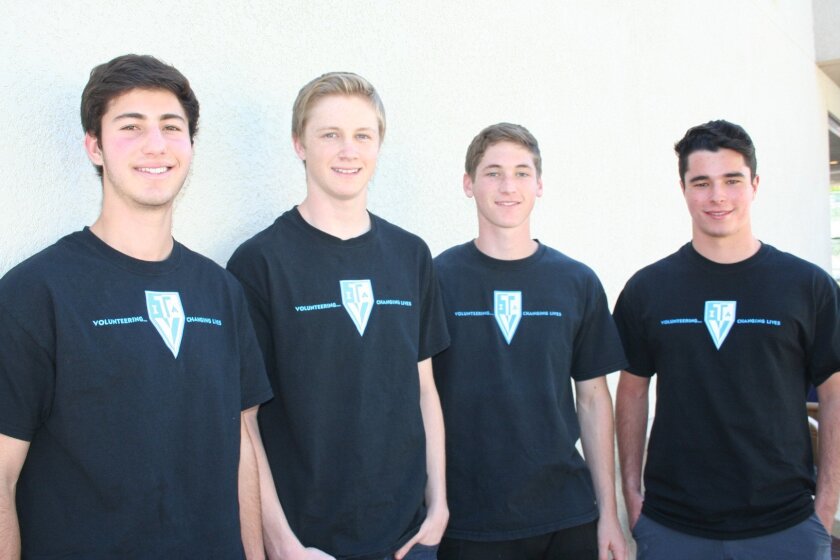 From playing with children at Rady Children's Hospital to feeding the homeless at St. Vincent de Paul Village, Teen Volunteers In Action is dedicated to making a difference in the community.
"It is a rewarding experience," said Canyon Crest Academy senior Danny Goldberg. "My parents have always taught me that when you have an opportunity to help others, you should seize that opportunity. If more kids in our community did this, it would make the world a better place."
The nonprofit develops young males into community leaders through a structured program of volunteerism, philanthropy and personal development. Serving the north coastal communities, the founding San Diego1 Chapter of Teen Volunteers in Action (SD1 TVIA), has about 180 members in seventh through 12th grade.
Now 18, Danny joined the organization as a seventh-grader at Carmel Valley Middle School. When he went on to high school, he took on more responsibilities, becoming a member of SD1 TVIA's Leadership Council. The council offers high school students an opportunity to further develop their leadership and organizational skills.
About a dozen students sit on the council. Council members are responsible for organizing philanthropic events, as well as communicating with members and reporting any comments, suggestions or requests to the parent-run advisement board.
"We serve as a link between the members and the parents," said Danny, who serves as chair of the council.
With the board, TVIA members organize hands-on community service activities and events.
The Leadership Council is represented at most events, wearing black T-shirts instead of blue like other members. Leading by example, the council encourages members to get more involved in the organization while furthering TVIA's mission to develop community leaders.
Torrey Pines High School juniors Blake Arnold, Jacob Burgess and Matt Hadley also sit on the council.
Matt, whose older brother has also participated in the organization, got involved with TVIA in seventh grade to give back to the community.
"I feel like I've been given so much already," said 16-year-old Matt. "I was born into an affluent household. When I was 16, I got a car. So much has been given to me, so I feel like I should help out as much as I can."
For similar reasons, Jacob became a part of the Leadership Council when he was a sophomore. Blake joined the council last summer.
"With bigger responsibility comes bigger impact," Blake, 17, said.
"I'm very lucky to be able to help out the less fortunate," added Jacob, who is also 17.
"I also wanted to be a part of the Leadership Council because when you are in seventh and eighth grade, you look up to the council. You aspire to be one of the leaders at the events. Now, I'm one of those people."
Founded with one chapter in 2000, Teen Volunteers In Action has since grown to four chapters. The San Diego-based nonprofit often works with a variety of local institutions and organizations, including Helen Woodward Animal Center, Meals on Wheels, Miracle League of San Diego, North County Solutions for Change and Rady Children's Hospital, among others.
Jacob has most enjoyed working with San Diego-based Sudanese American Youth Center, a nonprofit focused on mentoring Sudanese youth.
"It's cool to go to an event where you can see the change, you can see the smiles on people's faces," he said. "That really makes you feel good. It lets you know you're making a difference."
Matt's favorite TVIA memories stem from volunteering at St. Vincent de Paul Village.
"Every time, you get to meet some of the people, listen to their stories and hear their life lessons," he said. "You get a whole different perspective on life. It gets us out of our little bubble."
Now recruiting new volunteers, SD1 TVIA recently held a meeting for prospective members at a private residence in Rancho Santa Fe.
TVIA accepts membership applications from teens entering seventh through 10th grade. Applications are accepted in March through April 1 for the following school year.
Prospective applicants may apply to only one chapter. Chapters are not geographically bound and all serve philanthropies located throughout San Diego County.
"TVIA helps you learn leadership and responsibility skills — skills you need later in life," Blake said.
"It's been a very positive experience," added Danny. "TVIA has really helped me develop as a person and find out about who I am, my strengths and weaknesses. It's been a very fun journey."
For more about Teen Volunteers In Action, visit tvia.org.
---
Get the Del Mar Times in your inbox
Top stories from Carmel Valley, Del Mar and Solana Beach every Friday for free.
You may occasionally receive promotional content from the Del Mar Times.