SDJA's Mayer twins take different paths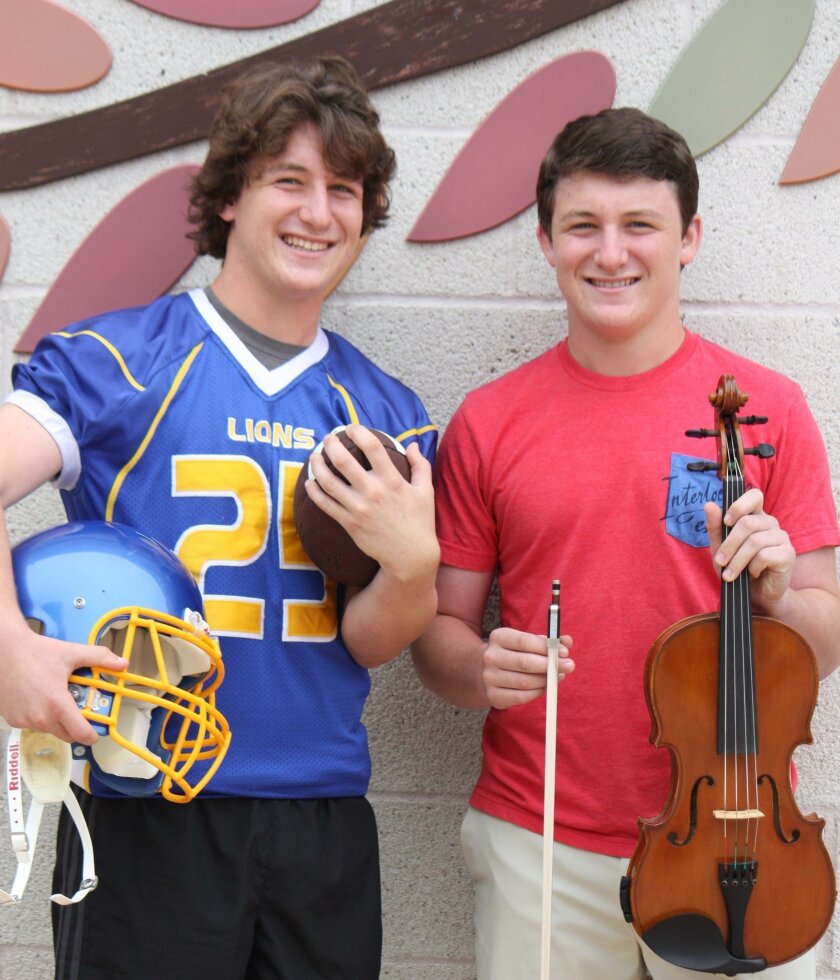 Gabe Mayer's football career ended in music camp.
The incoming San Diego Jewish Academy (SDJA) junior was at the prestigious Interlochen Center for the Arts in Michigan over the summer when he explained to his coach in a text message that he wouldn't be returning to his starting nose tackle position.
Mayer didn't arrive at his decision easily.
He enjoyed the camaraderie in his first year of organized football playing with his twin brother Sebastian. But he understood that the intense competition for a music scholarship that he was pursuing was incompatible with the grueling demands of the football program.
Gabe Mayer has played the viola since he was 4, and the risk of a hand injury could impact his ability to prepare for late 2017 auditions.
Sebastian Mayer plans to play for the Lions, who expect to field an 8-man team with a roster of about 15 players. Sebastian is one of the team's best athletes. He plays running back and backup quarterback.
"It was a tough decision, but eventually I decided if I want to pursue the thing I want to be more serious about I can't play football," Gabe Mayer said. "It's too big a time commitment and the risk of injury is too much."
It was an especially tough decision because the Lions are struggling to keep their football program growing amid dwindling numbers at a school with an enrollment of less than 200.
"I felt like I was letting a lot of people down because it's such a small team," he said.
Gabe Mayer's quandary reflects the challenge that small schools around the nation face, with the demands of outside activities and academic pressures, and growing safety concerns amid revelations about the risk of head injuries.
"I think it ties into kind of the story of a lot of our kids being overloaded, you've got a very high academic caliber community and a lot of opportunities to do things," SDJA coach Skip Carpowich said.
SDJA takes pride in offering the opportunity to do other things.
The school is in the process of expanding its music and arts program in the upper and lower schools, their mother, Heidi Gantwerk said.
Gantwerk sits on SDJA's school board.
"The arts are critical and should be broadly available to the kids at our school," she said. "It's very important to me and it's very important to a lot of people there."
Both Mayer twins are involved in the local music community.
Gabe performs in school ensembles and also plays in San Diego's New Youth Orchestra and a chamber group.
Both regularly perform (Sebastian plays guitar and sings) at their synagogue, Congregation Beth Israel.
Gabe is on the student council, and Sebastian a leader on the school's ambassadorship program.
The Mayer twins are also battery mates (Sebastian pitches and Gabe catches) on the baseball team, which last season advanced to the San Diego Section Division V championship game. Gabe also plays on the basketball team, which Sebastian manages.
Gantwerk said she believes the benefits of football and other sports outweigh safety concerns, and continues to encourage their athletic endeavors.
"My husband and I feel really strongly that kids need to be excited to go to school, and we want our kids to explore and try new things," she said. "Whatever it is that gets them excited to get up in the morning and go to school, we're pretty much on board with that, and sports has been a huge boon at the academy.
"It's just been fantastic, and we were up for it."
Sebastian Mayer is up for keeping the football program going.
He's become an integral part of the program since making the team as a freshman and being a starting running back. He replaced Jordan Battaglia at quarterback halfway through the season last year.
Their older brother, Isaac Mayer, played for San Diego Jewish Academy in 2011.
"It was a really big deal for the school to have the first Jewish football team in the county," Sebastian Mayer said. "We play Thursday nights, we don't play Friday nights because of Shabbat, so we don't have a million people come to the games, but it's always been a tradition that's instilled in the school and the culture and we want to keep it going."
---
Get the Del Mar Times in your inbox
Top stories from Carmel Valley, Del Mar and Solana Beach every Friday for free.
You may occasionally receive promotional content from the Del Mar Times.