Solana Beach dental professional also helping patients in Cambodia
Although Dr. William Rawlings has served North County's coastal communities for more than 30 years, for the past two years, the local pediatric dentist and orthodontist has provided free dental care and oral hygiene education in rural Cambodian villages.
"It is really rewarding and just worthwhile," Rawlings said.
A Solana Beach resident for more than three decades, Rawlings founded Great Smiles Pediatric Dentistry and Orthodontics in Encinitas and Solana Beach in 1982. Despite his busy schedule, he has continually found time to give back to the community at home and now abroad.
Rawlings recently talked about his volunteer work in Cambodia at the Rotary Club of Del Mar, where he serves as president. He has been a member of the club since 1997.
After seeing the dire oral health conditions of Cambodians during a trip to Southeast Asia with his wife, Mary, in 2012, Rawlings was determined to help.
"As a dentist, I could see dental and medical issues — a lot of things you don't see people here with," he recalled.
Rawlings contacted Project Angkor, an Orange County-based nonprofit that offers free medical and dental care to Cambodians. With a mission to help, Rawlings and his wife returned to Cambodia with Project Angkor in December 2013.
In January, the couple traveled to Cambodia for the third consecutive year and their second mission with Project Angkor. About 100 volunteers, mostly medical and dental professionals, went on the mission, serving more than 5,000 Cambodians in one week.
"It was big," said, Rawlings who also serves as a trustee of the San Diego Botanic Garden in Encinitas. "It was a big thing."
This year the nonprofit traveled to Serei Saophoan, the provincial capital of Banteay Meanchey, Cambodia. Thousands of Cambodians were waiting to be treated when volunteers arrived. Because many patients came from outlying communities, they often slept in the makeshift tented waiting rooms overnight to hold their place, Rawlings said.
"It's a very poor area," Rawlings said. "Every day, there were thousands waiting."
While there, Rawlings was responsible for the sterilization of medical instruments. Del Mar Rotary donated two pressure pots, which were heated over woks because there was no electricity.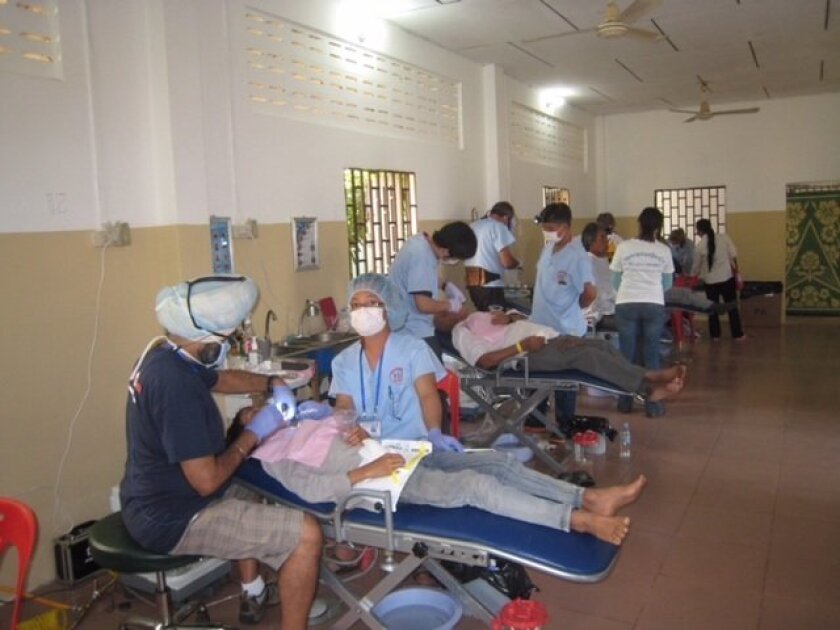 Over the week, volunteers provided free care and medication to men, women and children. Volunteers also provided free education and training to local health care professionals and students.
Most dental care required extractions, Rawlings said.
Oregon-based nonprofit LN-4, one of Project Angkor's partners, also provided about 40 free prosthetic hands to amputees.
"I enjoyed the people and working with the other volunteers," Rawlings said. "You have an almost impossible job. You're out of your comfort zone, and now you're forced to kind of rely upon each other and each other's ideas to provide treatment for these people that wouldn't be able to afford or access it any other way."
Since 2010, medical and non-medical volunteers have served more than 5,000 people annually in Cambodia through Project Angkor. Volunteers cover the costs of their own expenses so 100 percent of funds raised benefit the people of Cambodia.
"It's a grass-roots organization," Rawlings said. "I love the fact that every nickel of your money goes directly to people in need."
For information about Project Angkor or to donate, visit www.projectangkor.org.
---
Get the Del Mar Times in your inbox
Top stories from Carmel Valley, Del Mar and Solana Beach every Friday for free.
You may occasionally receive promotional content from the Del Mar Times.