Solana Beach Memorial Day Ceremony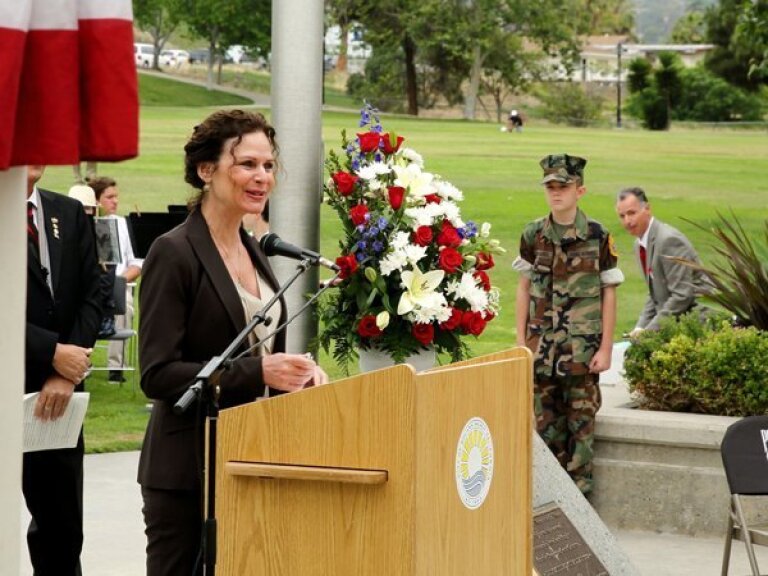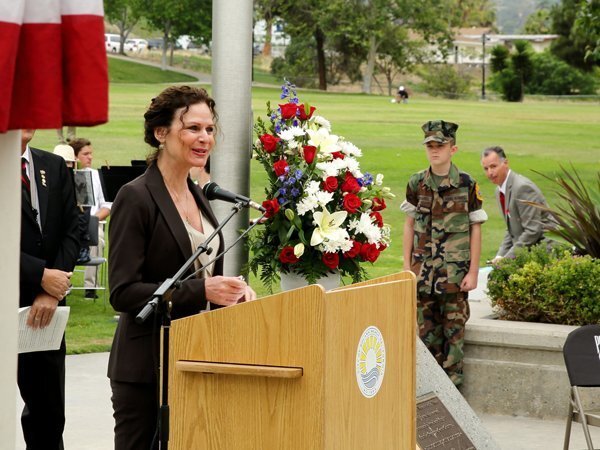 Solana Beach Mayor Lesa Heebner
(Jon Clark)
Guest speaker Master Sgt. Julian Gonzales, USMC Retired
(Jon Clark)
The Santa Fe Christian school band under the direction of David Hall
(Jon Clark)
A Santa Fe Christian school band member plays "Taps"
(Jon Clark)
SB Mayor Lesa Heebner, VFW Post Commander Randy Treadway, Camp Pendleton Young Marines Unit Commander Trish Jones
(Jon Clark)
SB Mayor Lesa Heebner and VFW Post Commander Randy Treadway present a plaque to retiring Camp Pendleton Young Marines Unit Commander Trish Jones
(Jon Clark)
SB Mayor Lesa Heebner and VFW Post Commander Randy Treadway present a plaque to retiring Camp Pendleton Young Marines Unit Commander Trish Jones
(Jon Clark)
Camp Pendleton Young Marines
(Jon Clark)
Veterans Steven Ellwood, Clarence Bytoff, and John Leipper
(Jon Clark)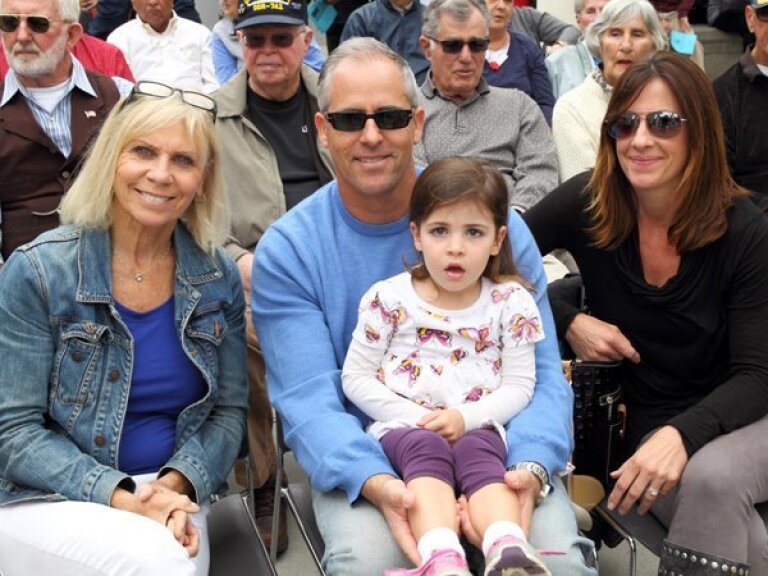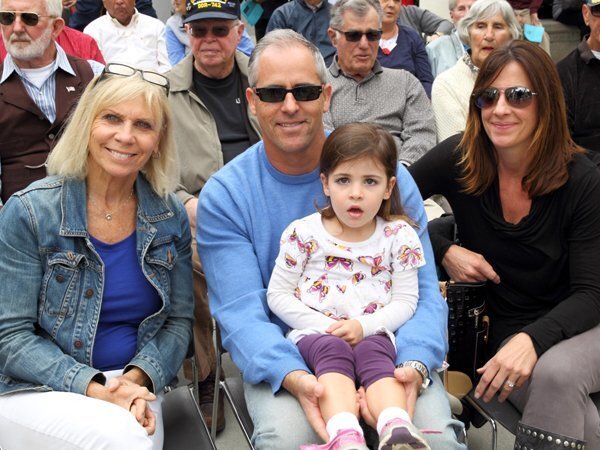 Jeannie, Trevor, Olivia, and Carmen
(Jon Clark)
The Santa Fe Christian school band under the direction of David Hall
(Jon Clark)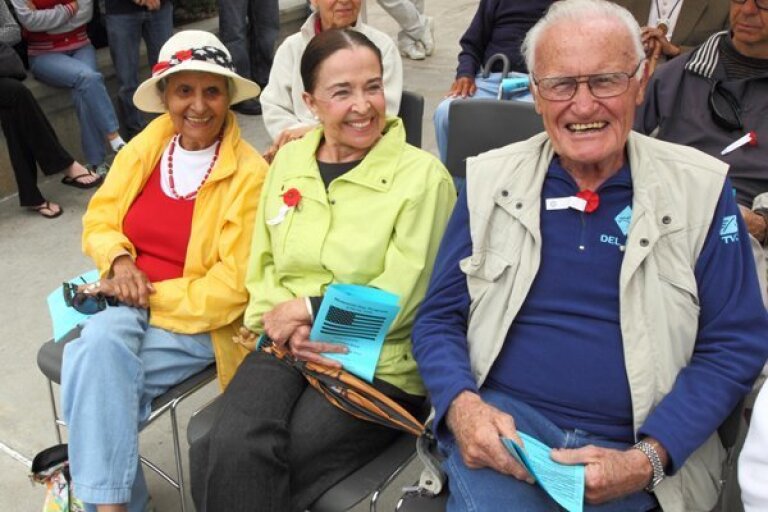 Tensia Trejo, Donna and Byron Culver
(Jon Clark)
Veteran Carl Turnbull, guest speaker M. Sgt. Julian Gonzales, VFW Post Commander Randy Treadway
(Jon Clark)
Wally Oliver, Susie Bruun
(Jon Clark)
Camp Pendleton Young Marines stand at attention at the Solana Beach Memorial Day Event
(Jon Clark)
The Bronstein Family
(Jon Clark)
VFW Post 5431 Commander Randy Treadway welcomes guests to the Memorial Day event
(Jon Clark)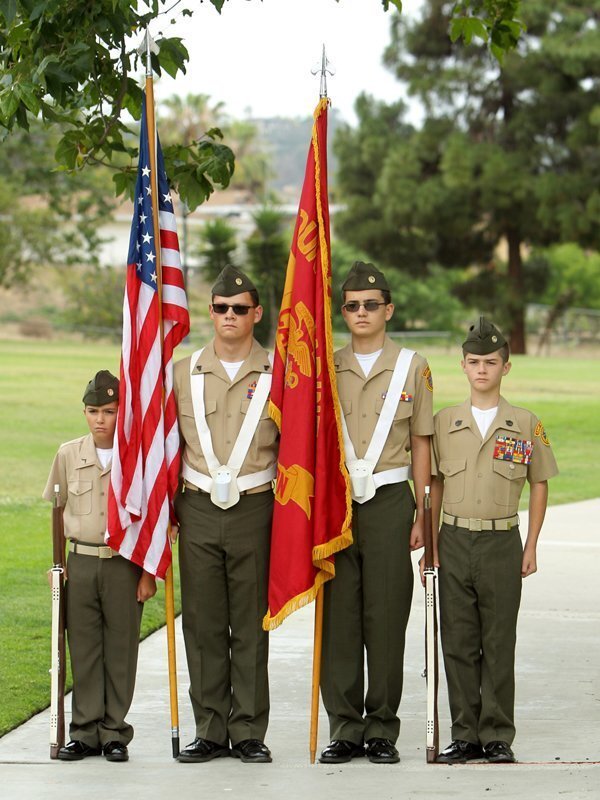 Color Guard from the Camp Pendleton Young Marines
(Jon Clark)
Solana Beach Memorial Day Event at La Colonia Park
(Jon Clark)
Color Guard from the Camp Pendleton Young Marines
(Jon Clark)
Solana Beach Memorial Day Event at La Colonia Park
(Jon Clark)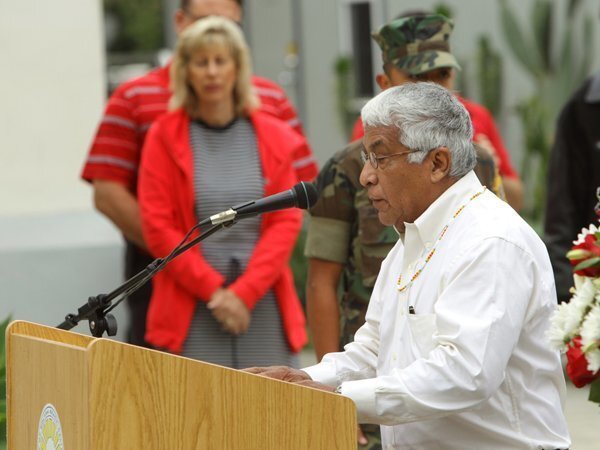 VFW Post 5431 Chaplain Ron Rodrigues leads the invocation
(Jon Clark)
Color Guard from the Camp Pendleton Young Marines and Santa Fe Christian school band members
(Jon Clark)
The Santa Fe Christian school band under the direction of David Hall
(Jon Clark)
Solana Beach Mayor Lesa Heebner makes remarks on behalf of the city council
(Jon Clark)
VFW Post 5431 Chaplain Ron Rodrigues reads the poem "In Flanders Fields"
(Jon Clark)
Veteran Clarence Bytoff participates with a poetic response
(Jon Clark)
Veteran Clarence Bytoff participates with a poetic response
(Jon Clark)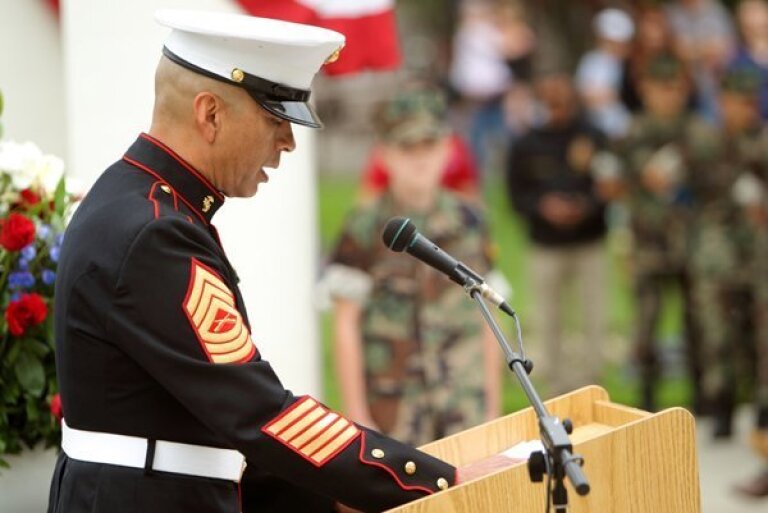 Veteran Clarence Bytoff participates with a poetic response
(Jon Clark)
Guest speaker Master Sgt. Julian Gonzales (USMC Retired) speaks at the Solana Beach Memorial Day Event at La Colonia Park
(Jon Clark)
The city of Solana Beach and Solana Beach Veterans of Foreign Wars Post 5431 co-hosted a Memorial Day Ceremony May 25 at La Colonia Community Center.
Camp Pendleton Young Marines served as the honor guard. Master Sgt. Julian Gonzales was the guest speaker, as well as Solana Beach Mayor Lesa Heebner and Randy Treadway, post commander for VFW Post 5431.
The Santa Fe Christian School Band performed patriotic songs. A special "Doves From Heaven" release was provided by Joe and Leslie Irwin. The Veterans Memorial wall, which honors the service of all Solana Beach Veterans of Foreign Wars, was available for viewing. Donation information, and design renderings of the new Veterans Honor Courtyard at La Colonia Park, was also available for viewing. Docents from the Civic and Historical Society were available to conduct tours of the Historical Museum.
Photos by Jon Clark.
---
Get the Del Mar Times in your inbox
Top stories from Carmel Valley, Del Mar and Solana Beach every Friday for free.
You may occasionally receive promotional content from the Del Mar Times.