Succulents are far from dry subject for Solana Beach nursery owner turned author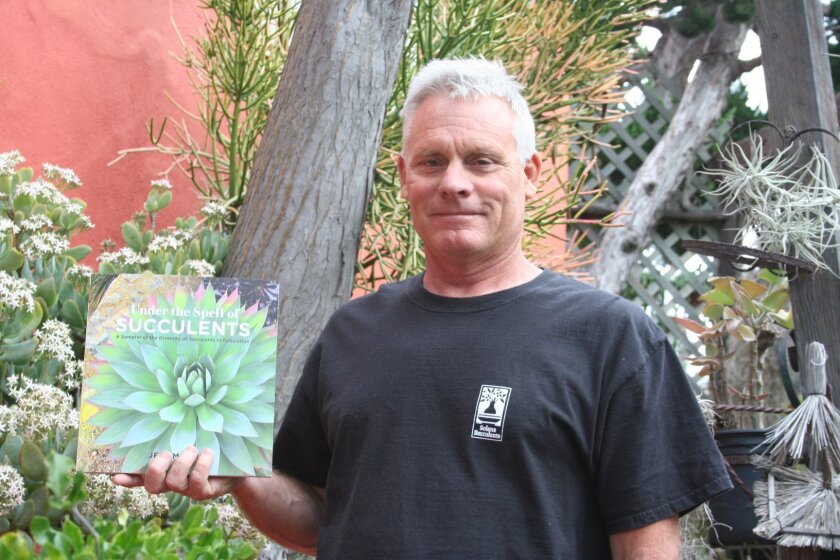 After selling succulents for more than two decades, Solana Beach's Jeff Moore is finally sharing his tips and tricks with the greater community. The owner of Solana Succulents nursery released his first book on succulents last fall and is working on the follow-up.
"I love what I do," Moore said. "I thought I could bring a really good book to people. After all, I've been doing it for 22 years."
Published in October, "Under the Spell of Succulents," offers an overview of succulent plants and details how collectors, growers, landscapers and others engage with them. The 244-page book features more than 800 vivid photos, almost all of which Moore has captured over the years.
Moore first built the book on Blurb, a self-publishing platform, and then hired a graphic designer to redesign and fine-tune the copy and formatting. He started the project more than three years ago, after friends and customers repeatedly asked him to write a book on the diverse and colorful plants.
"I felt I had it in me. I have a library, and I thought I could do better than most of these," said Moore as he gestured toward his books at his nursery off Highway 101 in Solana Beach.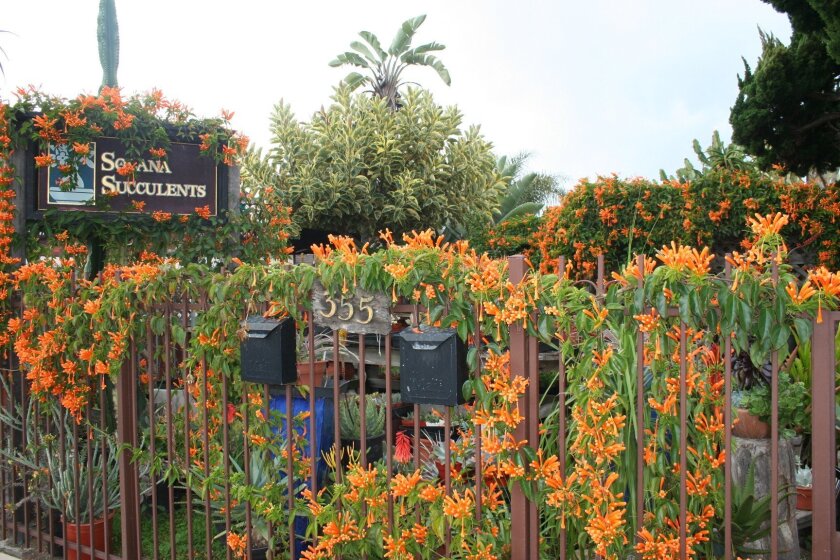 Born in Newport Beach, Moore and his family moved to Solana Beach when he was 6 years old. A succulent enthusiast for more than 30 years, the Torrey Pines High School alum has owned and operated Solana Succulents since 1992.
Moore started off as a collector in the mid-1980s. His first purchase was a succulent bonsai.
"I thought they were really weird and cool," said Moore, who first spotted the plant at a Del Mar Fair exhibit. "So I went and got a couple of those plants. And as collections go, you end up with more and then your patio is full. It just happens that way."
Today, it's Moore who holds exhibits at the San Diego County Fair. He has had an exhibit every year at the fair at the Del Mar Fairgrounds for more than 20 years.
One year, he created a garden that looked like a coral reef. It was such a big hit, he brought the exhibit back the following year and also took it on the road to the Philadelphia Flower Show. In the mid-2000s, he also installed a permanent undersea-themed succulent garden at Encinitas-based San Diego Botanic Garden, formerly Quail Botanical Gardens.
"That's how a lot of people know me," he said.
The collector-turned-nursery owner has also become the go-to speaker on succulents for local garden clubs. He travels around the county and across the state giving presentations at garden-focused associations and organizations.
So it was only a matter of time before he wrote his first book, which he also self-published. With only 1,500 copies printed, more than half have already been sold.
Wanting his words to inspire, Moore hopes the book creates new succulent enthusiasts.
"It's either going to reaffirm what they love, or hopefully, it will convert some new people who are just getting started," said Moore, who is completing his second book, which is focused on aloes and agaves.
"Under the Spell of Succulents" is available at Moore's nursery, Solana Succulents, and on his website at www.solanasucculents.com. Copies are also available at Courtyard Pottery and SoLo on Cedros Avenue in Solana Beach, as well as Warwick's in La Jolla, San Diego Botanic Garden in Encinitas and Cuyamaca College in El Cajon.
For more about Solana Succulents or to buy a copy of the book, visit www.solanasucculents.com.
---
Get the Del Mar Times in your inbox
Top stories from Carmel Valley, Del Mar and Solana Beach every Friday for free.
You may occasionally receive promotional content from the Del Mar Times.