Running the good race: Teen's memory honored as SpeakUp5K comes to San Diego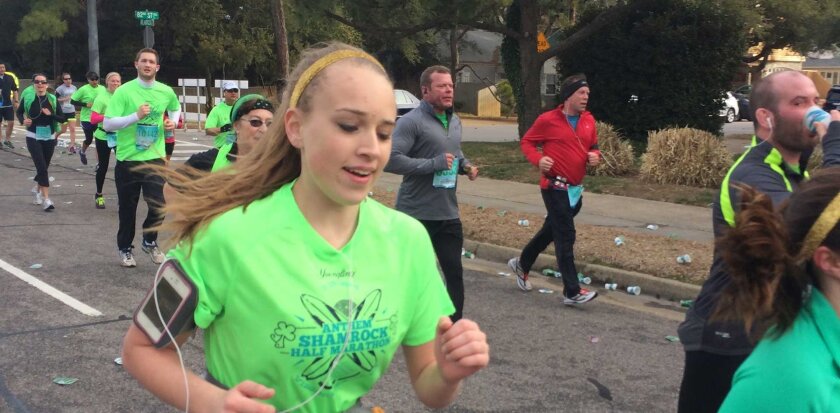 Cameron Gallagher had a goal: The 16-year-old would train to run 13.1 miles. She would do this in part because she wanted help from her parents to buy her first car — since she suffered from depression, it wasn't easy for her to hold a job. But she also wanted to cross the finish line for the sense of pride and accomplishment.
She didn't always want to get up to run. The long runs were often very hard, and sometimes she wasn't sure she could go the distance.
"In the end, she always felt like, 'I did it. I didn't think I could, but I did it,'" said her mother, Grace Gallagher.
On March 16, 2014, Cameron ran the whole 13.1 miles of the Shamrock Half Marathon in Virginia Beach. Moments after crossing the finish line, she smiled and fell forward gently, dying in the arms of her parents. Doctors later found she had an undiagnosed heart arrhythmia.
It had become a passion of Cameron's to do her part to raise awareness for teens like her who had depression. In Cameron's memory and to help raise funds for the foundation that was set up in her name, the SpeakUp5K is coming to San Diego's Spanish Landing Park on Saturday, May 2.
At mile 12 of the half marathon, Cameron had turned to her friend Abby, running alongside her, and said, "Let's finish this." It has become a rallying call for her family in her absence, along with inspiration drawn from a Bible verse: "I have fought the good fight, I have finished the race, I have kept the faith." T-shirts from the 5K bear the message, "Fight, Finish, Faith."
San Diego's race will be the second in the new yet growing SpeakUp5K series. The first SpeakUp5K was held in September 2014 in Cameron's hometown of Richmond, Va., and more than 3,500 people participated.
"It was absolutely amazing. It was such a moving experience because there were people that knew her and many people who did not know who she was, but they all felt the message and they all crossed that finish line with a smile," said Gallagher. "I was an absolutely awesome feeling ... We want to make sure that people are absorbing something more than just the race."
The Gallaghers have a connection to San Diego through Cameron's uncle, who has lived in the city for 20 years.
"We heard from a ton of people from other cities around the country asking us to bring Cameron's message about teenage depression and anxiety, but we wanted to try and bring it to a place where we had an emotional connection, and in San Diego, Cameron would be taken care of by her uncle," said Gallagher. "San Diego feels a little bit like our home away from home."
The San Diego SpeakUp5K will be followed by a race in North Carolina in August and their second race in Richmond in September.
Since she was a baby, Gallagher said, Cameron was always larger than life: "Everything she felt, she felt big," she said.
"She was a bubbly, boy-crazy 16-year-old when she passed away," Gallagher said. "She lived a normal, happy life, but at times she struggled severely with depression and anxiety, to the point where we had to pull her out of school to get through darker times."
As Cameron dealt with a dark sadness, she wondered why nobody was ever talking about it. Her mother said she didn't understand why there was a stigma.
As mother and daughter went on long training runs together as Cameron trained for her half marathon, she would often talk about how she wanted to put together a 5K to raise awareness about teenage depression.
Even though Gallagher had concerns about her daughter making herself vulnerable and putting herself out there, Cameron was more than willing to get the conversation going.
"She told me, 'If I'm not afraid to talk about it, why are you?'" Gallagher said. She added that Cameron envisioned the race as something fun and quirky, a place where people weren't ashamed to talk about the parts of them that "aren't as shiny."
The family wasn't aware that Cameron's passion ran as deep as it did until after she passed away, when they found that she had started planning the 5K on her own. She had contacted neighborhood associations and potential sponsors and had a folder full of ideas.
"She had already put in a lot of work, and she left it for us almost as a challenge," Gallagher said.
At mile three of the Shamrock Half Marathon, Cameron remarked to her parents, watching on the sideline, that everyone was being so nice. Gallagher said she was glad Cameron got to experience the emotion that comes with running races where everyone is there to help you reach your goal and get you across the finish line — even strangers.
The SpeakUp5K aims to feature that same kind of feeling, as well as many fun surprises that Cameron had wanted for the runners in her race, such as silly string and bubbles.
One of the ways she coped with her depression was putting inspirational quotes all over her walls, so the Gallaghers had the quotes in her handwriting blown up to poster-size to serve as motivators along the course.
"As runners run through the race, it's like Cameron is talking to you," Gallagher said. "She's very present at these races."
Through the SpeakUp5K and the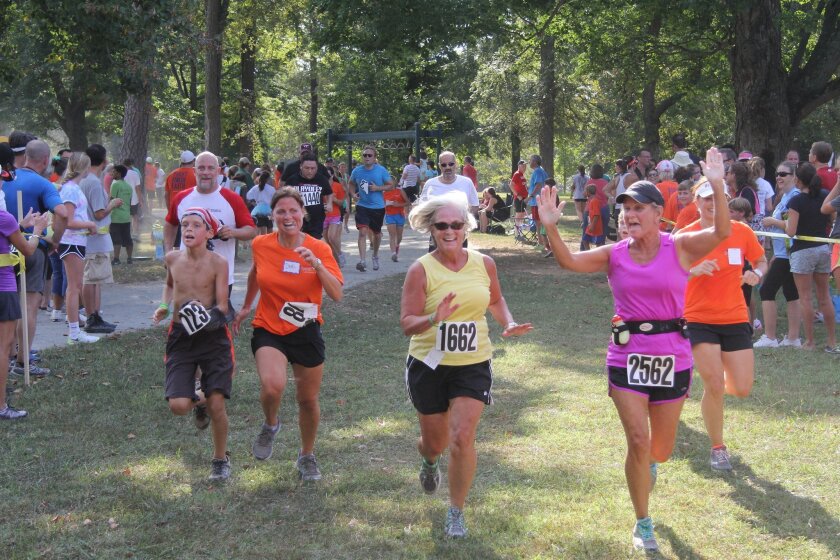 Cameron K. Gallagher Memorial Foundation, Gallagher is building a legacy for her daughter and helping teens who need it most. As a mother, she said she misses Cameron terribly and that it has been very painful — but she has been lifted by the support she's received from others in spreading awareness about mental health, removing some of that stigma that Cameron couldn't understand.
"It's a tragedy that she only lived 16 years … but I almost feel like Cameron's work is just beginning," Gallagher said. "It's bigger than she could've ever dreamed of. I'm proud of her as a mom, and I'm in awe of the community that they've been so embracing of this inspiring message."
To register for the SpeakUp5K, visit speakup5k.com.
---
Get the Del Mar Times in your inbox
Top stories from Carmel Valley, Del Mar and Solana Beach every Friday.
You may occasionally receive promotional content from the Del Mar Times.