Solana Beach artist draws on experience to teach therapeutic classes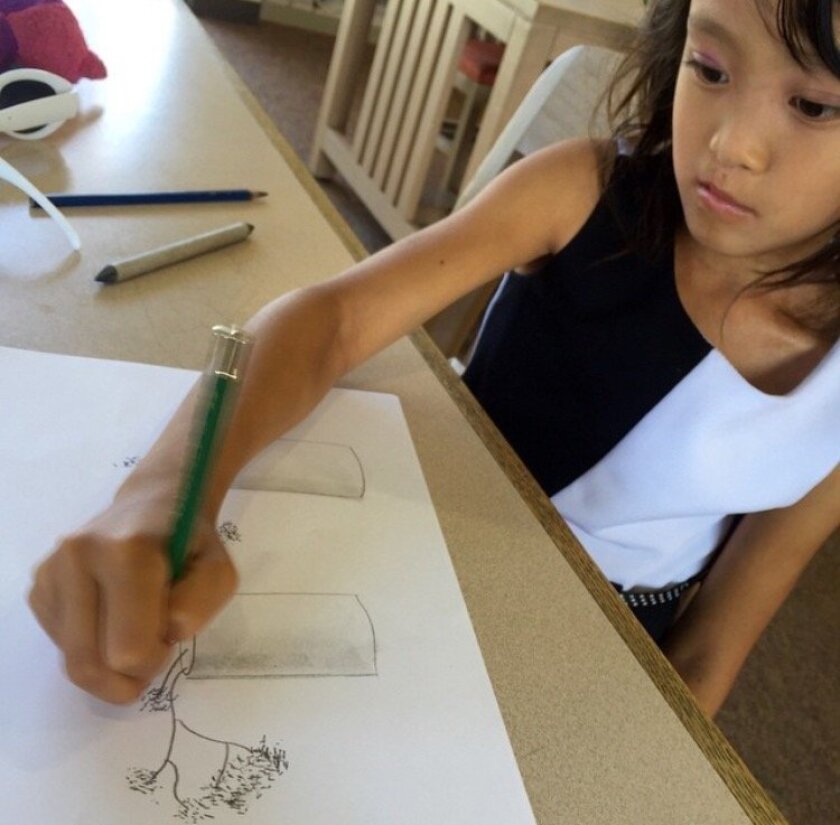 As a child, Joel Harris turned to art when he was in the hospital. Today, the Solana Beach artist uses art to help children and adults throughout San Diego County.
"Now I'm working in hospitals and giving people hope," he said.
For nearly a decade, Harris has volunteered at local community centers, libraries and hospitals, using art to help others through his nonprofit, The Art of Healing Heroes.
"I haven't made one penny in 10 years," Harris said with a smile. "I do it all for free."
With a packed schedule, Harris has a pencil in hand most days.
On Mondays, he teaches therapeutic drawing to patients who have had strokes and traumatic brain injuries, as well as to Wounded Warriors at Scripps Memorial Hospital Encinitas.
On Wednesdays, he works with special-needs children and adults at North Coast Fellowship in Solana Beach. Harris brings their artwork to his patients at the VA Medical Center in La Jolla, where he offers bedside therapeutic drawing lessons on Fridays for paraplegics and quadriplegics, and patients with spinal cord injuries at the medical center.
Harris teaches photorealistic drawing classes to professional artists on Saturdays at the Carmel Valley Library. He ends his busy week at the Carmel Valley Recreation Center, where he teaches therapeutic drawing on Sundays to children with Down syndrome.
"I'm doing God's work," Harris said. "He gave me the ability to draw. I can't charge to do this."
A religious man, Harris believes everything happens for a reason.
"There have been a few instances in my life that looked like disasters, but there are reasons for all of this," he said.
Originally from Chicago, Harris had polio as a child and was paralyzed when he was 3 years old. Growing up on a gurney in a hospital, however, gave him time to develop his artistic skills.
"By being crippled when I was a kid and being steered to learn how to draw, I realize now, I'm doing the work I am supposed to be doing," Harris said. "This is my purpose."
Although initially self-taught, Harris earned a bachelor of fine arts at the University of Illinois at Urbana-Champaign. He went on to work as a professional artist with credits that include greeting cards, magazines and television — even artwork for NASA astronaut training materials.
Wanting to help brain-injured solders returning home, Harris, in 2006, developed a therapeutic visual arts program for veterans and launched The Art of Healing Heroes.
Drawing, he said, helps soldiers be present.
"I never got to serve, so I get to serve the people who've served me," Harris said.
Since then, the nonprofit has expanded its services, offering therapeutic drawing workshops to children and adults with mental and physical disabilities.
His experience has led to two unpublished books.
"The Journal of Therapeutic Drawing" details how to use art therapy with different types of patients.
Inspired by his experience with the VA San Diego Healthcare System, Harris also created "The American Coloring Book," a patriotic bilingual coloring book that he hopes will one day be distributed at VA hospitals across the region, and even across the country.
Harris hopes to grow The Art of Healing Heroes, expanding programs and offering new ones.
Recently, he began featuring some of the artwork made in his classes on his website. Donations for prints of the pieces will help create a special-needs arts company to generate revenue for all, he said.
"I'm so fortunate to be able, through these things, to do the things that really help people," he said. "It not only helps others, but it makes me be the best that I can be."
For more about The Art of Healing Heroes, visit www.theartofhealingheroes.org.
---
Get the Del Mar Times in your inbox
Top stories from Carmel Valley, Del Mar and Solana Beach every Friday for free.
You may occasionally receive promotional content from the Del Mar Times.