Tour de Cure to return to Del Mar Fairgrounds April 9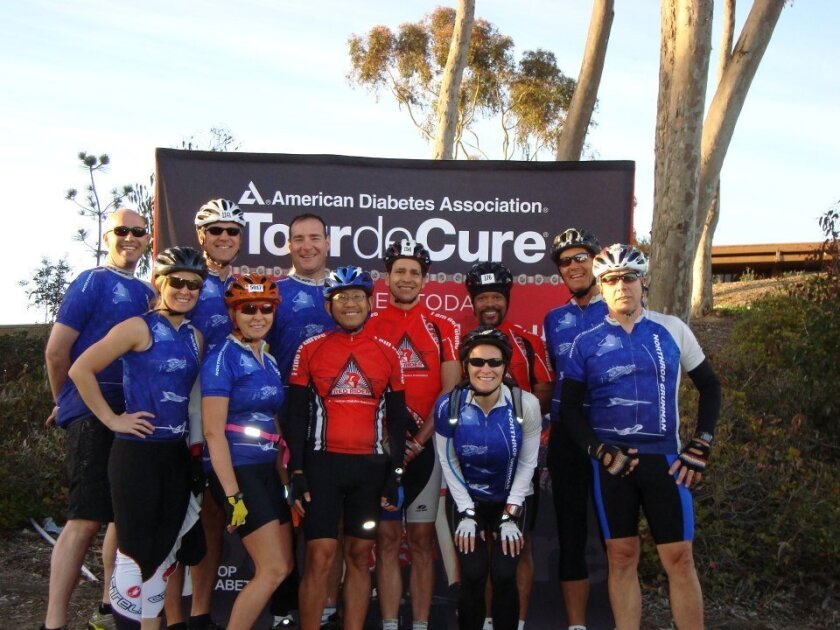 Diagnosed with type 1 diabetes when he was about 11 years old, for years, Carmel Valley resident Mike Readey hid his disease.
"I was isolated," Readey recalled. "I hid my condition. I thought something was wrong with me."
In fact, for the first half of his life with diabetes, Readey said, he was the only diabetic he knew.
For years, he neglected his health. Until 2003, when he met his new boss, also a diabetic.
"Looking at him, he's slim, he's healthy, he's in control," Readey remembered. "Looking at me, I'm overweight, full of aches and pains, feel 10 years older than I was and my boss was older than I was."
Inspired, Readey dieted. Now 49, he lost 60 pounds and has maintained his weight.
"I went from being my doctor's least favorite patient to his favorite," Readey said.
Inspired by another co-worker, Readey bought a bicycle and started riding seriously in 2008, commuting to work and training with clubs. In 2010, he registered for his first Tour de Cure, hosted by the the American Diabetes Association's greater San Diego area chapter, which covers San Diego, Riverside, San Bernardino and Imperial counties.
Wearing a Red Rider jersey like others living with type 1 or type 2 diabetes, Readey started the 100-mile ride at 6 a.m. and crossed the finish line around 2 or 3 in the afternoon.
"It was a moment like no other," recalled Readey, a husband and father of 13-year-old twin girls. "I was very proud of myself. I very much felt a part of the community. Everyone was cheering me on.
"It made such an impression on me, I've ridden with them every year since."
This will be Readey's seventh year riding in the local Tour de Cure, which is set for April 9 at the Del Mar Fairgrounds.
Readey has raised $4,000 toward the cause in the six years he has participated in the event. Collectively, his company team, Northrop Grumman, has raised about $77,000.
Hundreds of cyclists are expected to raise awareness and funds for diabetes research, education and advocacy during the annual Tour de Cure.
More than 600 people participated in the event last year, raising $365,000. This year, the chapter expects 1,000 participants with the goal to raise $420,000.
"We're excited to be back at the Del Mar Fairgrounds again for the second year," said Kim Messey, project manager for American Diabetes Association's Tour de Cure. "We feel like it's really showcasing the ADA and the things we have to offer, bringing it to a much larger, more well-known venue."
More than 29 million Americans have diabetes. Approximately 2.5 million people are living with diabetes in the local chapter's area.
The American Diabetes Association has funded innovative research to combat diabetes since 1955. In 2010, the association funded more than $34 million in research at 125 leading research institutions across the country.
During the Tour de Cure there will be a variety of different routes: a 1-mile loop Family Fun Ride, 29-mile ride, 62-mile and a100-mile ride. The 29-mile ride is symbolic of the more than 29 million Americans with diabetes. There is also a new 15-mile ride this year.
There will be more than 25 vendors, a taco truck and organic beer available at the event. All participants will receive a free lunch and a 25th anniversary medal. Those who raise $1,000 or more will receive VIP treatment with a massage and a free beer.
"Come out to Tour de Cure," Readey said. "It's so supportive. Don't be alone."
For information or to register for the American Diabetes Association San Diego Tour de Cure, visit www.diabetes.org/sandiegotourdecure. Registration costs $30 in advance or $35 at the event. Participants must raise a minimum of $200.
---
Get the Del Mar Times in your inbox
Top stories from Carmel Valley, Del Mar and Solana Beach every Friday for free.
You may occasionally receive promotional content from the Del Mar Times.